Are pancakes a staple food?
They pretty much are in ours.
Mini-M is a big pancake fan. In fact they were one for her first favourite foods, which I exploited by chucking a whole load of random additions into - tomatoes, ham, peaches, peas, bananas, oats (but definitely not all at once!).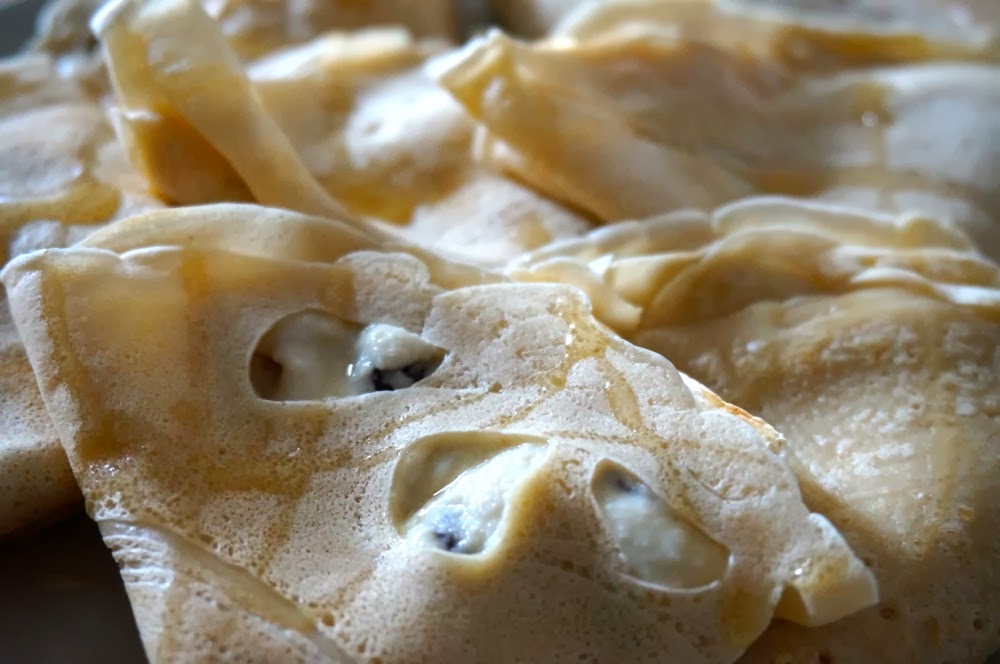 Pancakes - filled, folded, drizzles and ready to be eaten

Usually we make pancakes of the drop scone variety. Sometimes we shape the batter using a squeezy bottle to make flowers, stars, random abstract squiggles (when Mini-M is in charge) and of course, "M"s. The mind boggles when I think of how many pancakes I've flipped in the past 3 years, and in honour of pancake day next week, we made crepes on Sunday morning for snack.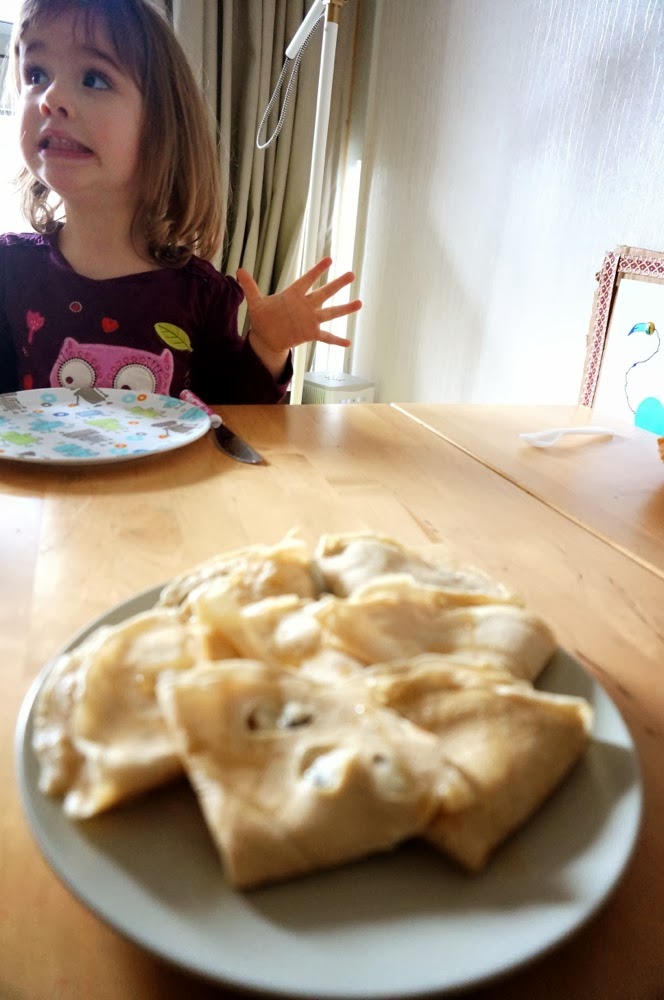 Photobombed by Mini-M who hasn't quite mastered smiling naturally for the camera

They were inspired by Nalesniki z Serem - Polish pancakes stuffed with curd cheese and raisins. However… no cheese around here - so technically I suppose they are Nalesniki z "Serem" (Pancakes with "cheese") or even Nalesniki bez Serem (Pancakes without cheese)!

Instead of cheese, I made a ground cashew cream. But I have to confess my Polish doesn't extend to incorporating that into my title!

Polish-style stuffed pancakes with cashew cream and raisins (Serves 3)


85g cashew nuts
6 tbsp apple juice
2 tbsp raisins
65g plain flour
1 small egg
150ml almond milk
pinch salt
oil for greasing
1 tbsp syrup for drizzling - I used Sweet Freedom light

Put the cashews and apple juice in a jug / mug and blend to a smooth paste. Add a little more liquid if necessary - you're aiming for the consistency of cream cheese.
Stir in the raisins.
Heat a small frying pan and grease with a little oil.
Meanwhile beat together the flour, salt, egg and almond milk until the batter is free from lumps.
Once it is hot, pour around 2 tbsp of the batter into the pan and swirl around to achieve as thin a coating as you can.
Cook for about a minute, then flip over and cook for another minute on the other side.
Transfer to a plate, spread 1 tbsp of the cashew raisin mixture to cover half of the pancake, then fold into quarters.
Drizzle with the syrup just before serving.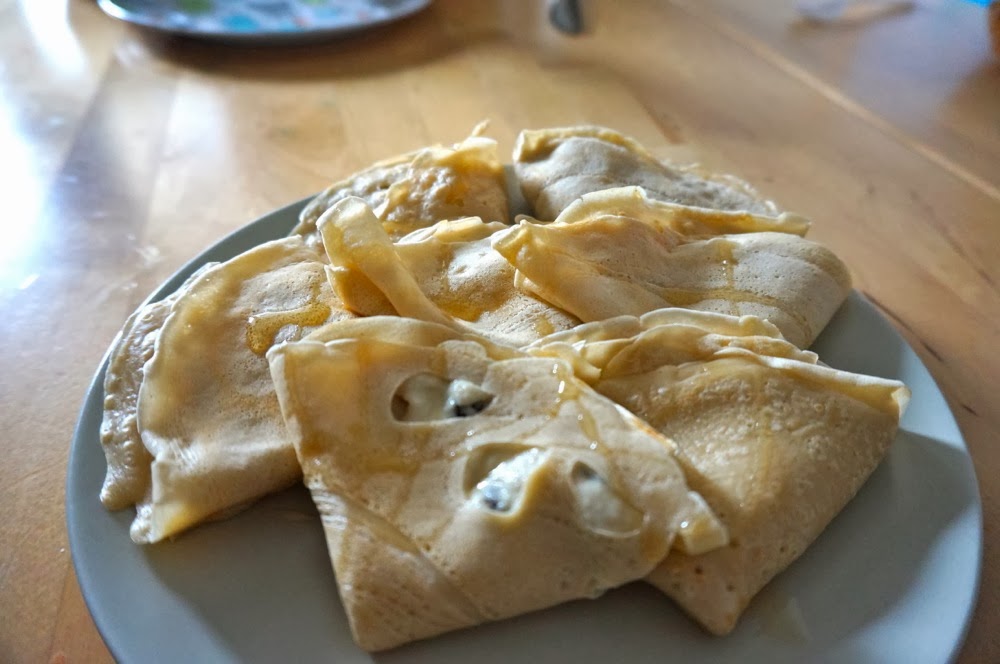 Photographed in daylight - shame I didn't take a better picture...

As far as pancake recipes go, this one is pretty versatile. It's easy to make it gluten free if you need to - just substitute a GF flour blend. I'd hazard a guess that you could probably sub the egg for ground flaxseed fairly successfully too, and any type of milk would work just fine. Honey or maple syrup would also be delicious drizzles.

It's also healthy, since it's primarily sweetened with apple juice, save for the little syrup drizzle at the end, and the cashew nuts give it a protein punch - so a guilt free pancake day treat, and perfect for little people too.

We ate ours with a little bit of chopped banana too, since by the time snack time rolled around, Mini-M was starving as usual.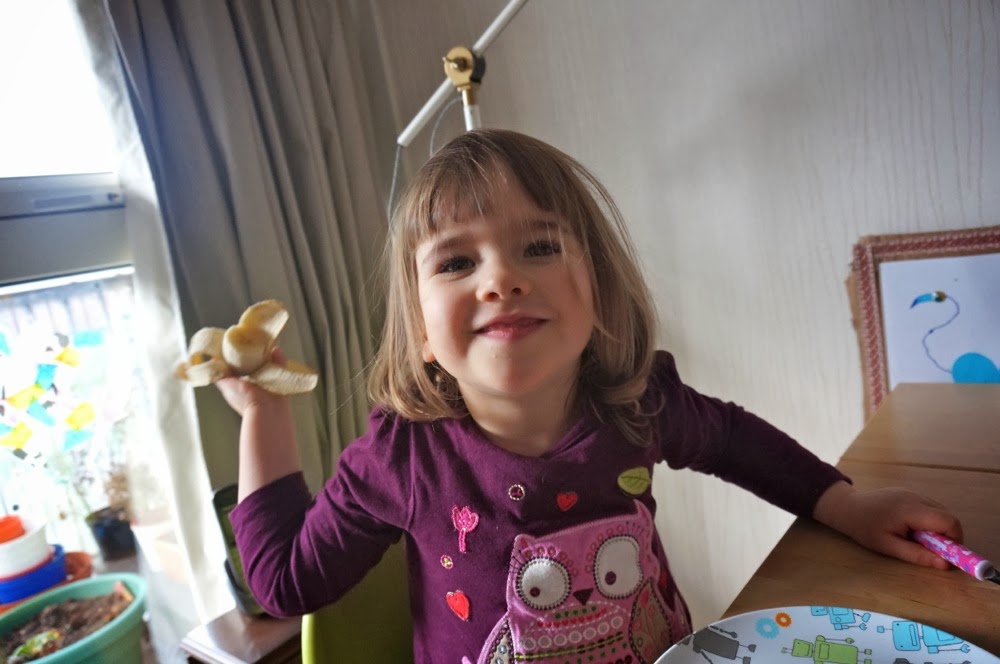 I've got a banana and I'm not afraid to use it - take one step closer...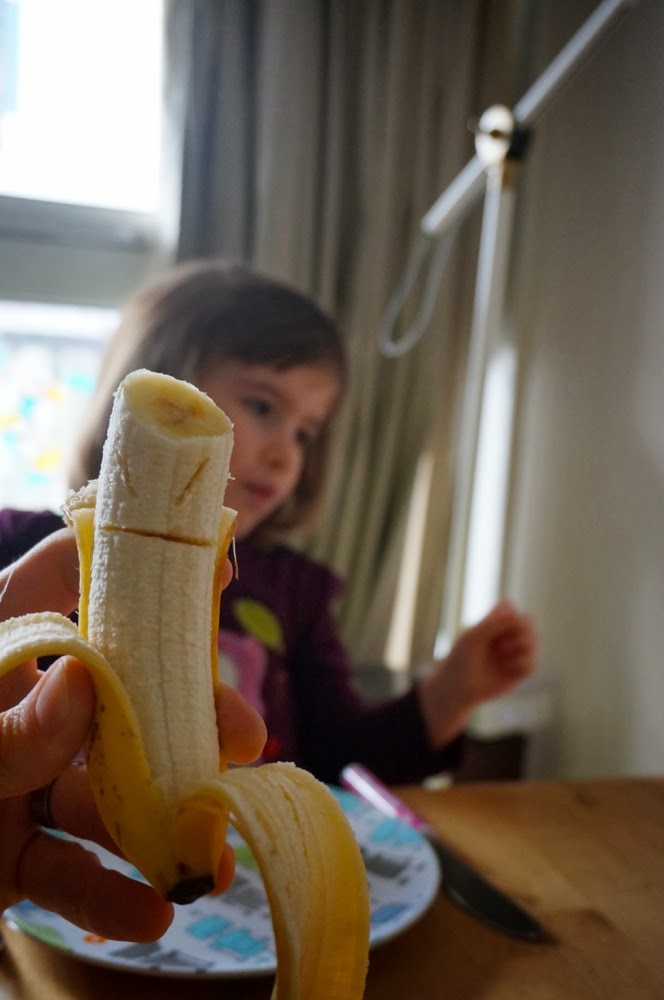 Evil banana

Happy pancake day when it comes!