It's Valentines day on Friday. We have a card covered in glitter and all things red and hearty home from nursery to prove it.

In case you've not had such a subtle reminder, don't worry, there's still plenty of time to make a home made gift to treat a loved one.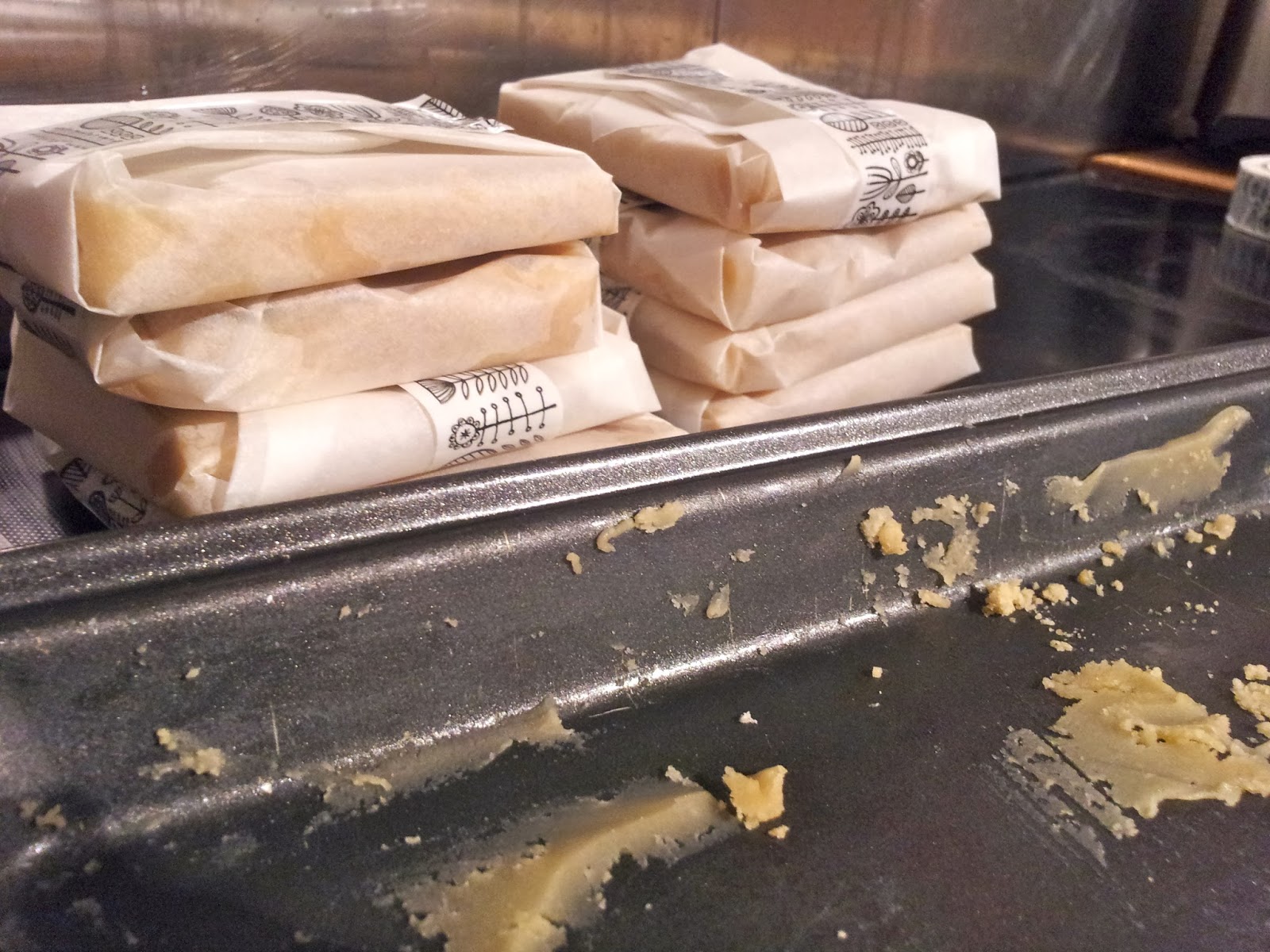 Packaged up and ready for giving

A note of dietary caution - these recipes are in no way healthy!
I often try to post recipes that, whilst still cake, have some nutritional merit. Tablet has pretty much none - bar a huge amount of sugar, which makes it great for taking hill walking and rewarding yourself with when you reach the top.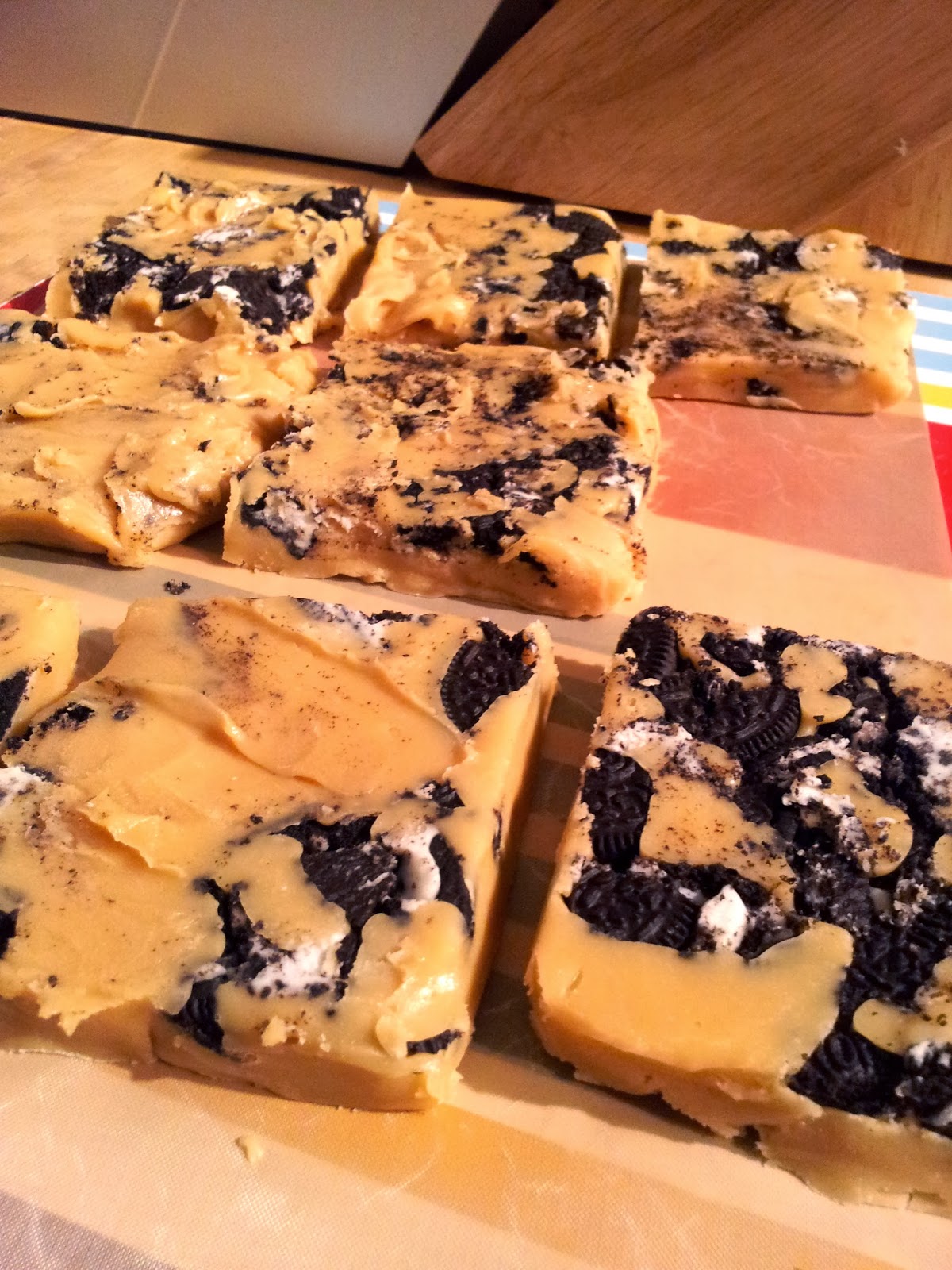 Oreo chunk fudge

I've experimented with a lot of tablet options over the past few years. Many to sell for charity fundraising at work, and some to try to get a dairy free tablet fix. All have been sweet. All have been tasty. Some have admittedly had a slightly better texture than others.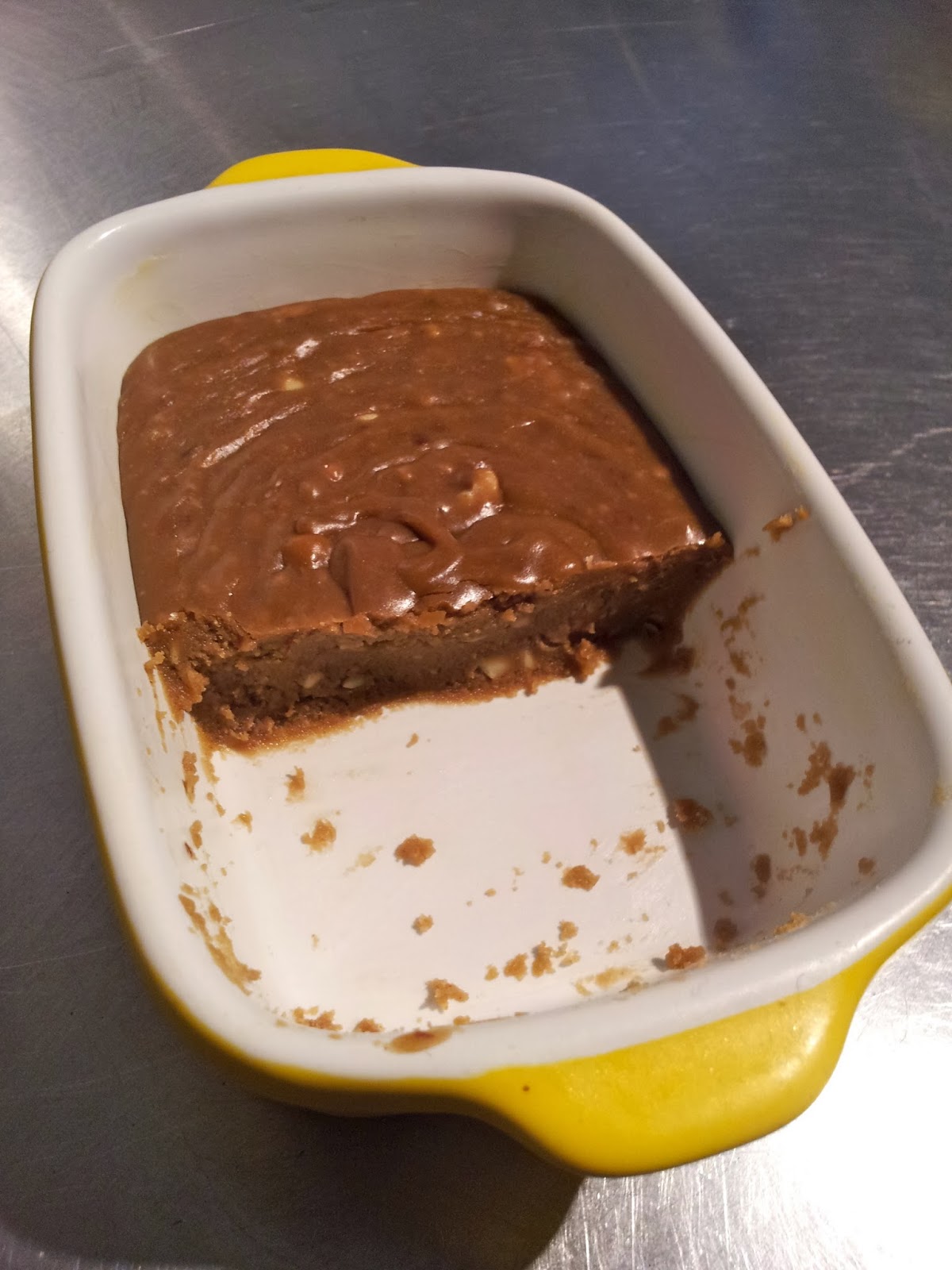 Half of the peanut butter fudge seems to have gone missing….

I've got 3 recipes in this post: tablet, biscuit fudge and peanut butter fudge.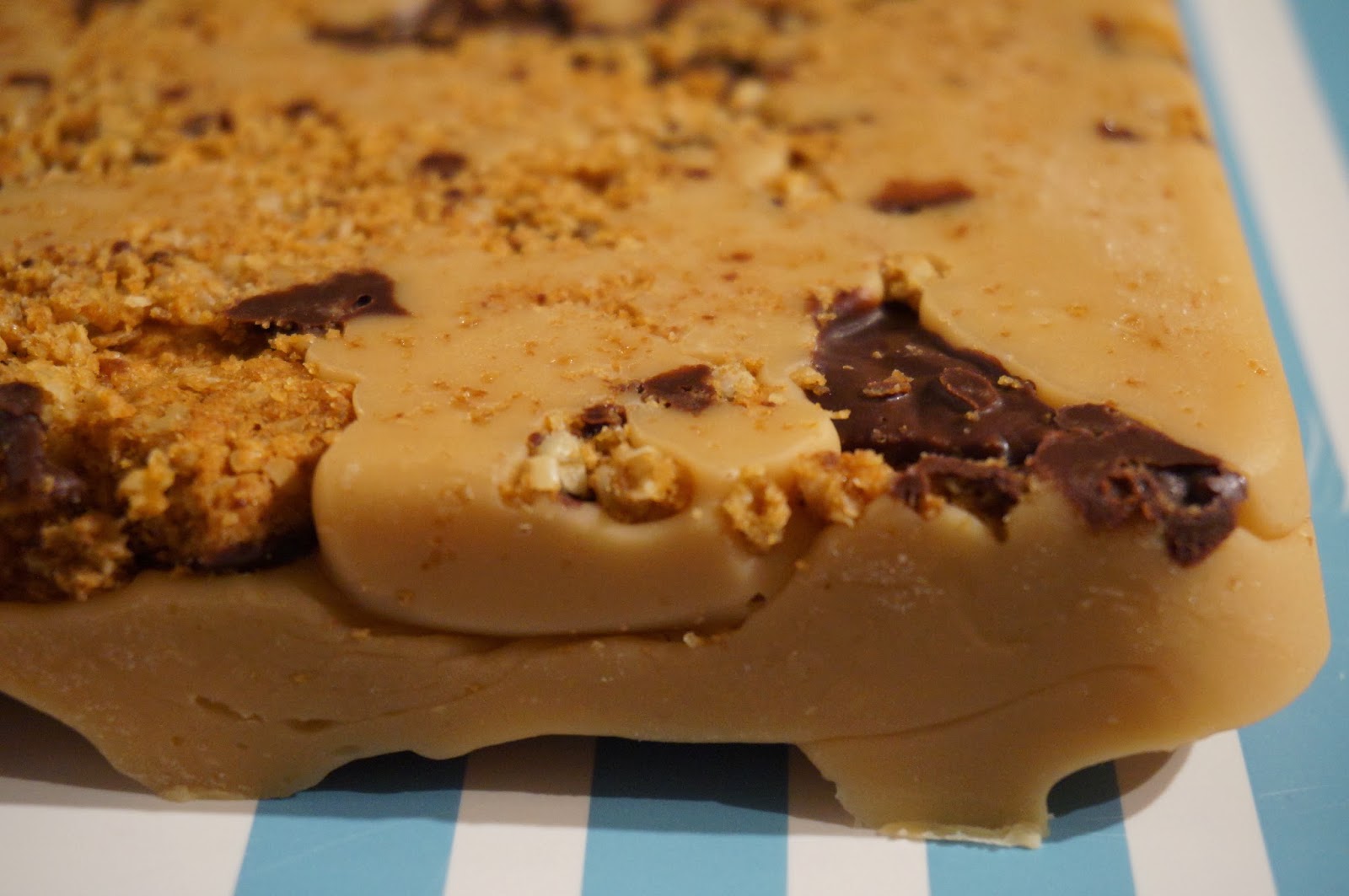 Hobnob fudge

Tablet can successfully be made dairy free - sub coconut oil or margarine for the butter and non-dairy milk for the regular milk. You'll need to keep stirring and watch it carefully, but it should be heated to the same temperature and sugar stage, then beaten in the same way. When it sets it will set slightly harder. Sometimes the milk solids will separate out a little when melting / boiling - worry not, the finished product will still be fine. I've successfully made tablet with coconut milk, oat milk, soya milk and almond milk, with coconut oil or dairy free margarine as the fat. Experiment!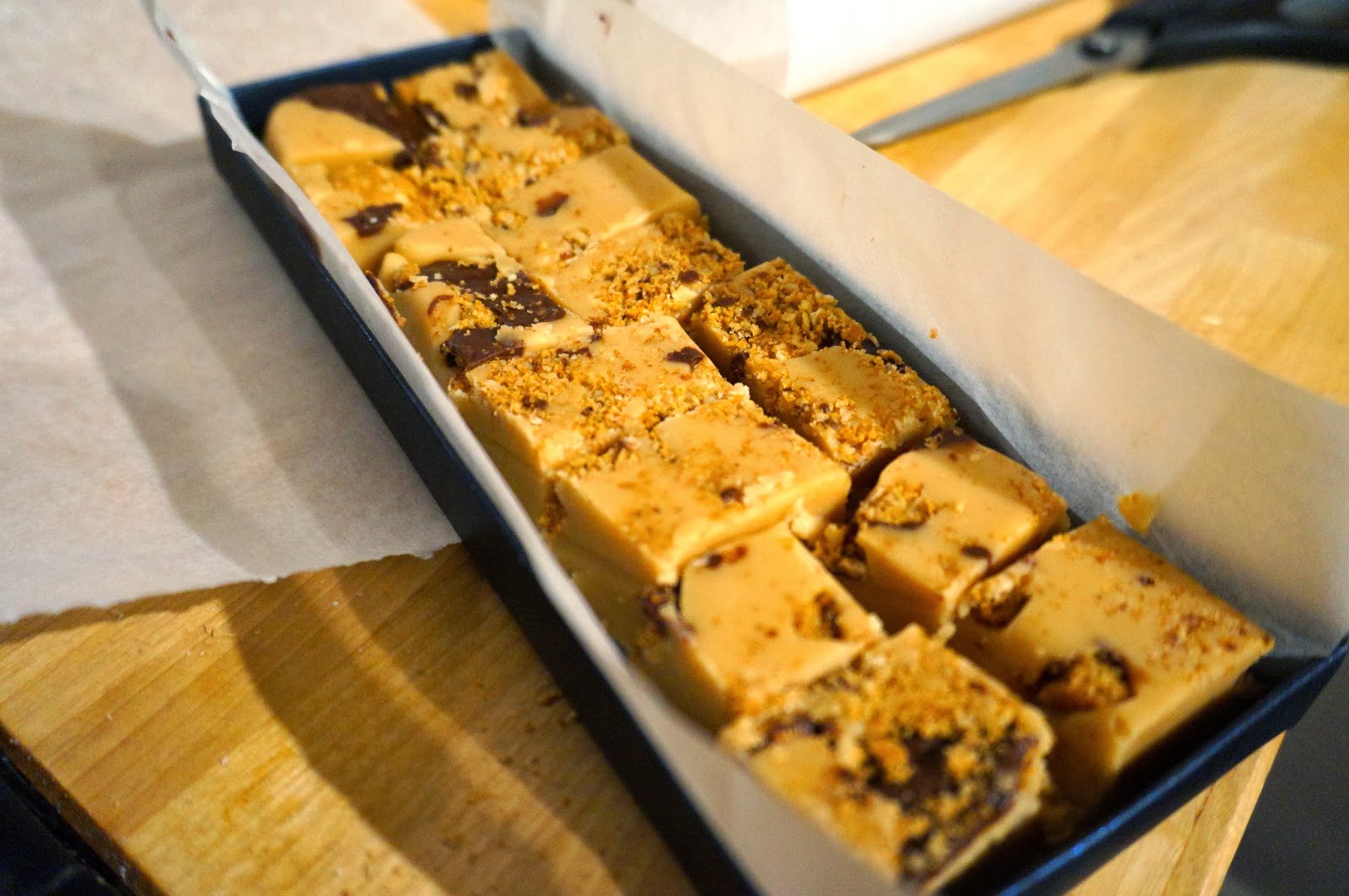 Pack it prettily in a gift box - job done!

I've not attempted a batch of dairy free fudge using this method. The only possible hope might be using thick coconut cream, but I'm still not convinced it would quite work unfortunately. You never know though…

The peanut butter fudge is dairy free - I've not tried to make it using dairy, but it should work perfectly fine. It is completely amazing.

Right - down to business.

Tablet (Makes 1 tray (approx 8x13in))


1kg granulated sugar
3/4 pint milk
4oz butter
1/2 tsp vanilla extract

Grease your tin well with butter.
Really really really slowly melt all of the ingredients together in a very large, heavy bottomed pan.
Once there are no grainy bits of sugar left at all, bring to the boil and boil hard, stirring occasionally (unless your are doing a non-dairy version, in which case stir frequently) until the soft ball stage is reached. (If you're using a sugar thermometer, this is around 116C, however it is usually marked on it).
Take off the heat and beat until the consistency changes, the mixture starts to thicken and leaves a trail on the surface, then very quickly pour into your prepared tin. The amount of time you need to beat for depends on how quickly it cools - but it can take 15-20mins so you at least get a work out into the bargain!
Once it has cooled a little, take a sharp knife and mark into squares, then leave it until completely cold before turning out of the tin and breaking into pieces.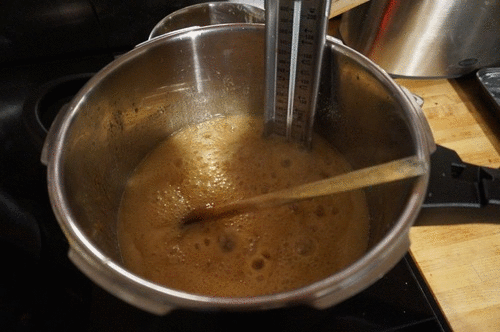 My tablet-boiling set up (and my first blog animation!)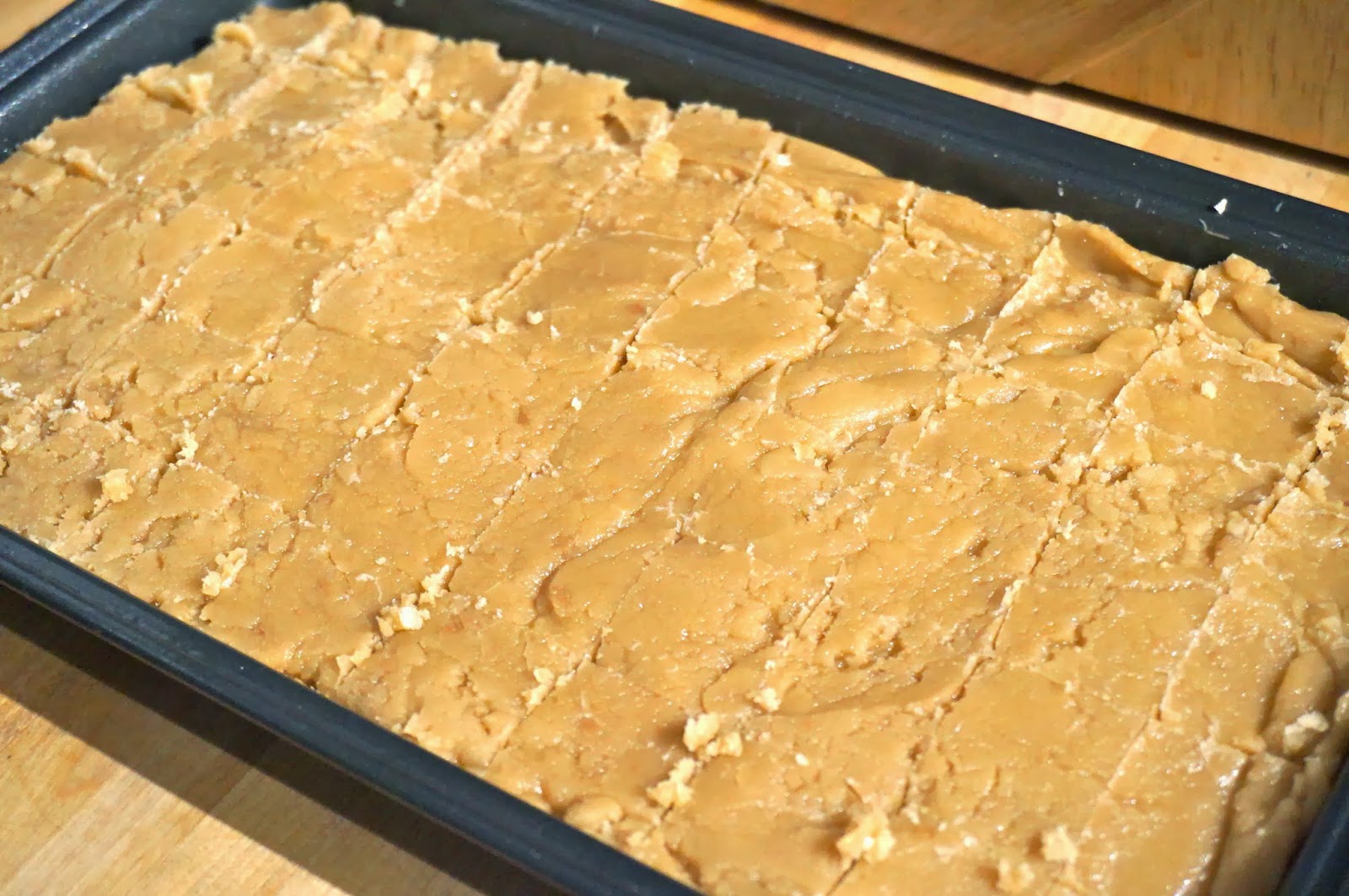 Tablet made with coconut oil and A2 milk - yum!

Biscuit Fudge (Makes 1 tray (approx 8x8in))


450g caster sugar
400g double cream
1 tbsp liquid glucose
50g butter
1/2 tsp vanilla extract
8 biscuits of your choice (shortbread, hobnobs, ginger nuts and oreos all work well, although possibly not all at once!)

Grease your tin well.
Crush your chosen biscuits and scatter over the bottom of the prepared tin.
Put all of the ingredients into a large saucepan, and very slowly melt over a low heat.
Turn up the heat and bring to the boil. Boil until the soft ball stage is reached (around 116C).
Take off the heat and let it sit for 5 mins.
Beat until the mixture starts to thicken then pour over the crushed biscuits in the prepared tin.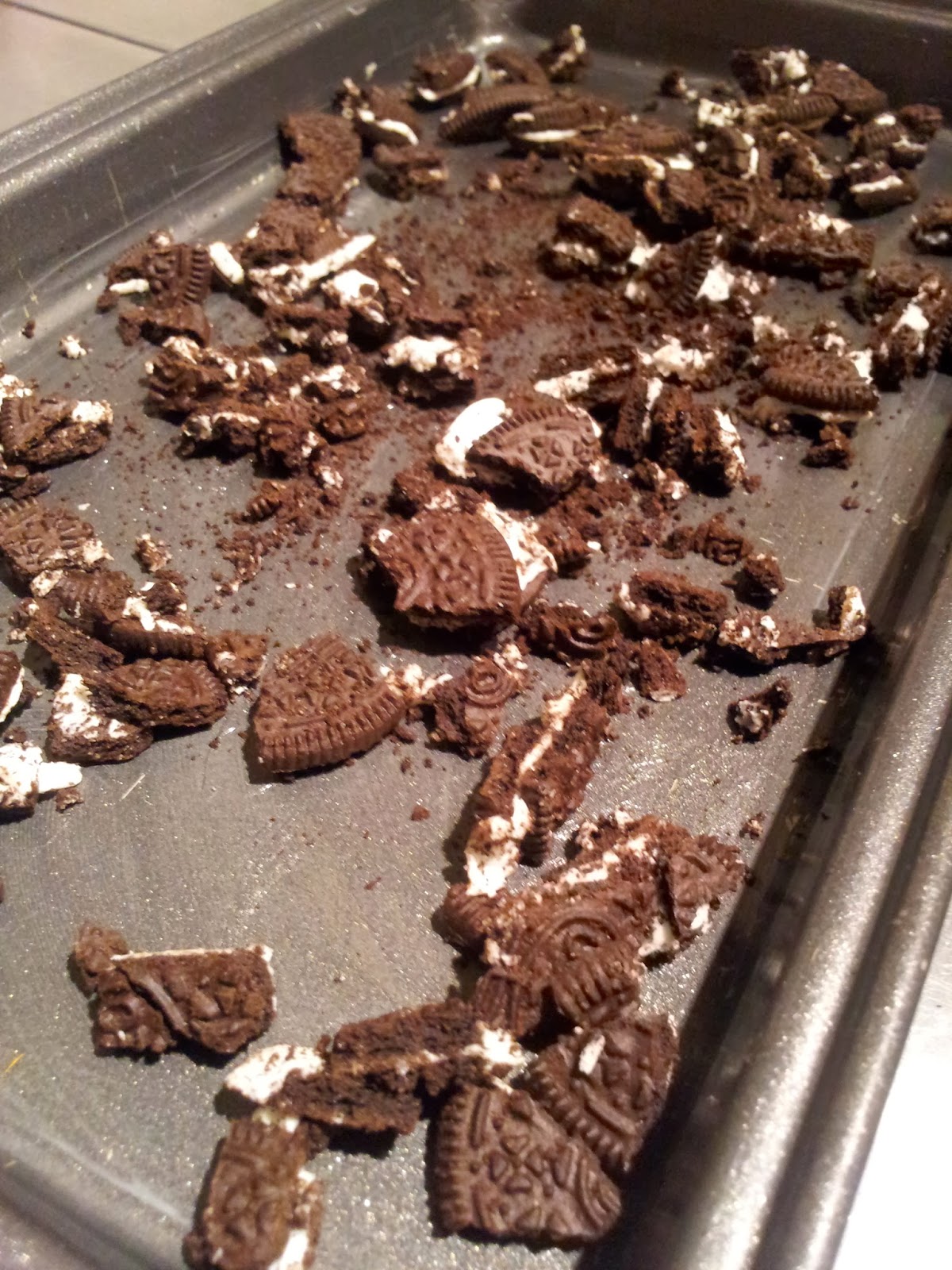 Crushed oreos ready to be covered in fudge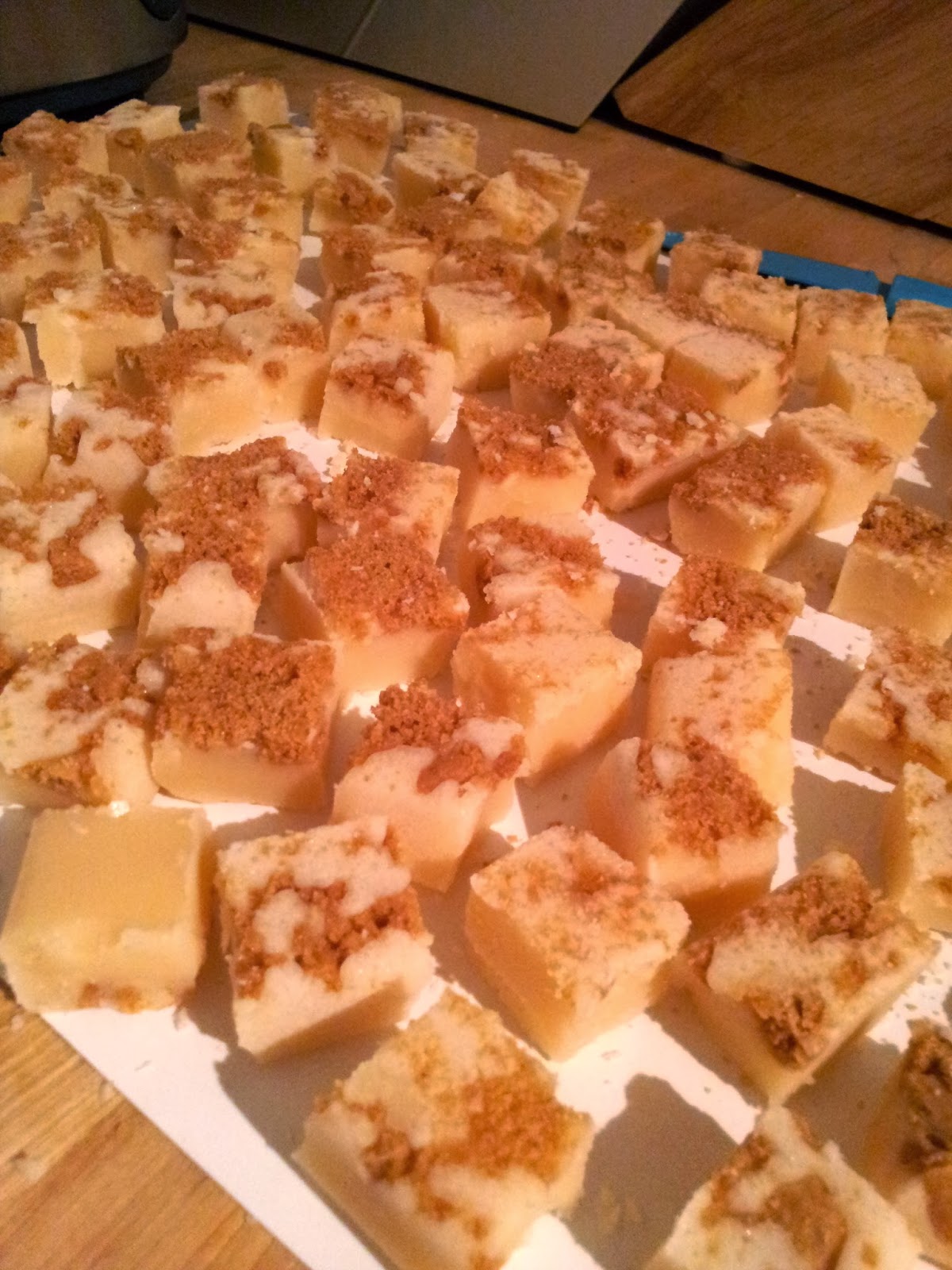 Anyone for a gingernut?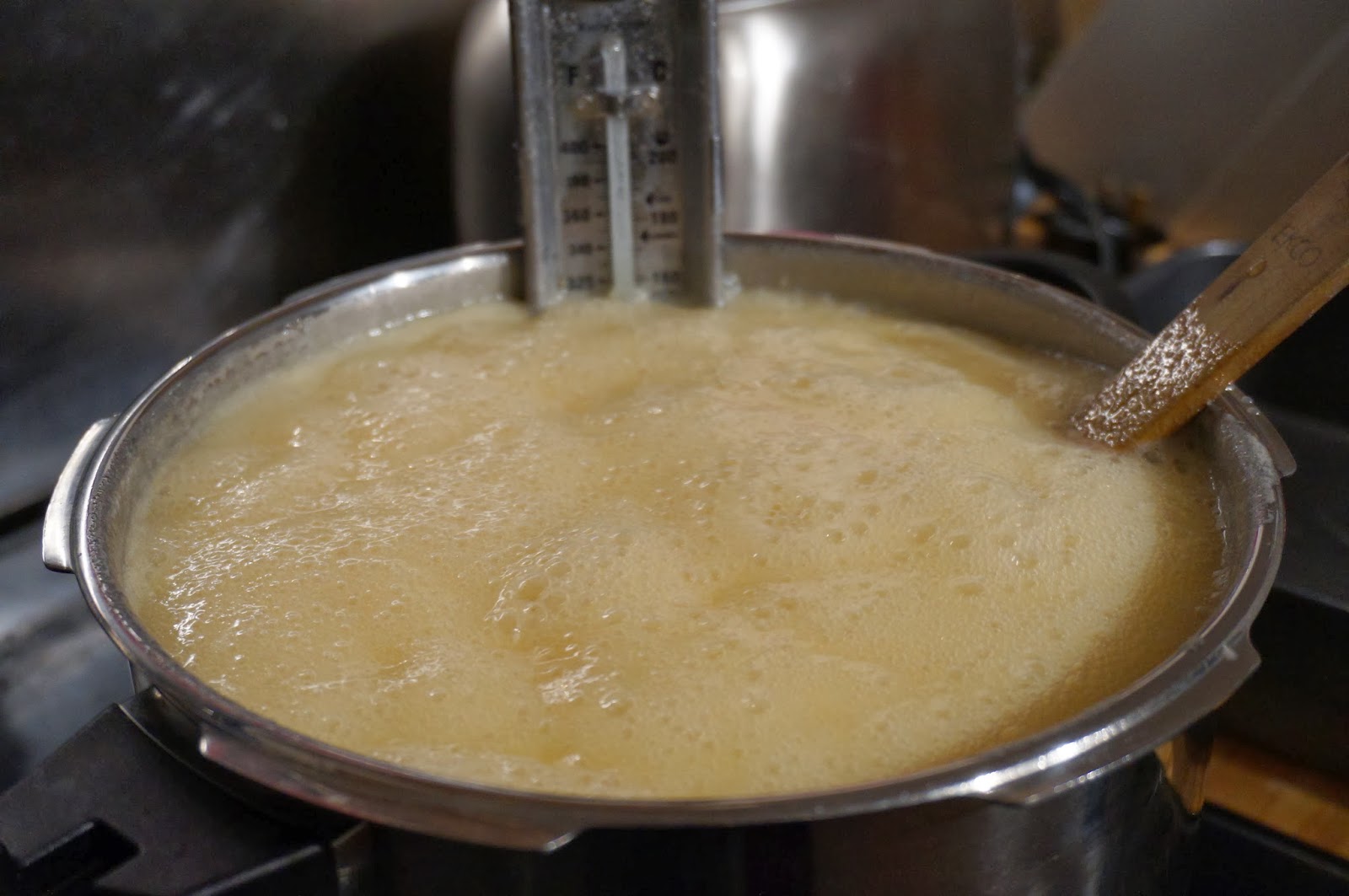 Warning - make a double batch at your peril…..

Strawberry Peanut Butter Fudge (Makes 1 tiny tray approx 3x5in - or double if you think you can resist temptation and make it last!)


30g non-dairy margarine
100g dark brown soft sugar
1/2 tsp vanilla extract
30ml almond milk
50g crunchy peanut butter
100g strawberry icing sugar

Grease the prepared tin.
Melt the margarine in a small saucepan.
Add the brown sugar, milk and vanilla extract and stir until dissolved then increase the heat and boil gently for 3 minutes without stirring.
Take off the heat, add the peanut butter and stir until combined, then add the icing sugar and beat until smooth.
Pour into the prepared tin and allow to cool for a couple of hours, then stick in the fridge for a couple more before cutting.
If you can't get strawberry flavour icing sugar, just use regular - it'll still taste amazing and peanut-buttery, but the strawberry does add another dimension of deliciousness.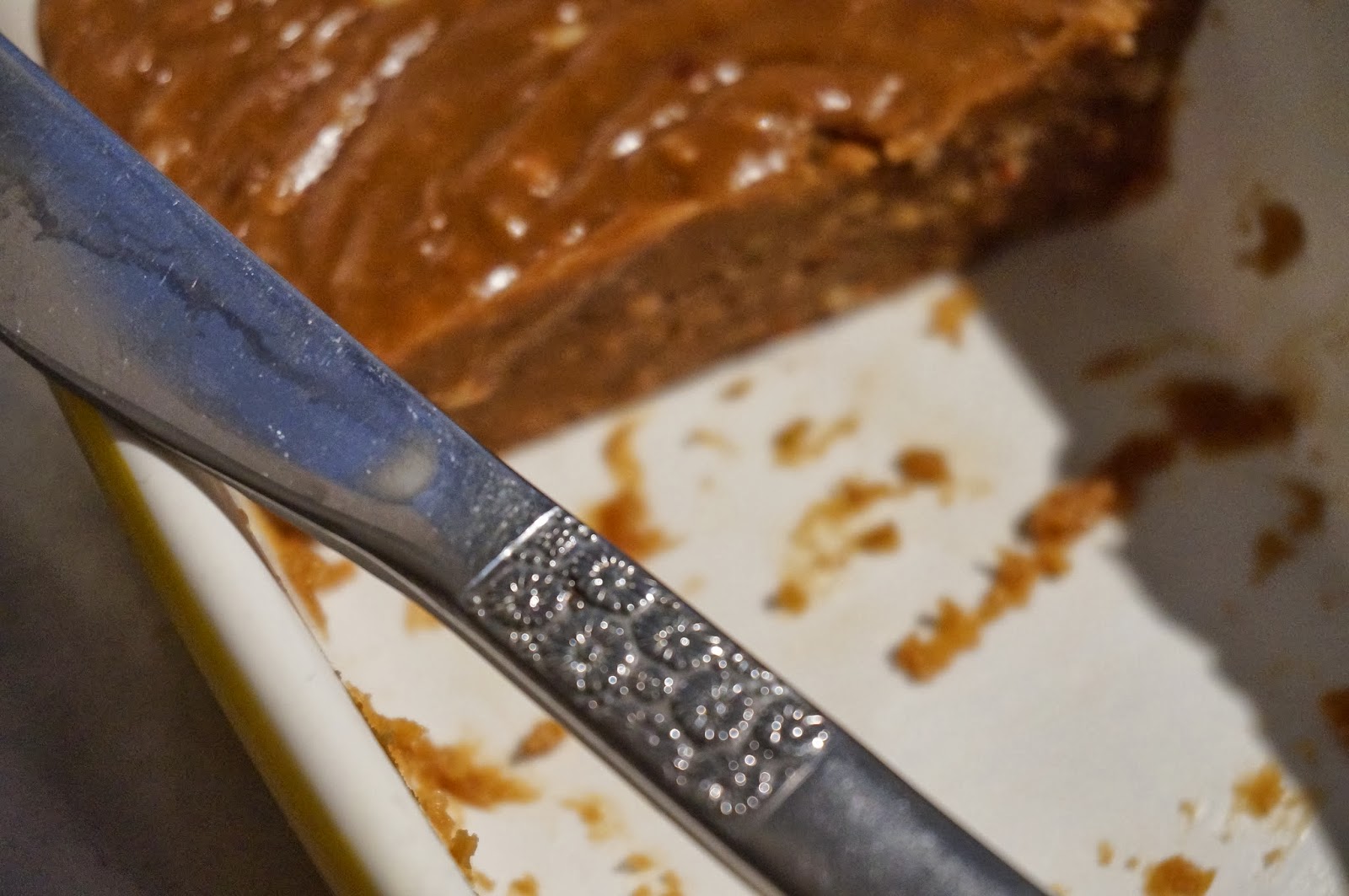 Peanut butter fudge - with a knife to hand for easy slicing

So - there you go - the possibilities are endless! Get boiling :o)