Mini-M is desperate to feed herself at the moment, so I've been trying to make things that are teeny-fingers-friendly.

A few weeks ago I got a copy of the River Cottage Baby & Toddler Cookbook, and so far it has been the inspiration behind a couple of recent makes, including these baby baked apples.

The apples that came in our East Coast Organics fruit box this week were so cute and tiny! Perfectly Mini-M sized.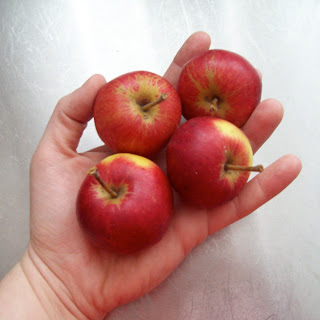 Baby Baked Apples (makes 2 baby sized puddings)


4 tiny eating apples (or 2 medium ones)
4 squares of tinfoil
8 blueberries
20 small raisins
1tsp honey
1 tsp margarine (dairy free in this case) or butter if you'd prefer

Preheat the oven to 180C (or 160C fan)
Take an apple corer and push it through the centre of each apple to remove the cores.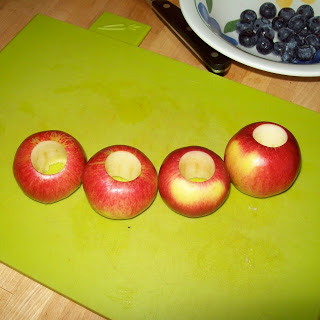 Put each cored apple on a square of foil.
Put a couple or raisins in the bottom of each empty core, add 2 blueberries, then another 3 raisins.
Smear 1/4 tsp of margarine over the top of each filled core, then drizzle with 1/4tsp honey. (If you're making this for babies under 1 year old, don't add the honey.)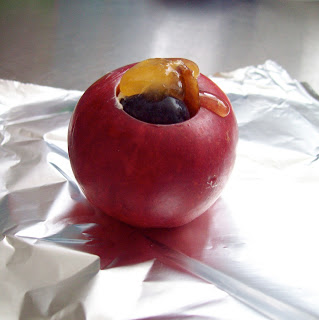 Fold the foil up to cover each apple loosely, and put them all in a small casserole dish.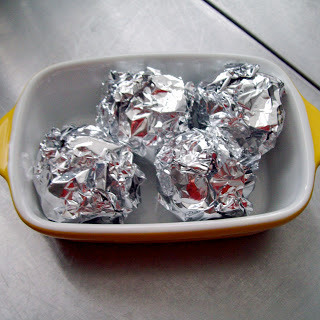 Bake for 20-30 mins (depending on the size of apples) until they are soft when pierced with a sharp knife.
Allow to cool before serving.
These would also be fab served with a dollop of yogurt.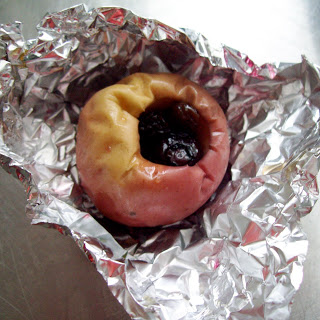 But Mini-M loved them as is, and got stuck in with her hands, pulling them apart, finding the raisins, and polishing the lot off in record time :o)