Beetroot Poppyseed and Lime Muffins - a delicious surprise
This post will be swift, since Mini-M is napping, and there's a pile of dishes with my name on them as well as a blog post, before she wakes up!

But I wanted to get the recipe for these Beetroot Poppy Seed and Lime Muffins written up before I forgot it - they were a very delicious experiment I baked last night as a tonic to a fairly disastrous day, because it always feels better going to bed having accomplished at least one thing successfully, even if it is just a batch up muffins baked expressly for that purpose...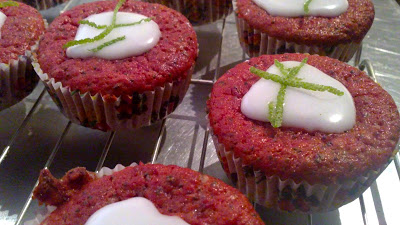 Having beetroot in them balances out the icing on top, right?!

I was inspired by two different recipes - firstly these Beetroot and Choc Chip Muffins at Coffee Muffins, and secondly these Red Beet and Poppy Seed Muffins at Cannelle et Vanille.

Beetroot Poppy Seed & Lime Muffins (makes 12 small buns)


1 cup SR flour
1/2 cup unrefined granulated sugar
1/2 tsp baking powder
Zest 1 lime
1 tbsp poppy seeds
1 medium beetroot
1 egg
1/2 cup milk (I used Oatly oat milk)
1/3 cup sunflower oil
2 tbsp icing sugar
Juice of 1/2 a lime

Preheat the oven to 180C (160C fan) and line a cupcake tin with paper cases.
Measure the flour, baking powder, poppy seeds and sugar into a mixing bowl and stir to combine.
Pare off a few strips of zest for decoration and then finely grate the rest into the bowl.
Next peel and finely grate the beetroot into the bowl too.
Crack in the egg, pour in the milk and oil, then mix until well combined.
Divide the mixture between the paper cases, filling until about 3/4 full.
Bake for about 20 mins until risen, and springy to the touch.
Remove from the tin and cool on a rack for about 15 minutes before icing.
To make the icing, put the icing sugar into a small bowl, and use a teaspoon to flatten out any lumps.
Add the juice of half a lime squeezed and mix until lump free.
Depending how juicy your lime is, you might need to add some more icing sugar to get the desired consistency.
Put dollops of icing on the top of each muffin, and finish with a twist of lime zest.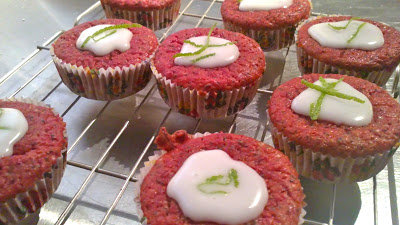 Waiting for the icing to set...

These are delicious - the sweet earthiness of the beetroot, the nuttiness of the poppy seeds and the zingy lime zest work really well together. Which was a lovely surprise, and went a long way to redeeming my sense of accomplishment in the day! I recommend muffin making therapy at the end of all unproductive days - plus you then have something tasty for coffee time the next day - even better!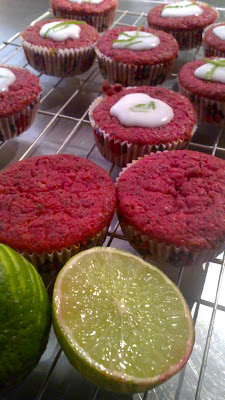 2 muffins left 'naked' for Mini-M!