Last weekend, when the weather wasn't quite as monsoon-like as today, we hit the road early and were at Craigie's Farm outside Edinburgh early. 12 mins after they opened, in fact. (That's one of the advantages of having a Mini-M who regularly gets up at 6:20am - you can fit a lot into your day!)
We were ready for some serious strawberry picking!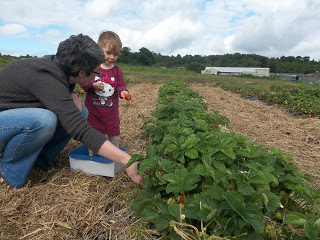 Strawberries as far as the eye can see...

Here are the spoils - and bless her Mini-M was ace, and despite looking very longingly at many of the strawberries showed amazing self restraint and only licked one, then looked guilty and put it back in the basket. (To those that ate the dessert that follows, worry not, I gave her that one to eat as soon as we got in the car - your strawberries were safely unlicked!)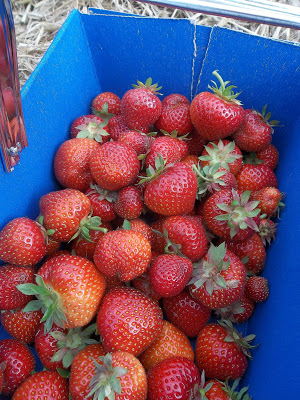 The haul

So what did they become? Well, some were turned into strawberry and rhubarb compote which Mini-M has been going mad over along with her special 'cream' (which is actually pouring soya yoghurt - ssssh!). Some were turned into a fresh strawberry icing to top some coconut and lychee cupcakes, soon to appear in a future post.

And some played a starring roll in a hastily invented Chocolate Brownie Strawberry Marshmallow Tart. Mr E had invited friends over to watch some Bond - he's attempting to watch all 22 in sequence before 23 is released - and just as I was about to start making dinner, we discovered there were some allergies amongst our soon-to-be-arriving guests that I'd been unaware of. One of them being eggs. So out of the window went the gooseberry meringue pie I'd been planning! And with some inspiration from this White Chocolate Toffee Brownie Tart at What Katie's Baking, I soon had the tart in the oven and my fingers firmly crossed that it would come out OK. Thankfully it did - phew!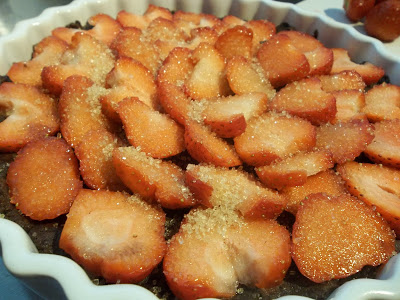 Mid-assembly

Chocolate Brownie Strawberry Marshmallow Tart (Serves 8-10)


1.5 cups plain flour
Pinch salt
Pinch baking powder
1/2 cup (scant) dairy free margarine
3/4 cup sugar
1 tbsp ground flaxseeds
3 tbsp soya milk
1 tsp vanilla extract
1/3 cup cocoa powder
250g strawberries
2 tbsp unrefined granulated sugar
10 marshmallows (egg free ones, if you need to for allergies)

Put your flaxseeds in a small bowl with the soya milk, stir well and leave to sit for 15 mins.
Preheat the oven to 180C (170C fan). Lightly grease a tart tin, or flan dish.
Wash and slice your strawberries.
Using an electric whisk, beat together the flax seed mixture, margarine, vanilla extract and sugar. Add the cocoa powder and mix again until well combined. Then add the flour, baking powder and salt (gradually if you don't want a giant flour explosion in your kitchen!). You should end up with a doughy mixture.
Press it into the prepared tin.
Bake for about 5 minutes, then remove from the oven and carefully arrange the strawberries on top.
Sprinkle over the 2 tbsp of granulated sugar, then return to the oven for another 5 mins.
Meanwhile with a pair of clean scissors, cut your marshmallows in half.
Take the tart out again and dot the marshmallows over the top, then return to the oven for another 5-10 mins until the marshmallows are browned.
Allow to cool slightly before cutting and serving unless you particularly enjoy burning your mouth with boiling sugar, in which case dive right in!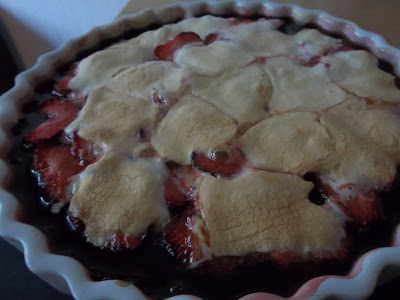 Cooling slightly

This was also great cold after chilling in the fridge overnight - the brownie base turned fudgy and became even more delicious (in my humble opinion...).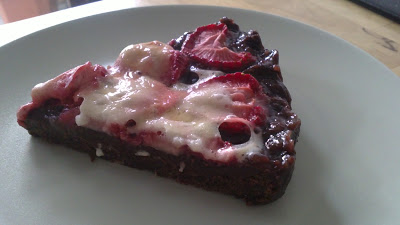 Chilled to fudgy perfection the next day!