C&D's Wedding Cake - Middle Tier Chocolate Extravaganza!
So... in May (yep, the way back when, 8 months ago, in 2011) I made a cake for the wedding of the lovely C&D.

Each tier was different, with a lemon and white chocolate tier on the bottom, a chocolate and more chocolate tier in the middle, and a traditional fruit cake on the top.

I was quite quick off the mark with my blog posts, and my archive informs me that I posted the bottom layer on the 17th May. Then as usual I got distracted and waylayed, and didn't post the top tier until the 16th July. And somehow the poor middle tier, which was definitely my favourite, was forgotten about entirely! Until today...

Here it is in all it's glory - chocolate cake, covered with chocolate fondant, a dark mocha glaze, edged with chocolate scrolls and piped with royal icing. Keep reading (scrolling!) for lots more cake photos at the end of the post!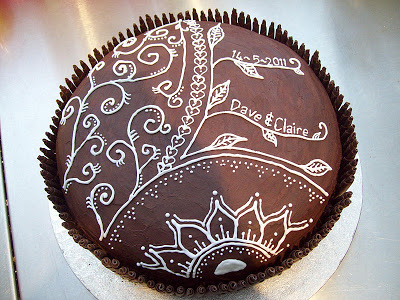 The chocolate cake recipe is one I have used many times, which is based on the basic chocolate cake recipe in "Fun Cakes for Special Occasions" by Ann Nicol. I've made a few little tweaks, and added some extra chocolate. It generally is a well behaved sponge, that bakes nice and evenly, rises with a flat top, has a fairly tight but even crumb so cuts well, and keeps well once iced. That said, I was having oven issues around about the time I baked this, so it cracked a bit on the top, as the thermostat was playing up.

Celebration Chocolate Cake (makes 1 8in round cake)


275g plain flour
1/2 tsp bicarbonate of soda
1 tsp baking powder
4 tbsp cocoa powder (choose one without any added sugar or other ingredients - just cocoa!)
175g soft brown sugar
115g butter
200ml milk
2 tbsp golden syrup
2 eggs
100g dark chocolate

Preheat the oven to 160C (150C fan), and grease and line your tin. It's worthwhile cutting greaseproof paper to fit, as it will make getting it out of the tin a lot easier, and keep the edges in good condition for icing.
Sieve the flour, bicarb, baking powder and cocoa powder into a large mixing bowl and mix.
Add the brown sugar (sieve it if you need to - sometimes it can be quite lumpy) and stir to combine.
Melt the butter and milk together in a small saucepan, then once the butter is completely melted, take off the heat and allow to cool slightly.
Melt the chocolate gently (I use the microwave on a reduced power setting, but you could also do it over a bowl of simmering water), and allow it to cool slightly too.
Beat the eggs together in a cup, then add to the dry ingredients along with the syrup, the butter and milk mixture, and the melted chocolate.
Mix until well combined, then pour into the prepared tin.
Give it a tap on the work surface to help get rid of any trapped air bubbles, then bake for 50-60 minutes until a skewer inserted into the middle comes out clean.

To cover, I brushed it with a glaze of sieved cherry jam, and kneaded together equal quantities of modelling chocolate paste and regular white fondant icing. That was then covered in a dark mocha glaze before being decorated.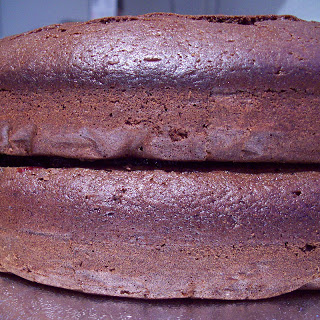 Naked cake...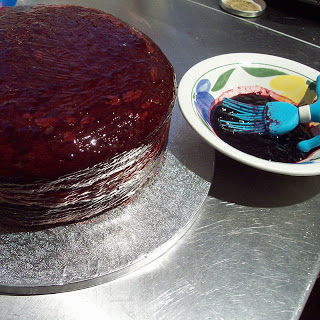 Brushed with jam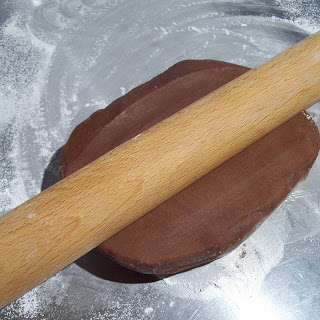 Rolling out the fondant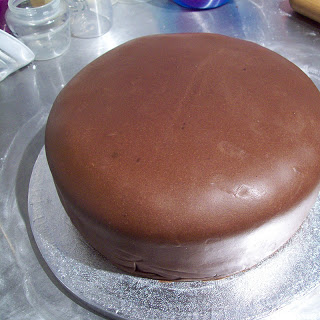 No longer naked, but not yet exciting!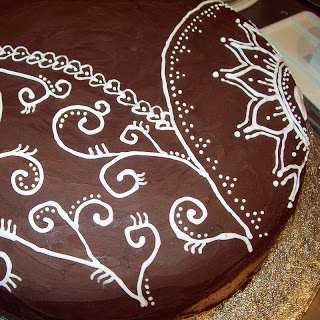 Piping in progress...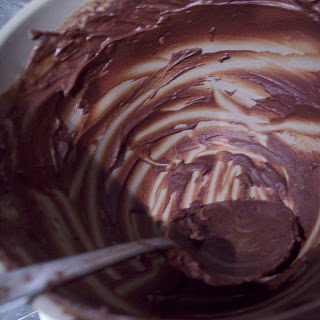 Mocha glaze bowl - empty and waiting to be scraped clean (Mr E's favourite job)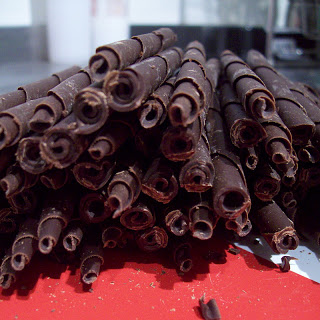 Scrolls cut to size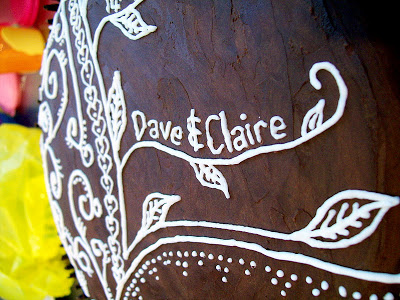 Thank goodness for daily handwriting practice at primary school!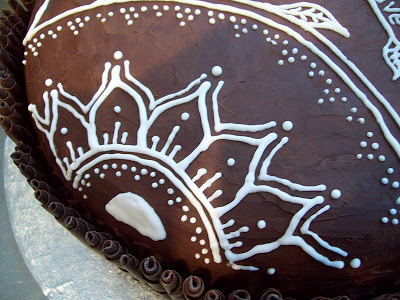 Brown and white chocolate sunshine!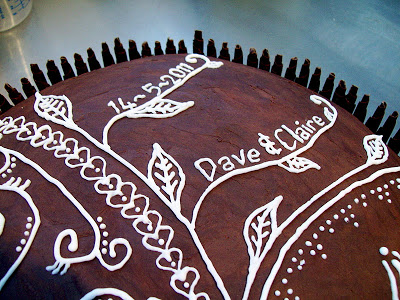 Hearts, leaves and vines - and a very wobbly wrist after finishing that lot!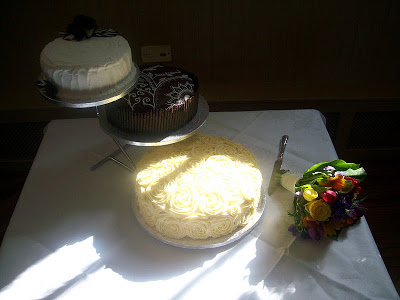 United with it's other tiers on the big day