"Carbonara" - Sometimes Mini-M has Sophisticated Tastes!
After a fair few successes, I'm generally fairly intrigued how far the dairy free substitution can be taken, so a few weeks back, I turned my attention to Carbonara. And the results were surprisingly good!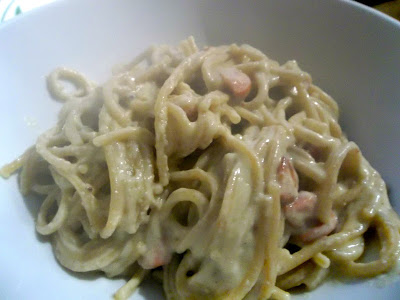 Regular carbonara is deliciously full of cream and cheese. This version definitely isn't. Real carbonara has bacon in it. This was supposed to, but when it came to cooking, I discovered that I didn't have any bacon, but I did have frankfurter sausages needing used up, so waste not want not, they were subbed in too!
Dairy Free Carbonara (Serves 2-3)
150ml Oatly Oat Cream
2 garlic cloves
3 frankfurter sausages
1 tbsp rapeseed oil
2 eggs
1 tsp dairy free "parmesan" style sprinkles
Salt and Pepper
Wholewheat spaghetti to suit your appetite
Put a large pan of salted water on to boil, and in the meantime, crush the garlic clove and finely chop the frankfurter.
Heat the oil in a small frying pan, then cook the garlic and frankfurter together for a few minutes until starting to brown.
Beat the cream, eggs and "parmesan"together very well, then add a generous grind of pepper and a small pinch of salt.
Once the pasta is cooked, drain then return to the pan and immediately pour in the cream and egg mixture, the garlic and frankfurter, and stir well until the sauce starts to thicken a little as the residual heat from the pasta cooks the eggs.
Eat straight away.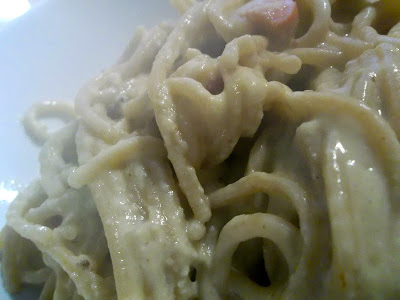 As I said at the start, this worked surprisingly well. I'll definitely make it again, and use bacon instead of frankfurter. Both Mr E and myself both agreed after eating it that what made it seem unauthentic was the lack of bacon, rather than the lack of dairy, which really wasn't obviously apparent.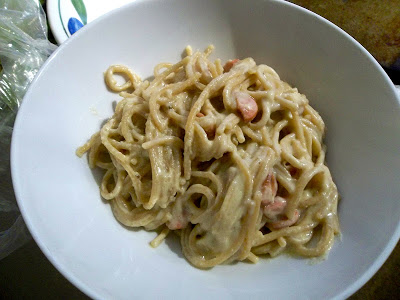 And as for Mini-M - she was quite happy and spent a fair while investigating the spaghetti first of all before being brave enough to taste some, then go back for some more - an all too rare occurrence with Mini-M and new foods!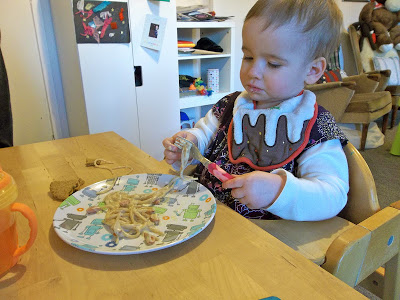 Hmmm what is this squiggly stuff?!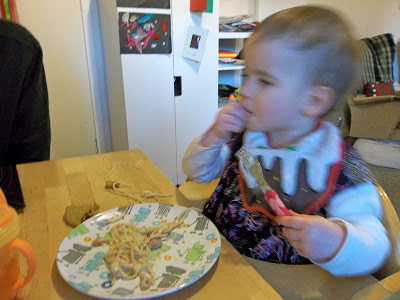 Whatever it is, it tastes quite nice...

And since it's pasta... I'm sending this to Pasta Presto Nights which is hosted this week by Briciole