Chard & Pecan Pesto - Pasta Please!
We were the lucky recipients of a big bunch of chard and another of kale when my folks visited a couple of weekends ago.

Since we've not had our veg box, we've eaten a lot less kale! And whilst trying to think of something new and interesting do with each week's kale ration was always a bit of a challenge, I have to confess that it suddenly seemed much more exciting after a notable absence.

I used the kale to make quick kale kimchi which may well make an appearance here in the not too distant future, however this post is all about the chard.

It made a fantastic dairy free pesto - using pecan nuts added extra creaminess - and weirdly, Mr E and I both agreed that it did actually taste like it had cheese in it.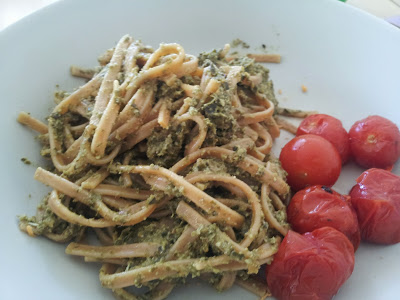 Chard, Pecan & Lime Pesto (Serves 4)


A big bunch of chard - washed, caterpillars removed and stalks trimmed off
1/4 cup olive oil
2 cloves of garlic
60g pecans
pinch of salt and pepper
juice of 1/2 a lime

Heat a splash of the oil in a large frying pan, and finely chop the garlic, and roughly chop the chard.
Sautee the garlic and chard for about 5 mins until the chard has softened.
Chuck everything into a food processor and blend until fairly smooth.
Done!

We had this mixed through dried pasta that was infused with red chili, with some baked cherry tomatoes on the side. It was really, really tasty. Mini-M remains unconvinced - however I'm planning on making it again to try to convince her - I can't let a possible vessel to convey all the goodness of greens, via a convenient pasta sauce pass us by without another shot.

So I'm submitting this to the Pasta Please challenge, masterminded by Tinned Tomatoes, and hosted this month by Green Groumet Giraffe who has chosen Long Pasta as the theme.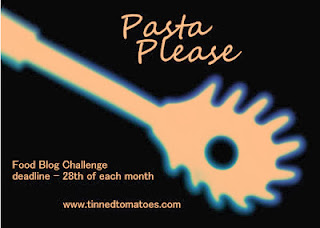 It also made a fantastic sandwich filling. I had mine combined with some chicken pieces, and Mr E had his with cheese.