A Creamy Dreamy Crunchy Sweet Daring Bakers' February
The February 2011 Daring Bakers' challenge was hosted by Mallory from
A Sofa in the Kitchen
. She chose to challenge everyone to make Panna Cotta from a Giada De Laurentiis recipe and Nestle Florentine Cookies.
This was always going to be a tricky challenge for me: Panna Cotta is basically sweetened set cream, and florentines are full of butter, cream or condensed milk, and sometimes chocolate. And I'm still dairy-free. So I got a bit creative again, spurred on by my success with the
dairy-free Joconde/Entremet
last month.
I also adapted a recipe for
chocolate cherry florentines
, again from the BBC Good Food Magazine website, substituting dairy free margarine for butter, and using 70% cocoa chocolate to coat it. Instead of almonds I used oats, to try to link back to the original recipe given in the challenge, and because I didn't have enough cherries, I chucked in some dried apricots too.
Because it was thinner than cream, I think the oat milk set with a firmer set, which meant it was possible to make some tiny heart shaped panna cotta, using a silicone chocolate mould. Since I made it around valentines day I went a bit heart-crazy and cut hearts out of the florentine, and served it with a red raspberry compote (made by mashing a cupful of frozen raspberries with 1 tbps oat cream, and 1 tbsp icing sugar)
Then later in the month I was browsing through Delia Smith's How to Cheat at Cooking, and I found a recipe for coconut lime jellies, which are very similar to a dairy free panna cotta. My original recipe was actually supposed to have coconut milk in it along with the oat milk, but when I opened the tin it was a weird grayish blue colour and smelled seriously nasty, so needless to say it went down the sink and I continued on with just the chocolate oat milk. But I was still intrigued by the possibilities of the coconut version, and since I had a packet of lime jelly in the fridge I decided to give it a go.
I served it with some mango and lime sauce that was loitering in the fridge, and it was lovely - the perfect way to finish off a meal of spicy beef satay noodles in which I was a bit generous with the chili - very cooling! I didn't have a fresh lime for the jelly so just missed it out, and it was still delicious. The jelly set beautifully - wobbly but not too firm, and so unbelievably easy! I'll definitely be making it again.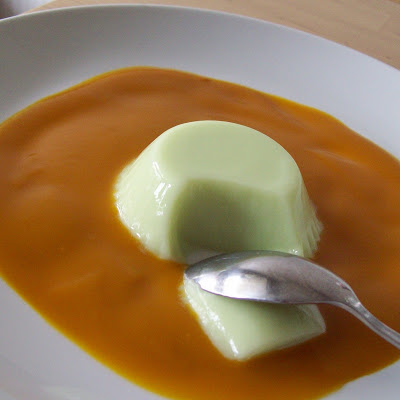 Coconut & Lime Jellies
(from Delia Smith's How to Cheat at Cooking) (serves 4-6)
1x135g block of lime flavoured jelly cubes

1x 400ml tin of coconut milk

Juice and zest of 1 lime (which I missed out and it still was fab)

150ml boiling water.
Pull the jelly block apart into cubes and put in a bowl. Add the lime juice and zest and 150ml boiling water. Stir for a few minutes to completely dissolve the jelly. Pour in the coconut milk and mix well. Divide between 4-6 mini pudding tins or ramekins. Leave to set in the fridge for several hours, ideally over night. Enjoy!