Crushed Pineapple Crumble
The other night after having soup for dinner, we decided that we wanted pudding, and it had to be something properly pudding-y rather than an ice lolly or a piece of fruit.
After a quick scout around the kitchen cupboards, the best we could find as a basis was a tin of crushed pineapple. Turns out it makes a pretty awesome crumble!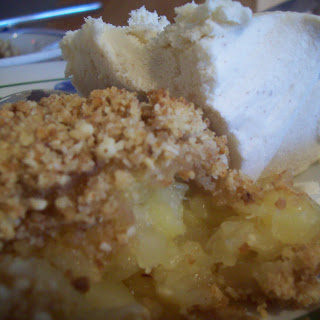 Pineapple Crumble (Serves 4)
1 tin of crushed pineapple, drained
1tsp honey
1tsp brown sugar
1tsp of the drained juice
1 pinch of ground cinnamon
A splash of lemon juice or a little grated lemon zest
3 ginger nut biscuits (most brands are dairy free)
4 or 5 walnuts
4 0r 5 almonds
2 level tbsp margarine (about 40g) (dairy free worked just fine)
3 tbsp flour
1 tbsp sugar
1 pinch of cinnamon
1 pinch allspice
Mix the crushed pineapple with the honey, brown sugar, lemon and cinnamon and put into the bottom of your baking dish.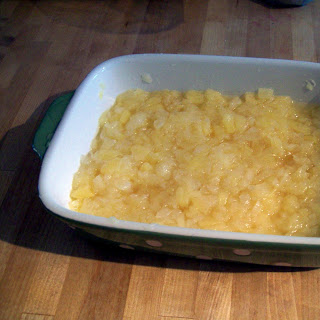 Blitz the nuts and ginger nuts to crumbs in a food processor or with a blender - or chop them finely.
Mix the flour, sugar, nuts and spices together. Rub in the margarine until it resembles breadcrumbs (they will be quite lumpy breadcrumbs because of the nuts).
Sprinkle over the pineapple, and bake at about 180 C for 20 mins, until the top looks crunchy and golden brown.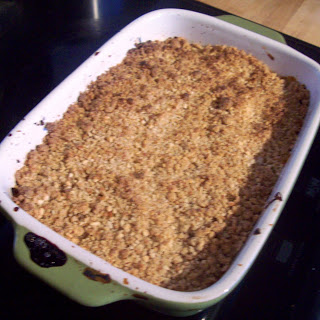 We ate it with vanilla ice cream (soya ice cream in my case) and it was a great flavour combination (minus the weird soya-y taste of course!).
This is a great store cupboard pudding - it would be lovely in the winter too, when nice fresh fruit can be a bit scarce and expensive to be cooking with.