Daring Bakers August 2011: Candylicious!
This was a fab challenge for me - making chocolates and sweets is something I have had a lot of fun with in the past, and having a justifiable excuse to give it a shot again was brilliant.
In the end I made 3 different types of chocolates and sweets.
First up was "pina-colada" coconut ice, made by boiling together butter, sugar and milk, then adding dessicated coconut, quickly pouring half into the prepared tin, before adding pineapple essence and a little yellow food colouring to the other half, and pouring it on top.
I then had a go at creating a dairy free version of traditional Scottish tablet, made using oat milk and soya margarine - and it worked!
I was a little bit concerned that since it was made with oat milk, it would taste of porridge, but thankfully it didn't - it tasted pretty much like normal tablet, but with an extra undertone of nuttiness, which comes from the oats. It did set considerably harder than tablet made with milk and butter, but I suppose significantly altering 2/3 of the key ingredients is bound to cause some unexpected side effects! All in all this was definitely a winner, and given how slowly and relatively unsuccessfully the re-introduction of dairy to my diet has been going I can see it being made again...
And lastly, I tried my hand a chocolate tempering, with more success than I expected, and made peanut butter and strawberry jam truffles.
They were a birthday present for Mr E, and so I had a time window of about 2hrs whilst he a friend went to the cinema to watch boy films (Cowboys and Aliens in this case, I think!) In a rare bit of forward planning on my part, I had got some organic 72% chocolate buttons from Coco Chocolate, which were rich, dark and dairy free - win!
Mr E is a big fan of all things peanut butter, so I decided to make peanut butter centred chocs. However the peanut butter I had to hand was unsalted, smooth ground - essentially just squished up roasted peanuts - which has a very dense and grainy texture. So I decided to work the peanut butter and jam vibe, and mixed 1tbsp peanut butter, 1tbsp strawberry jam, and a pinch of salt in a bowl. I then sieved in enough icing sugar until it was stiff enough to roll into balls.
At about this point in the making process, I discovered my thermometer which I would need to properly temper the chocolate had not batteries, Mr E was out, and Mini-M was asleep, so I couldn't go on an emergency battery run. I decided therefore that actually getting the chocolate tempered was highly unlikely, and put the rolled truffles in the freezer to firm up, not worrying about the frozen centres causing the dipped chocolates to sweat or bloom.
Once they were hard, I melted about 75g of chocolate in the microwave, then added about 25g unmelted chocolate and stirred until it had also melted - my attempt at 'seeding' without a thermometer to check the temperature. The chocolate gave a lovely thin coating, but did sweat a bit with the frozen centres. We took them out on a birthday picnic, and they were delicious - just the right combination of sweet, salty and darkly chocolatey. They got a big thumbs up.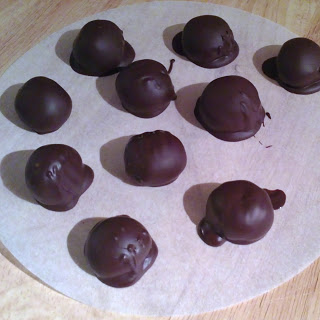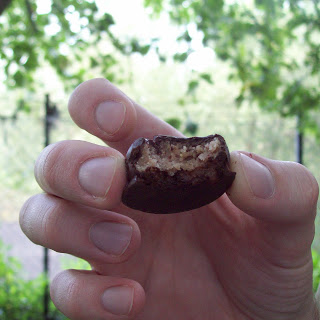 I used the leftovers to make a giant chocolate drop, and sprinkled the top with hazelnut brittle crumbs, hazelnuts, coconut and sultanas. It was whilst this was setting that I realised it was still nice and shiny, so I somehow very flukily managed to actually get the chocolate tempered. Woop. Shame I'll never be able to repeat the process!!!