Daring Bakers' March 2011: Triple "Chocolate", Walnut & Cinnamon Yeasted Meringue Coffee Cake
The March 2011 Daring Baker's Challenge was hosted by Ria of
Ria's Collection
and Jamie of
Life's a Feast
. Ria and Jamie challenged The Daring Bakers to bake a yeasted Meringue Coffee Cake.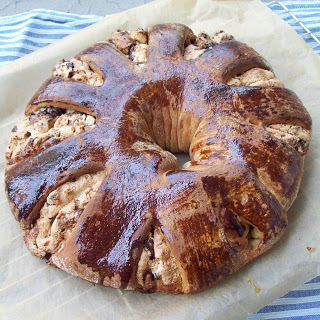 So let's clear up some confusion before we begin. In Scotland (and the rest of the UK to the best of my knowledge!) a coffee cake looks like this (
thanks Delia!
):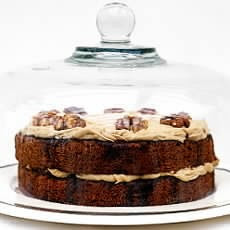 Coffee flavoured sponge, sometimes drizzled with coffee syrup, sandwiched with coffee butter icing, and often decorated with walnuts. Coffee in the title, coffee in the cake.
Imagine my surprise, then, when after reading the recipe through, and reading it again... and again, there was no coffee involved, and it seemed to be a sweet enriched filled yeast bread. Who knew - well if you didn't already you can now consider yourself enlightened too.
We were given free reign on the filling, and a specified recipe for the dough and meringue. I decided to go for a Triple "Chocolate", Walnut & Cinnamon filling. As is the usual now, I had to modify them to be dairy free, which was pretty successful. I also had a small flour crisis mid-bake - i.e. I realised halfway through I didn't have enough plain flour, so used self raising flour for the remaining couple of ounces, and for flouring the board repeatedly during kneading. And it wasn't until I'd made and baked it that I realised I halved all of the ingredients apart from the yeast. To be honest I was expecting it to be a bit of a disaster due to all these shameless substitutions, but it worked a treat! I have a feeling it's a pretty forgiving recipe - and open to endless experimentation, which I'm sure I will indulge in in future, as it was so yummy.
I halved the quantity and it still made 1 big cake, and substituted as follows: chocolate soya milk instead of whole milk; dairy-free sunflower spread instead of butter; white & milk dairy-free "chocolate" buttons, and chopped 85% cocoa solids chocolate instead of semisweet chocolate chips. I also used the egg yolks left over from the meringue to brush the top rather than a beaten egg, which gave it a darker coloured glaze.
Here are the dough ingredients lined up and ready to be weighed and measured.
The chopped and mixed filling.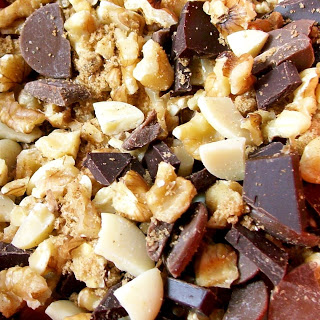 The shaped and filled dough before the second rising...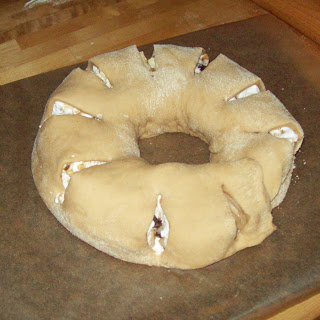 ...and looking nice and fat afterwards.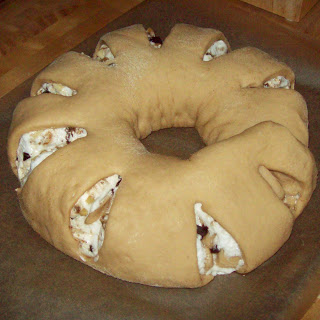 Close up of the oozing crispy meringue-y goodness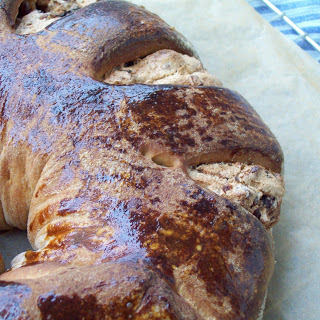 And a cross section of the lovely chocolatey goodness to finish.