The Daring Bakers' September 2011 Challenge: Fresh, Fluffy, French
The Daring Bakers go retro this month! Thanks to one of our very talented non-blogging members, Sarah, the Daring Bakers were challenged to make Croissants using a recipe from the Queen of French Cooking, none other than Julia Child!

It seems slightly strange to be blogging about making croissants, whilst watching the semi-final of the Great British Bake-Off on tv, and watching the contestants making... croissants!

So, croissants = butter. Which is a shame because I still can only have goats butter, and Mini-M can't have any butter at all. So yet again, I set out to make the Daring Bakers' Challenge dairy free. I have to say I'm looking forward to the day I can actually follow the real recipe, without any modifications, and then at least if it doesn't quite work out, I'll know it was because I didn't do it quite right, rather than due to my ingredient substitutions.

OK moan over - on with the croissants.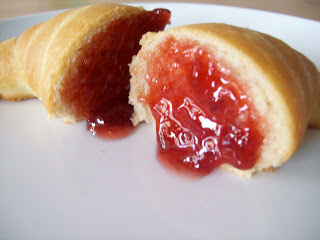 Warm jammy croissant... Mmmm!



You can find the challenge recipe and some fantastically detailed instructions here, so that if you feel so inclined, you can get croissanting yourself!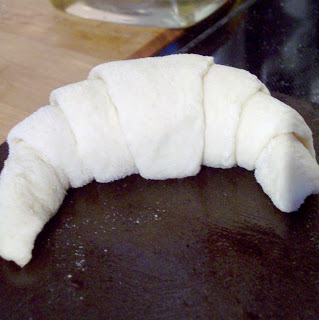 Unbaked and having a last little rise

I substituted dairy free olive margarine for the butter and didn't use the full amount - the different density and texture was going to make the dough completely unworkable if I added it all - I went for about 80g of margarine. I also substituted oat milk for the real milk, and reduced the salt down to a generous pinch to make it suitable for Mini-M.

Which is probably why they didn't quite work out - they were a bit more spongy than 'real' croissants. I think that the margarine merged into the dough, rather than creating pockets of fat which leads to the open crumb texture of a croissant, the different sugar/starch make-up of the oat milk caused the yeast to act slightly differently and the rise was not the same, and finally the salt reduction will have also affected the yeast.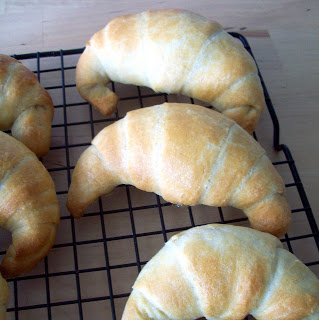 Baked and cooling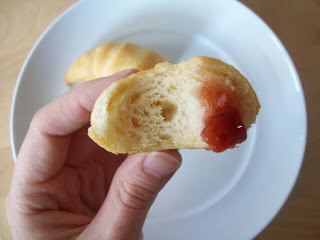 Showing some signs of dough lamination - just not very much!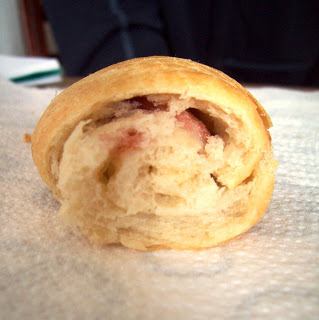 A few layers.... and quite a lot too spongy :o(

So all that said, I think they were a cautious success. Certainly Mini-M polished one off, they tasted lovely with jam, and also were super filled with ham and melted hard sheep-cheese.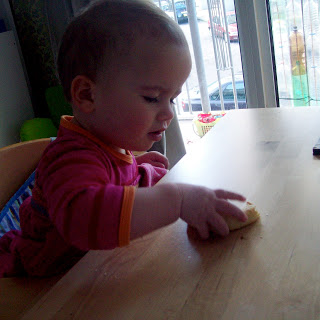 Hmmm - this doesn't quite look like bread or pancakes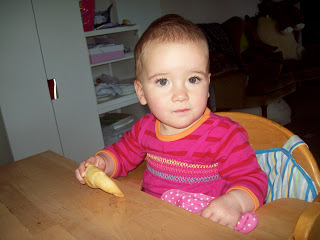 Contemplating whether or not to throw it or eat it (whilst clutching a hat with her other hand)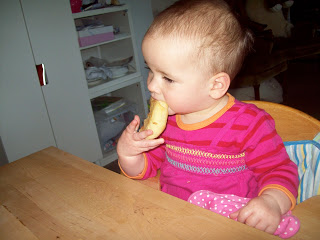 Thankfully Mini-M decided to eat it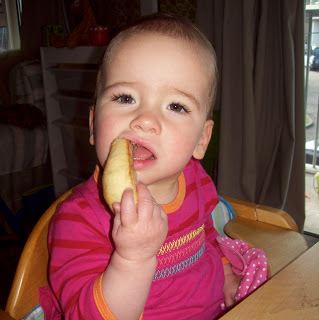 Getting stuck in!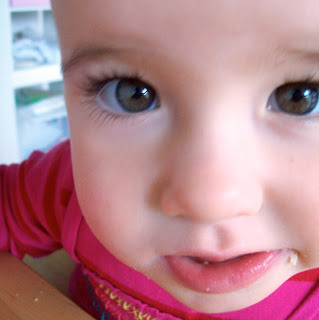 All gone! Time for some close up camera inspection

Will I make them again? I probably will, at some point in the future, once I can cook with butter again. They actually weren't as much effort as I thought, in a still-taking-quite-a-lot-of-time-and-effort way.

Thanks for another great challenge!