Daring Cooks' Challenge March 2012: Brave the Braise
The March, 2012 Daring Cooks' Challenge was hosted by Carol a/k/a Poisonive - and she challenged us all to learn the art of Braising! Carol focused on Michael Ruhlman's technique and shared with us some of his expertise from his book "Ruhlman's Twenty".
My braising recipe choice was dictated by the veg box, and what needed using up: potatoes! After some searching, I came across a recipe for braised sausages and potatoes on the BBC website, by Rick Stein and originally from the Mediterranean Escapes Series, titled "Fennel Sausages Braised with Lemony Potatoes and Bay Leaves". I did have some sausages in the freezer, so it seemed like a winner!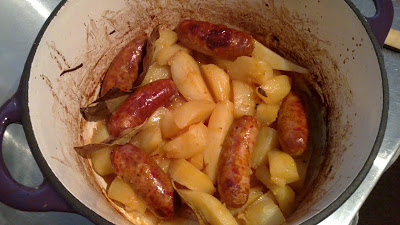 After digging out the sausages, I discovered they were of the spicy pepper chorizo style variety, with no fennel in sight - oh, and as usual I didn't have a lemon!





So I went with what I had and used the same method, reducing the quantities a bit too, so that there weren't too many leftovers for tomorrow.

Braised Spicy Sausage and Potatoes (Serves 3)


6 pork 'chorizo style' sausages (about 350-400g in total) - mine had a lot of red pepper and garlic in them, as well as spices
1 medium onion
1 tbsp olive oil
500-600g waxy potatoes
150ml water
4 dried bay leaves
1 tbsp bottled lemon juice
1 tbsp fresh parsley chopped

Preheat the oven to 180C
In an oven and hob proof casserole dish with a lid, heat the oil and then brown the sausages for a few minutes.
Finely slice the onion and add it to the sausages and cook until translucent.
Peel and chunk the potatoes - mine we fairly small, so I left most in quarters. Don't cut them too small or they will get overcooked and soupy.
Add the potatoes, water, lemon juice and bay leaves.
Cover with the lid and pop in the oven for about 30-40 minutes.
Remove the lid and return to the oven for another 5 minutes to colour.
Stir through the fresh parsley just before serving.
Delicious! We ate ours with coleslaw.



Would I make it again - yes! It's a lower hassle variation on Bangers and Mash! If your sausages aren't garlicky, then add a clove of garlic along with the onion. You could chuck in some other veg too - turnip, swede, carrot, parsnip - they'd all be lovely.

Whilst searching for the sausage recipe, I stumbled across another one that took my fancy on the BBC website - this time a sweet braise - Aromatic Braised Apricots by Jane Sen. I was intrigued and had everything to hand, so we had a doubly braised dinner tonight - main course and dessert!

I had hoped that Mini-M would eat this - she absolutely adores dried apricots - but the melt down over main course meant that pudding didn't happen - so we'll have to wait until tomorrow to find out!

I've scaled back Jane's recipe to serve 2-3 and tweaked it a little to incorporate more of a braising element, rather than just simmering.

Spiced Braised Apricots with Cashew Cream (Serves 2-3)


150gm dried apricots
2 cardamom pods
a generous pinch of ground cinnamon
1 heaped tsp of dairy free margarine
Water
80g cashew nuts
100ml apple juice

Melt the margarine in a small saucepan then add the apricots, cardamom and cinnamon and stir for a few minutes until they are just starting to colour.
Add boiling water to cover and allow to simmer for about 30 minutes until the apricots are plump and the water has thickened into syrup. Add a little more water from time to time if necessary.
To make the cream, put the cashews in a food processor and blitz until finely ground. The smaller you can get the meal the smoother your cream will be. Mine was still fairly 'bitty' but it didn't bother us!
Scrape down the sides of the processor bowl, then put it back on at a low speed and gradually pour in the apple juice. Once it is all incorporated, whizz it up for another minute then chill until you're ready.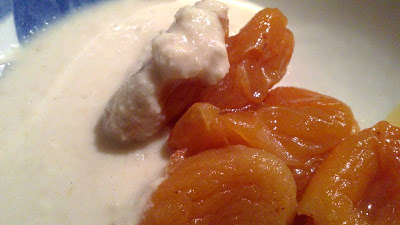 This is a dessert that is sweet, creamy, delicious, and has no added sugar! I am a convert to cashew cream too - so easy and so tasty.

Thanks Carol for adding two new recipes to my arsenal!