Daring Cooks' December 2011 Challenge: Cha Sui Bao
Our Daring Cooks' December 2011 hostess is Sara from Belly Rumbles! Sara chose awesome Char Sui Bao as our challenge, where we made the buns, Char Sui, and filling from scratch - delicious!

This was a fantastic challenge to make - exciting enough to feel adventurous, but uncomplicated enough to be achievable.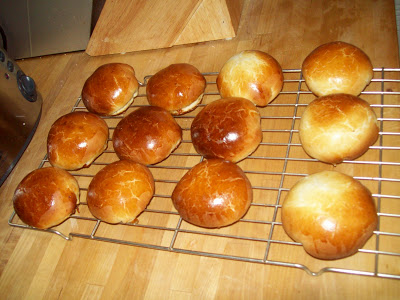 Looking super shiny after baking

I made the Char Sui pork somewhat impulsively without checking first of all which ingredients I actually had in the cupboard. I went for the maltose and food colouring free version, since I wanted them to be suitable for Mini-M to try, and she's high spirited and energetic enough without a dose of 'pillar box red'!

Here's the list of what should have been in the Char Sui marinade... Honey, dark soy sauce, sesame oil, white pepper, sugar, oyster sauce, shaoxing cooking wine, five spice, salt. Here's what actually went into it... Honey, dark soy sauce, sesame oil, white pepper (so far so good), date syrup, cherry brandy (!), ground cloves, ground cinnamon, salt. All things considered, I was relieved how good this tasted even despite the cherry brandy.

I then used the Char Sui pork to make the baked pork buns - cue a whole lot more ingredient substituting.
I didn't mess with the actual dough recipe, but the filling itself was a heavy casualty.
I didn't have spring onions, so used half a regular one. I didn't have hoisin sauce, or any more sesame oil, and I subbed in some ketchup, some more date syrup, a splash of rice wine vinegar and some finely chopped tinned pineapple. I also used some home made vegetable stock paste for the chicken stock.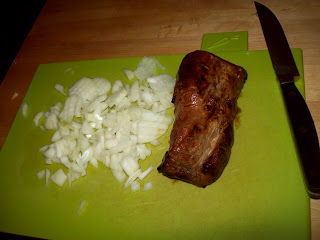 Cooked pork and chopped onions ready to go into the filling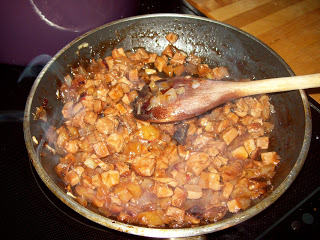 Pork & pineapple filling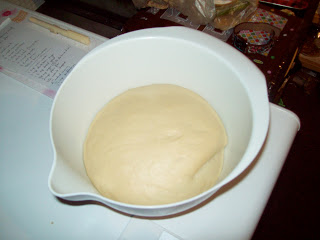 The dough after rising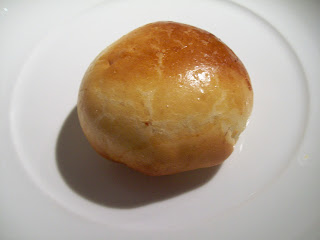 One little baked bun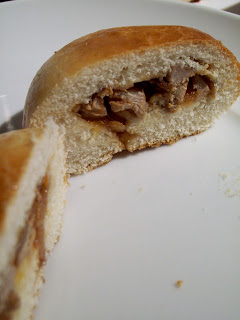 And a cross section of baked porky goodness!

So then, behold the miracle that is baked pork buns that still taste good regardless of what weird ingredients you throw in!