Daring Cooks' June 2013 Challenge - Meatballs Around The World
I'm hoping, that if post scheduling is my friend and cooperates nicely, this post will magically pop up on the 14th June...

And by that point it will be Daring Cooks' challenge posting time again!

The June Daring Cooks' challenge sure kept us rolling - meatballs, that is! Shelley from C Mom Cook and Ruth from The Crafts of Mommyhood challenged us to try meatballs from around the world and to create our own meatball meal celebrating a culture or cuisine of our own choice

So I went for Hawaiian (pizza, rather than the country) inspired Ham and Pineapple Meatballs. These were super easy to make, and really tasty.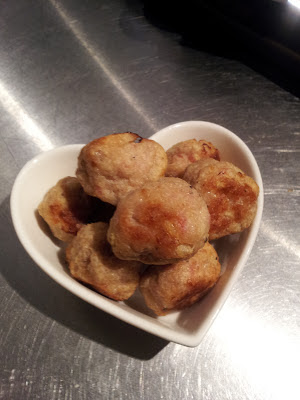 We heart meatballs!

Mr E was also in on the meatballing this month, and he also went bacony. Hmmm the red squiggles whilst I'm typing suggest that neither meatballing or bacony are words, which is a shame - I think they should be, and shall use them anyway...

His post should also be up at Hell Yeah Four Ingredient Recipes, where you can see the four ingredient Bacon and Sauerkraut meatballs he cooked up.

My Hawaiian meatballs also ended up being four ingredient creations - bacon, sausages, pineapple and breadcrumbs. I had been intending to use pork mince but our local ASDA does not stock such weird and wonderful ingredients (I'm not joking. Lots of cola, pizza, pot noodles and ready meals though... and quite often fights in the aisles which always makes shopping interesting!). I'd probably recommend using pork mince, since sausages are generally already fairly highly seasoned with sage and other savoury spices which overrode the pineapple a little. I went with the highest meat content sausages I could find which also happened to be gluten free ones.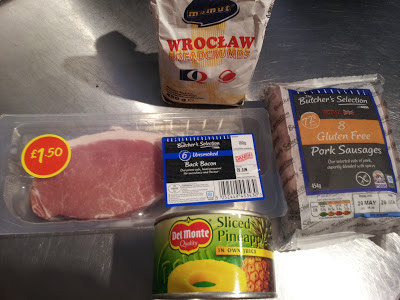 Just 4 ingredients - quick and easy (although not especially healthy...)

Hawaiian Meatballs (makes around 40)


180g bacon (I used a 6 rasher unsmoked pack)
454g sausage meat or pork mince (if you're using sausages chose the highest meat content you can)
1 small tin of pineapple
Dry breadcrumbs - I used about 3 tbsp

Preheat the oven to 180C (160C fan) and line some baking sheets with parchment or foil.
Drain the pineapple (drink the juice if you're so inclined - I always am!).
Slit the sausages from their skins and tip into a food processor along with the drained pineapple and bacon (trim off the fat with scissors as you're putting them in).
Add 2 tbsp of dry breadcrumbs the blitz until combined. Add another tbsp or two of breadcrumbs as needed to reach a soft but rollable consistency.
Shape into balls and place on the prepared trays.
Bake for around 20 mins until cooked through in the middle and golden on the outside.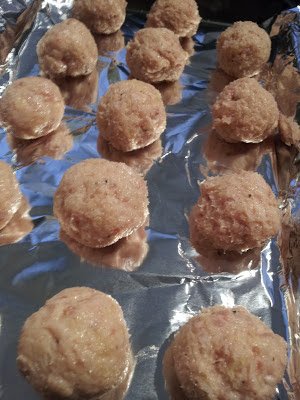 Rolled and ready to bake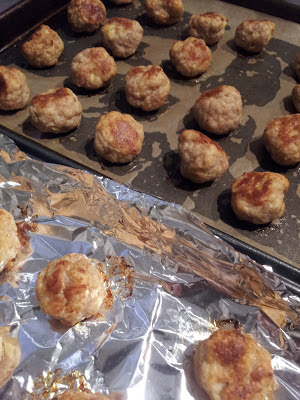 And 20 mins later... voila

These were fab. We enjoyed them a whole range of ways - as part of a picnic, chopped up in pasta salad, in sweet and sour sauce and alternated with veg for BBQ kebabs. Only the sweet and sour was snapped though!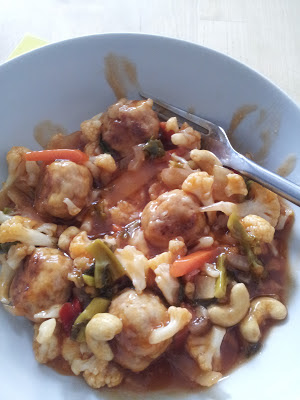 Sweet and sour meatballs with cashews, cauliflower, broccoli and carrots

Thanks for a tasty challenge :-)