Darink Bakers November Challenge - Cannoli
So, I'm getting off to a bad start for this month's Daring Bakers challenge - I've just realised this was supposed to be posted yesterday - oops! Better late than never I guess.
Instead of something baked, this month the challenge was to make

cannoli

. Without going into too much detail, since it's 23:23 by my computer clock and that means imminently time for bed, they are a type of Sicilian fried desert pastry, filled with a creamy filling - traditionally made with ricotta cheese and dried fruits and nuts. They are fried on

cannoli

tubes to keep them hollow, and the filling can then be piped in when they are cool.
This challenge was a joint attempt - the lovely Lisa (my little sis) came round and helped me create kitchen carnage. Since we didn't have any

cannoli

forms, or a handy wooden broom handle to butcher as many people seem to have used, we opted for dried pasta

canneloni

shells to form our

cannoli

round. I'd say this was a success, but not foolproof - unfortunately the shape of some of the

canneloni

tubes changed during the deep frying, making the

cannoli

an absolute nightmare to remove. But anyway, enough of the chat - here are the only two half acceptable pictures I managed to take!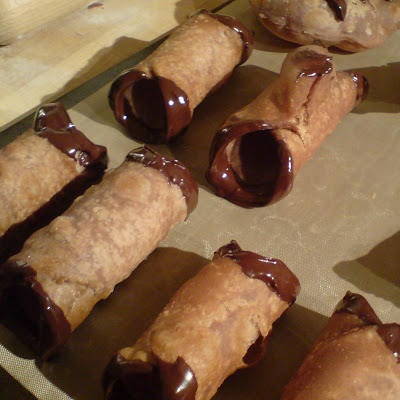 The fried shells dipped in chocolate and almost ready for filling... we filled them with

mascarpone

cheese, sweetened with icing sugar and chopped fresh mango.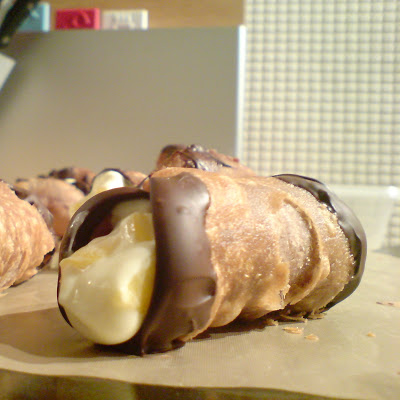 And there you have it!

Cannoli

. How did they taste - well they were nice, but on balance we both agreed that they maybe weren't quite worth the effort, but definitely a fun experiment!