This is a quick-turnaround post of what we had for our dinner tonight, before I forget the recipe! (Excuse the poorly lit phone photo - it's October in Scotland and therefore we're into the season of living in the semi-dark until about April - joyful.)

For dinner tonight we had oven chips - with tuna and tomato dip, rocket salad and baba ghanoush. I'm putting it into the "slightly healthier than regular junk food" category - I was really delicious.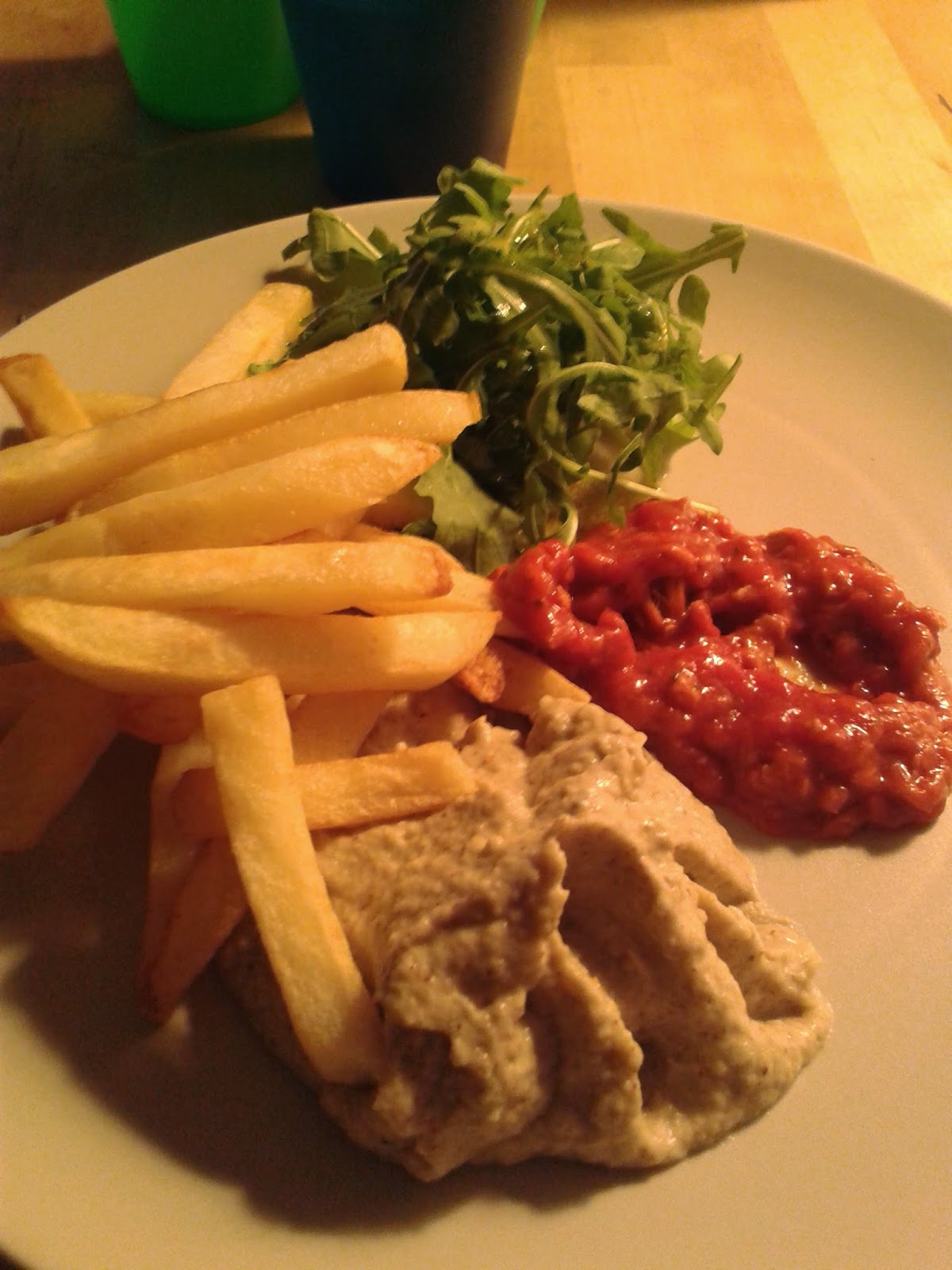 Don't worry, I'm not join to post a recipe for oven chips, but rather for the high-speed super cheat baba ghanoush, which was really the star of the meal and only took 10 minutes to make.

High-Speed Super Cheat Baba Ghanoush (makes a generous dollop for 3!)


1 medium aubergine
2 tbsp lemon infused oil (I used Supernature cold pressed rapeseed - it's delicious and made only 8 miles from Edinburgh)
pinch dried garlic granules
pinch salt
1 tbsp tahini (or if you're pushing cheating to the max like me, 1 tbps nut butter - I had no tahini left so used almond butter)

Trim the top off the aubergine and prick all over with a fork. Put on a microwaveable plate and cover with clingfilm. Mircrowave for 2 minutes then take out, uncover, turn over, re-cover and cook for 2 more minutes. It should feel soft all over. If not, cook in 30 minute increments until it does.
Cut in half and scrape all of the flesh out into a mixing bowl.
Add all of the other ingredients and blitz until blended.
Enjoy!

Mini-M wasn't entirely convinced, although she did try it, but Mr E and I definitely were. I think she possibly heard the word "aubergine" being mentioned before she tasted it.

Does it taste authentic - undoubtedly not. Does it retain some of the authentic character - definitely yes! And it is ready in 10 minutes. The taste would be a lot more authentic if you used tahini rather than almond butter and it would definitely down just as successfully. If you wanted a bit more punch you could use a clove of fresh garlic crushed instead of the granules too.

From a health comparison, I've compared it with a couple of tablespoons of mayonnaise, as a likely alternative chip-dip: it comes in at around 160kcal per serving, compared to 270kcal for mayonnaise but still tastes fantastically creamy with loads of flavour. It also packs in a good dose of fibre into the bargain. And it's delicious spread on chicken sandwiches too (which is what I did with it last time I made it, but forgot to take any photos).