Franken-Biscuits and Vampire Cupcakes
It's Halloween on Friday.
And for once I've managed to make something seasonal at least a few days in advance - wonders behold. On the other hand, I reversed into a bin when I was going out earlier - so you win some, you lose some…

Here are a couple of easy Halloween themed treats.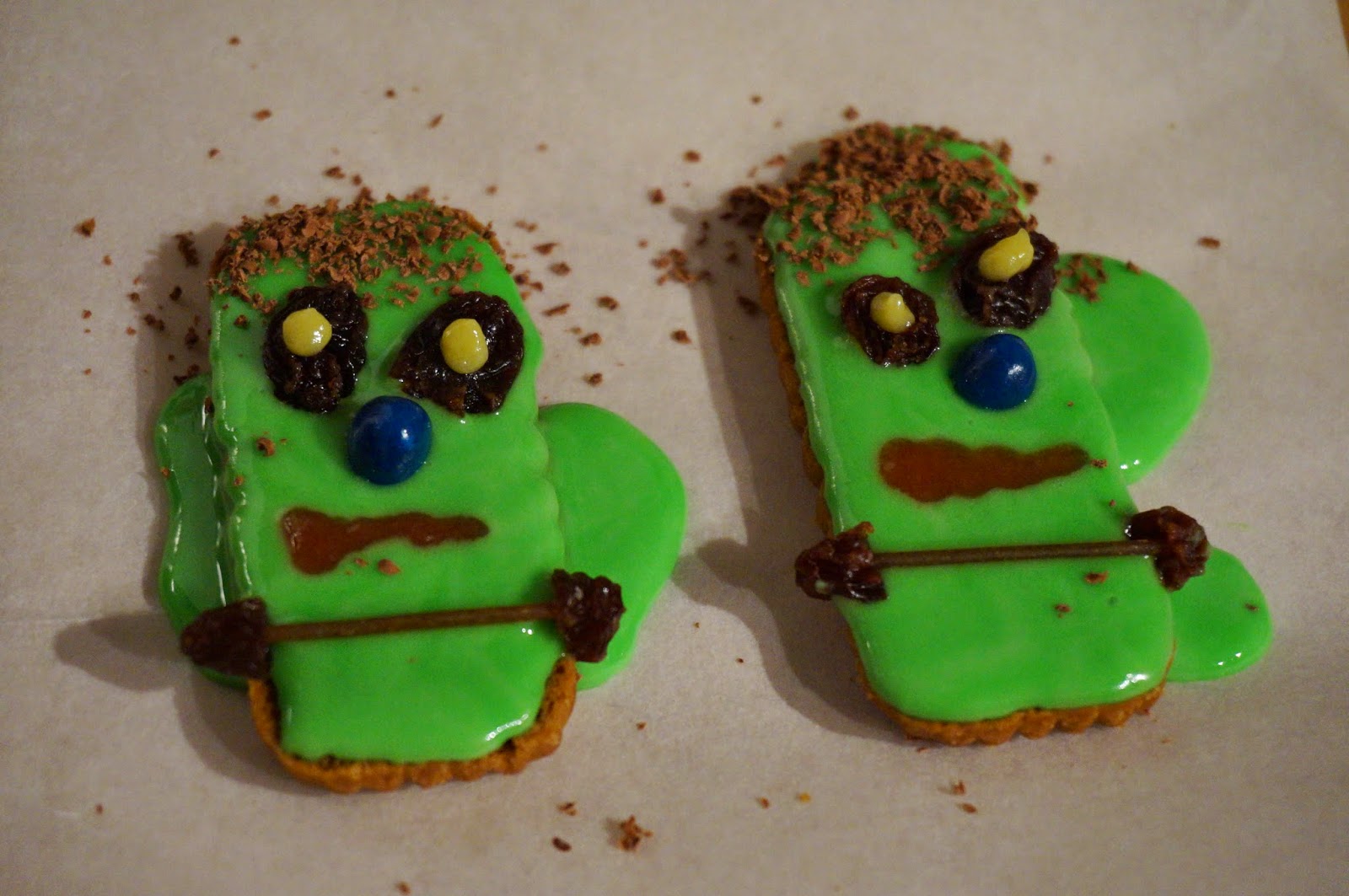 First up - Franken-Biscuits

I made 2 prototypes, and am going to let Mini-M loose creating her own Franken-Biscuit army later in the week. They use Lotus biscuits as the base which I found in the pound shop (are are dairy-free into the bargain) - just thought I should clarify that I did not raid the client biscuit cupboard at work, or save them up from coffee-shop visits for the purpose - that's a whole other level of forward planning!

You will need:

Lotus biscuits (or other plain rectangular variety)
Green royal icing (I used royal icing powder, made up with lemon juice and a little green food colouring)
Raisins
A couple of squares of chocolate
Writing icing (I used yellow and red but you could use any)
A few jelly beans
A few strands of wholewheat spaghetti
First cover the biscuits with the icing - it doesn't matter if it oozes off the sides - this isn't really about precision!
Next grate the chocolate and sprinkle over one end of the biscuits for Frankenstein's hair.
Use a raising for each eye and half a jelly bean for the nose and position to make the face.
Add the mouth with red writing icing, and eye dots in a light colour (I used yellow).
Snap off a piece of spaghetti a little wider than your biscuit and push half a raising onto each end to make the "bolt" and put on top of the biscuit then voila - you're done.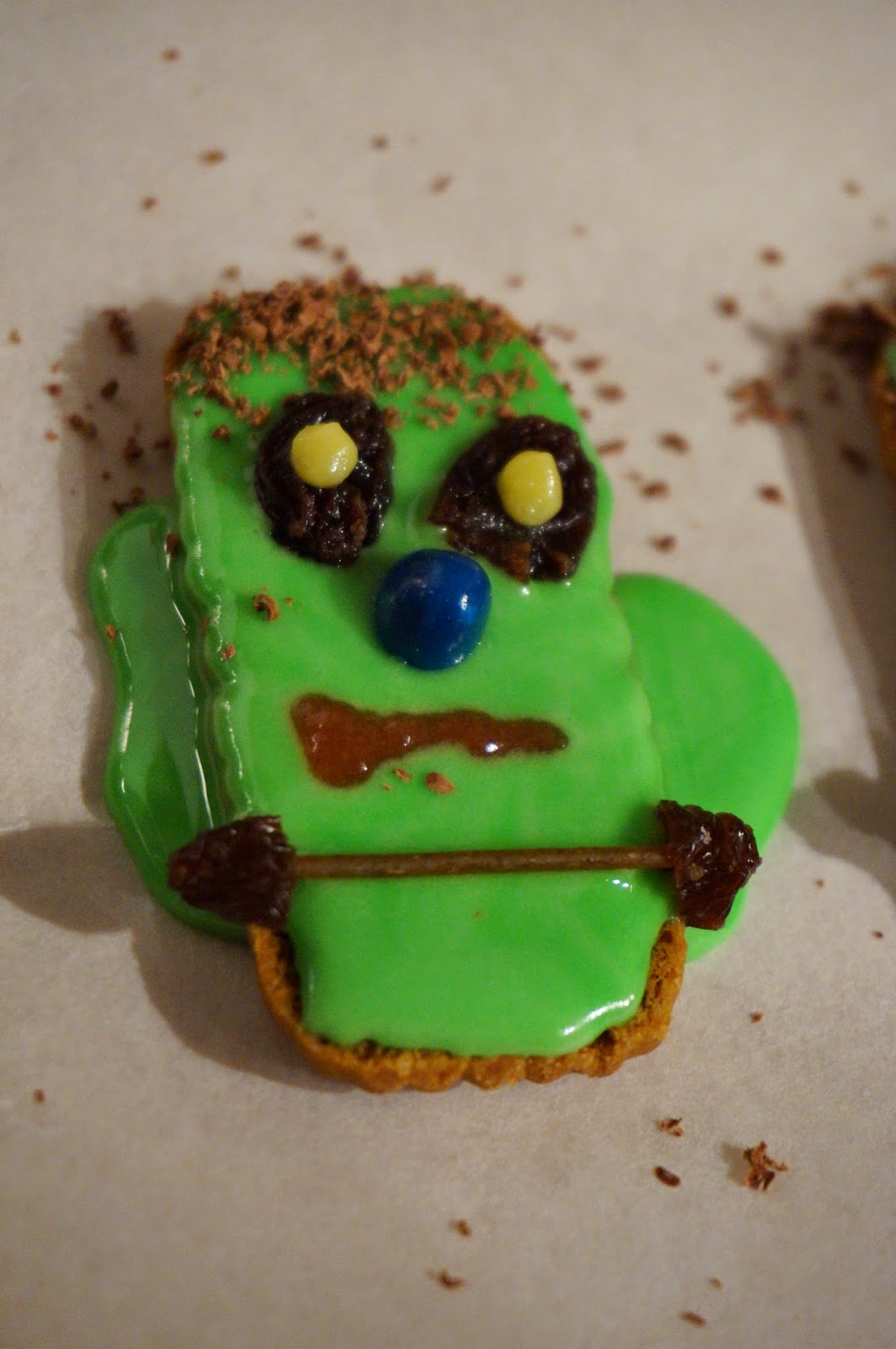 I had originally planned to use pretzels for the "bolts" with each end dipped in a little melted chocolate, but it turned out the pretzels in the cupboard weren't sticks but twists, which would have looked rather weird.

So… onto the Vampire Cupcakes - I first posted these 5 years ago!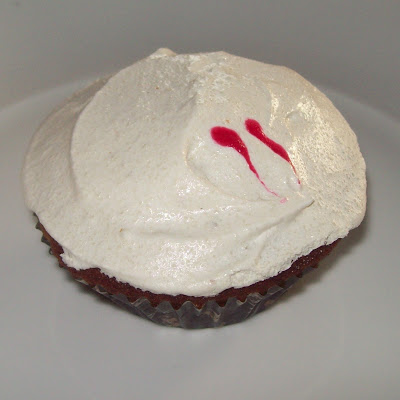 But here's a recap…
You'll need some plain cupcakes, some very red jam and some 7-minute frosting.
After your cupcakes are cooled, take a small sharp knife and cut a cone out of the middle of each cake.
Cut the bottom of the cone off, leaving a little flat lid. Spoon jam into the hollowed out space then top with the little lid.
Cover with a layer of frosting, then use a toothpick to put some jammy fang-marks on the surface - done. Told you it was easy :-)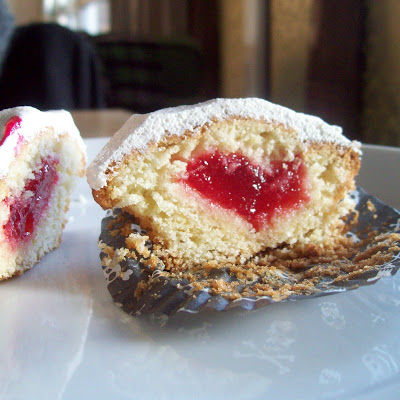 So - when the time comes… Happy Halloween!

I'm entering the Franken-Biscuits into Treat Petite, which is hosted alternately by Cakeyboi and The Baking Explorer, ever so slightly late but hopefully better than never! The theme for October, hosted by The Baking Explorer is "Trick or Treat"