Ginger Oat Trickles (what oddly named biscuits!)
It is a fact of life that I have too many cookbooks. 2 shelves-worth to be precise, which to be honest is a lot more than I need! But for some reason recently, every time I've been needing a recipe for something, I've searched the BBCGoodFood archive, or browsed Foodgawker, and shunned the books on my shelf. So I figured they were feeling a bit left out, and made my Mid-June resolution: Cook stuff from books, not just the interweb!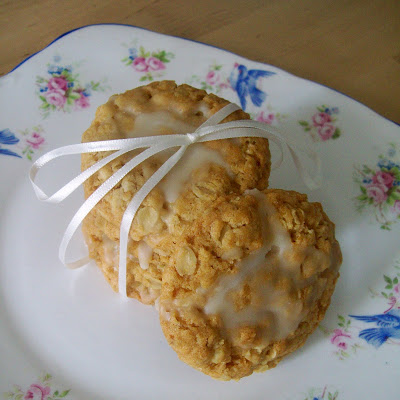 So my first application of the new rule was some biscuits I made last week to take along to a meeting. I used a recipe from my newest cookbook acquisition - the Mornflake Oats Biscuit Book. Who knew there were enough oat biscuits out there to dedicate a whole recipe book to them! When I saw it languishing in the remainder bin of the bargain book shop for 99p, I knew I had to rescue it (that's another bad habit of mine - rescuing 'nice' books that I find in pound shops and the like, that I feel are too good to be destined to that fate!).
And flicking through, there was a recipe for the weirdly named 'Orange Oat Trickles' just that I can't leave a recipe alone, so I had to tinker with it, and made them ginger instead. Here's my modified recipe :o)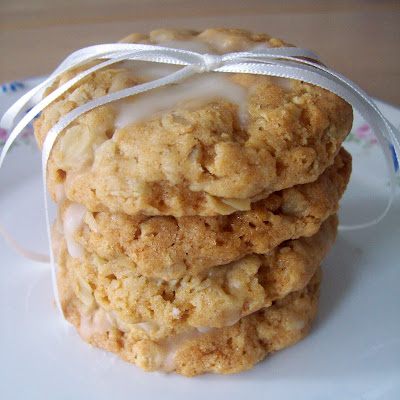 Ginger Oat Trickles (makes about 15)
100g margarine (plus extra for greasing if you're not using parchment or silicone sheets)
75g caster sugar
2 tbsp golden syrup
1/2tsp ground ginger
100g rolled oats
100g self raising flour
1/2tsp bicarbonate of soda
100g icing sugar
2 scant tbsp fiery ginger beer
Preheat the oven to 180C and line 2 baking trays with parchment.
Combine margarine, sugar & syrup in a bowl and beat until fluffy.
Add the oats, flour, ginger and bicarbonate of soda, and mix until well combined (it will be a very stiff mixture).
Take generous tsp of the mixture, shape into small balls and place well-spaced on the baking sheets, then flatten slightly.
Bake for about 15 mins (swapping shelves over half way through if it's not a fan oven) until golden brown. They will spread a bit, but not too much.
Remove from oven and allow to cool slightly and firm up, then transfer to a wire rack and allow to cool completely.
Sieve the icing sugar into a bowl, and add the 2 scant tbsp ginger beer, then mix until the icing is runny and smooth.
Trickle over the cold biscuits (hence the name I assume!) and leave the icing to set.