I have a rather ambitious pre-holiday blogging to-do list, and since it's now raining outside after a few days of glorious sunshine, tonight seemed a good evening to tackle it!

So assuming no laptop disasters, or anything really riveting on the TV, this will be the first of a few posts.

I'm starting off with an easy one - and by that I mean one I don't really have to write myself, since it was written for my by my sister, the lovely Auntie L, as part of the Spring Surprise Ingredient Swap I rounded-up back in April.

She bucked the sweet trend and made some burgers... bean burgers to be precise.




She says:


"I'm not sure what to call this burger… I guess bean burger? It was based on a falafel burger recipe but I didn't have chickpeas so ended up with this. You might ask why I picked a recipe in which I don't have the main ingredient… Hmm… not sure."



It's obviously a family trait - not having any of the right ingredients has never deterred me either.
She goes on to say:




"Here are two photos from my ingredient swap. Don't feel you have to put in the chopped up veg one… that was just because I was pleased with my fine chopping skills having spent an excessively long time on it due to a power cut!"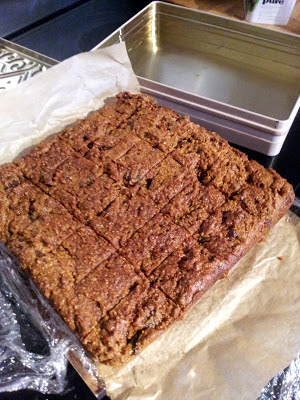 Jeeps! If I had to chop all the veg to that size by hand rather than bunging it in the food processor and blitzing it to pieces, there is a high chance I'd not be typing this now... or at least not with all 10 fingers!
Bean Burgers
A LOT of red onions, maybe about 6 or 7 (finely chopped)
(that's in the onion bowl and this gets softened first!)
half a bulb of garlic (pressed)
about a tablespoon of ground cumin
QUITE a lot of carrot, about 6 or 7 but I think some of mine were diddy
parsley (a good handful, chopped)
chilli peppers (about 2 or 3 dried ones, chopped, depending how spicy you like it)
(that's in the orange bowl and this gets added to the onion to cook a little)
1 tin of cannellini beans, drained and mashed
half a tin of baked beans, mashed
third of a jar of tahini
handful of pumpkin seeds
1 cup of flour
(that's in the mashed up bowl and this gets added to the vegetables)
Once you've cooked the various bits, mix it all together and make into burgers and fry! Easy peasy and actually pretty unattractive to look at as I realised later, hence why I have attempted to spruce it up with some peas and chips I found in the freezer :o)
And what did it taste like... she rated it 'quite decent' but I think that's stinting praise - they sound yum!