Random Recipes #29: Squidgy Spiced Date and Fig Cake
I'm out of the blocks early this month, as I wanted to get some blog posts done and dusted pre-holiday. We're hitting the road and heading for France at the weekend, so based on our usual luck with the weather, the good people of Brittany should be expecting snow by the middle of next week!

I made this cake last night and took it into work today, where it went down a treat. In fact I'm fairly sure some folk had it for breakfast, because they couldn't wait until coffee time!


High class crockery as always chez Makey-Cakey... plastic toddler plates ahoy!

I'm making it for June's Random Recipes challenge, masterminded and hosted as ever by Belleau Kitchen, and the theme for June is Healthy. Whilst I'm not claiming that on balance this cake is health food, I'll perhaps instead just suggest that is marginally better for you than, say, a 1kg bar of Dairy Milk, or some supermarket cake full of all sorts of weirdness. It has fruit, and nuts in abundance in it which at least means it has some nutritional content, and that's probably about as much you can hope for in a cake!

Cooled, cut and ready to go into the tin

It is inspired by / adapted from my current favourite cookbook - The Intolerant Gourmet by Pippa Hendrick. In fact I bought it for myself last week, after repeatedly renewing the library copy up to my limit! So I was very please when I found a recipe I could use from it to fit my chosen healthy ingredient of figs (which had been lurking in abundance at the back of the cupboard for quite a while. Can figs breed when left abandoned in the dark forgotten extents of the kitchen? Perhaps that is what happened - I'm sure the jar wasn't that full the last time I checked!). After deciding it was time to reduce the fig population, I started browsing through books until I found a suitable recipe, and I was very restrained - I didn't dive straight for my new book. It was the third I got to, although perhaps the first two were subconsciously chosen based on their unlikeliness of containing fig recipes: River Cottage Veg and The Polish Kitchen!

Digression over - back to the recipe. The book has a recipe for Sticky Apricot Slice which is amazing - I have made it before and it bowled me, and everyone who tasted it over. If you have Gluten, or egg, or dairy free friends - make it for them. They will love you forever and ever - it really is that good. I decided it was time to try substituting the apricots for figs and dates, then realised I didn't have light brown sugar, or a GF flour blend, or rice milk - so I went a little off piste as usual.

Squidgy Spiced Date and Fig Cake (Serves 12)


100g soft dried figs
75g dried dates
175g soya margarine
175g dark muscovado sugar
3 tbsp water
2 tsp mixed spice
1 tbsp almond milk
3 tsp egg replacer powder
5tbsp water
1/2 tsp xanathan gum
1 tsp bicarbonate of soda
100g brown rice flour
225g ground almonds

Chop the figs into quarters and put in a medium saucepan along with the dates, margarine, sugar and 3 tbsp water.
Allow the sugar and marge to melt over a low heat, then bring up to the boil and boil for 5 minutes.
Take off the heat and allow to cool.
Preheat the oven to 150C (140C fan) and grease and line a 9" square tin.
Once cool, tip into a mixing bowl (unless you're using a big enough pan).
Add the mixed spice and almond milk, and breathe in the sugary, dried fruit, spice smell - it is amazing!
Whisk up with egg replacer with the 5 tbsp water as specified on the packet then mix that in to.
Next add the flour, xanathan gum and bicarb and beat well.
Stir in the ground almonds, then tip the mixture into the tin - it will be more like a soft dough than cake mix but that's OK.
Bake for around 30 mins until risen a little, golden on top and firm to the touch.
Allow to cool in the tin for 5 mins then carefully turn out onto a rack and allow to cool completely.
I wrapped mine in clingfilm and left it in the fridge overnight before cutting it the next day which helped get neat slices.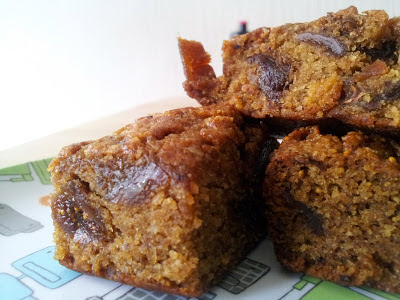 Squidgy date and fig close up

Pass around the tin and enjoy :o)

And just to help assuage the cake related guilt, I stuck the ingredients into an online nutritional analysis package, based on a 12 serving cake, and each serving will provide around 10% of the recommended daily intake of Vitamin A, 5% or iron, 6% of calcium and 16% of dietary fibre. Win!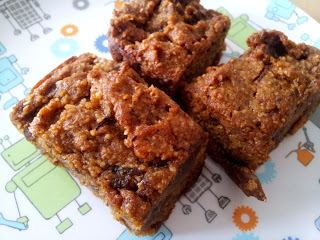 Unassuming exterior concealing hidden awesomeness