If this chocolate cake could wear a cape and fly… it would!
Superfood and chocolate cake. Not often words that coexist happily in the same sentence. I mean, I'm sure a lot of people would heartily agree that chocolate cake is a pretty super food, in terms of general deliciousness, but it's not normally a superfood in terms of nutrition.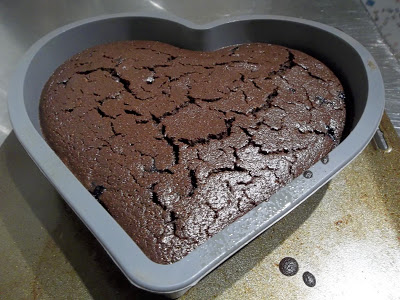 One of these days I will not spatter cake mixture when pouring it into the tin!


Well, this one is! It contains not one, but two superfoods: blueberries and quinoa. The first one probably didn't surprise anyone - the second one has possibly made you all a little sceptical. Rest assured it tastes delicious, and not at all 'healthy' which means you can be relatively virtuous and still feel sinful.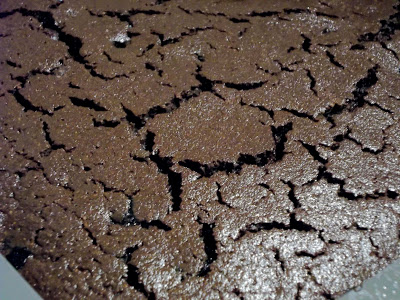 Cracked chocolate amazingness


As I'm writing this, I'm mentally picturing some little fat blueberry ninjas, and a be-caped packet of quinoa, ready and waiting to take on the winter germs, cure aches and pains, lift spirits and find the solution to world peace. If only! In reality, they might at least create a neutral dessert - where their superfoody presence cancels out the sugar and other cake baddies!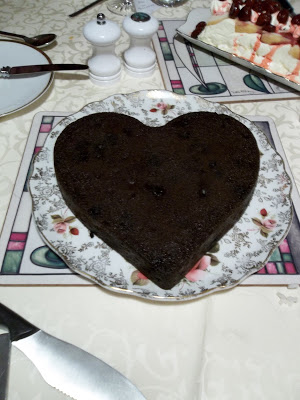 The heart of darkness (due to my dodgy photography!)

This recipe is adapted from one I found at Within the Kitchen - so if you're looking for a real dairy, blueberry-less version with a coffee hit, and twice as much of it (yum!), then you'll find it here.

Superfood Chocolate Cake (Serves 6-8)


1/3 cup dried quinoa
1l water
3 tbsp non-dairy milk (as usual, I used Oatly oat milk)
2 medium eggs
1 tsp vanilla extract
Scant 1/2 cup of dairy free margarine
1/2 cup unsweetened cocoa powder
3/4 cup granulated sugar
1/2 tsp baking powder
1/4 tsp bicarbonate of soda
100g fresh blueberries
pinch of salt

Put the quinoa and water in a saucepan, bring to the boil and simmer until the quinoa is tender (about 10-15mins). Drain, and allow to cool slightly.
Preheat the oven to 180C (170C fan) and grease an 8" cake tin. Line the bottom with baking parchment if it isn't non-stick.
Put the eggs, oat milk, melted margarine and vanilla in a blender (or bowl if you're using a hand blender). Add 1 cup of the cooked quinoa. (If you have extra left, if makes a fantastic tabbouleh style salad with tomatoes and lots of fresh herbs.) Blitz it until smooth.
In a large mixing bowl, measure out the cocoa powder, sugar, baking powder, bicarbonate of soda and salt.
Stir to combine then add the wet ingredients.
Mix well, then stir through the blueberries.
Pour the batter into the prepared tin and bake for around 40-45 minutes, or until a skewer inserted into the middle comes out clean (unless you hit a blueberry of course!).
Allow to cool completely in the tin, then wrap in tin foil, pop in a large airtight box and leave for 24-48hrs before eating. This helps it to become moist and fudgy - of course you can eat it straight away, it might just have a very slightly more grainy texture from the quinoa, depending on how soft you cooked it, and how smoothly you blended it!
Serve warm or cold, with a drizzle of oat cream, and feel good about getting your chocolate fix!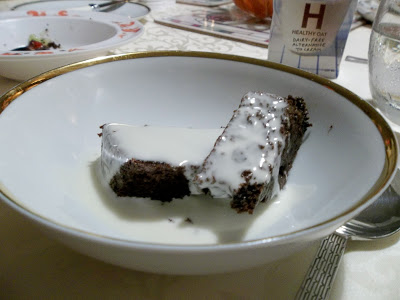 More than a drizzle really!