Introducing the Anti-Cheesecake
I'm not sure that's really a very flattering name for what is a really tasty dessert, however it is how I misheard Mr E describe it, and it's stuck in my head.





It is in fact a dairy free baked cheesecake, that really honestly tastes like baked cheesecake. But without the cheese, and with a date and almond base, and not too much added sugar.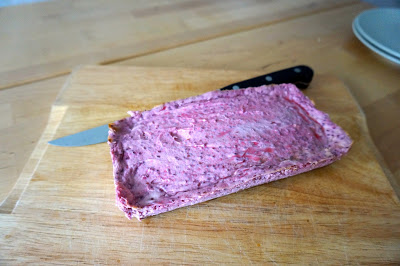 There is a base under there, I promise!
It's still pudding, so I'm not saying it's healthy, however... if you played it in Health Top Trumps against pretty much any other cheesecake, it would win hands down. If you played it against, say, broccoli, or blueberries, or mackerel, it probably wouldn't.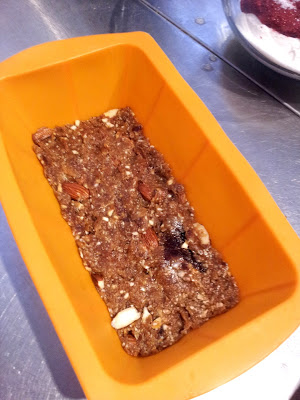 I clearly took my own 'blend well' instruction with a pinch of salt!
I loved it, Mr E seemed to be equally pleased with it, and Mini-M did her best to convince us that the entire half cheesecake being saved for tomorrow was 'just a teeny little bit left' and she could have it for seconds. That was until we explained the flaw in that plan - there would be no cheesecake for tomorrow - and that seemed to do the trick.
This creation incorporated another recent discovery - fresh fruit jam made with chia seeds. It's insanely easy and tasty, and shall feature in a future blog post coming very soon, once I remember to take a nice picture of said jam.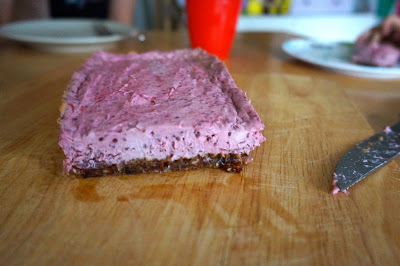 It's pudding and it's pink - so it was always going to go down well with Mini-M
So without further ado, onto the recipe:
Raspberry Anti-Cheesecake (Makes 6 small or 4 large portions)
For the Base
80g de-stoned dates
40g skin on almonds
1 tsp coconut oil
1 tsp runny honey
For the Topping
1 tub plain Toffuti tofu "cream cheese" (200g)
2 tbsp sugar
4 tbsp raspberry chia jam
1 tsp vanilla extract
Preheat oven to 180C (160C fan).
Put the almonds and dates in a blender and blitz until chopped fairly finely - it doesn't matter if there are a few bigger bits remaining - you want the nuts to still have some crunch rather than becoming a paste.
Once blended, add the honey and coconut oil and stir well to combine.
Press into the base of a 2lb silicone loaf tin (for easy release) or any other dish you like.
Mix all the topping ingredients together and beat until smooth.
Spread over the base and level the top.
Pop in the oven for 30 mins until set.
Allow to cool completely before carefully taking out of the tin. In fact, I left mine overnight in the fridge still in the tin, and it popped out beautifully.
Enjoy!
Sneaky little fingers in the background wondering if they can steal some extra!
I'm already planning what I'd do differently 'next time' which is always the sign of a good recipe - not that you want to change things, but that you want to make it again. I'm currently divided... baked, with some oats and ginger added to the crust, or experimenting with an unbaked version.
And before I go and head for bed, I should also add... if you subbed the honey in the base for maple syrup, or agave, or used really sticky dates and missed it out all together, it would be vegan. And it's already also gluten free. Lots of boxes being ticked!