Mango Salsa with a Secret Ingredient
It's been a busy weekend in the kitchen this weekend. And for once I remembered to take photos of at most of the results, which will hopefully keep me blogging through this week and beyond.
First up is Mango Salsa with a "Secret Ingredient" which without further faff, I can reveal as
Bottlegreen
Lemongrass and Ginger Cordial
. And as weird as that sounds, it really adds a lovely depth of flavour. Here's my recipe.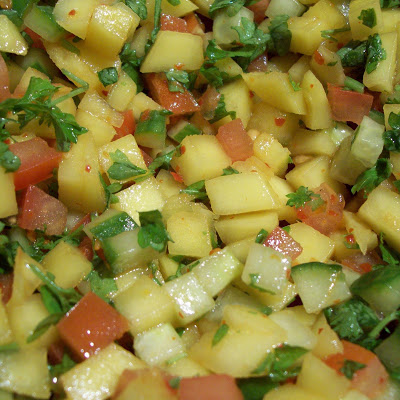 Mango Salsa (serves 3-4 with cold meats, or as a condiment)
1 under-ripe mango
2 small or 1 large tomato (again, not too ripe works really well)
a 2 inch chunk of cucumber
A large handful of parsley (once chopped, about 2 generous tbsp)
1 scant tbsp olive oil
1 scant tbsp white wine vinegar
1 scant tbsp lemon juice
1 scant tbsp ginger and lemongrass cordial
Finely dice the mango, tomato and cucumber and put in a non-metallic bowl then finely chop the parsley and add along with the chili. Pour over the 4 dressing ingredients. Add a pinch of salt, mix well and leave for at least an hour before serving for the flavours to mingle. Best served at room temperature rather than straight from the fridge.
We ate it with breaded lemon sole, wedges and broccoli, but it would go very well with grilled chicken, salmon, cold meats... anything really. It's a fab combination of spicy, sweet, tangy and crunchy, easy to make, and you aren't left smelling of onion and garlic for days - win!