A Palmful of Palmiers and Walnut Chocolate Deep Fill "Pecan" Pie
This week I was lucky enough to end up with two little bitty ends of pastry to use up in the fridge.
On Monday, I had puff pastry left over from making sausage rolls for Mr E to take to a meeting. (Not a work one - that would probably be seen as a little odd!). And also a ball of shortcrust left over from making a smoked haddock and leek tart (which will appear here at some point before too long!).

I never ever throw out pastry scraps - they are for experimenting with!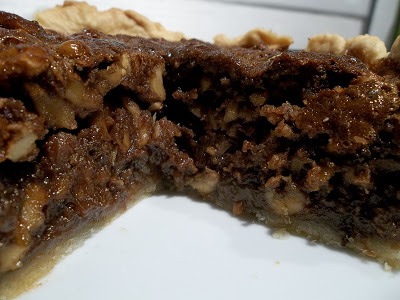 Close up deep filled chocolate walnut amazingness!

So firstly the shortcrust. I used it to make a really really delicious "pecan" pie, made with no pecans at all (since I had none). Why did I make pecan pie when I knew I had no pecans... well, I found a bag of walnuts hiding under the kitchen cupboards, and wanted to see if they would work. They do!

Making this reminded me that whilst it is lovely to bake for other people, and I'll never pass up an opportunity to rustle something up to give as a present, share with friends or serve to guests, it's also sometimes a treat to make something just because, and for us to enjoy. I know Mr E agrees!

So here's my recipe, which brightened up a grey and drab January Thursday, and is about to brighten up our Friday evening too, as we enjoy the remaining two slices!

Walnut Chocolate Deep Fill Pie (Serves 4)


Tennis ball sized lump of shortcrust pastry
100g walnut halves
15g dairy free margarine (or butter)
1 dessert spoon of dark brown sugar
2 dessert spoons of granulated sugar
65ml golden syrup
2 tbsp brandy
a few drops vanilla essence
1 tbsp plain yogurt - (i used goats you could use soya or regular)
pinch of ground cinnamon
pinch of grated nutmeg
1 tbsp cocoa powder
1 egg

Preheat the oven to 180C.
Roll out pastry and line 5inch mini spring form tin.
Line and fill with baking beans, then bake blind for 10 minutes.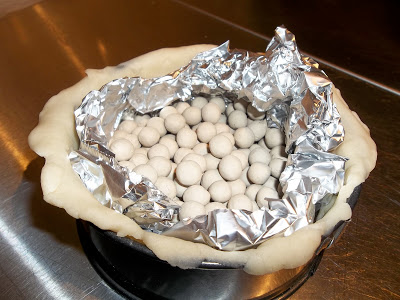 Ready to be blind baked...

At same time, put the walnuts on a baking tray and bake for 10 minutes until toasted.
Take out of the oven and reduce the temperature to 160C.
Take the toasted walnuts and chop roughly (or bash up with the end of a rolling pin in a plastic measuring jug like I did!).
In a small saucepan, melt the margarine, then add the sugars and syrup and heat gently until dissolved.
Once there are no grains of sugar visible, add the brandy, bring to the boil and allow to bubble away for 5 mins.
Take off the heat and stir in the vanilla, yogurt, cinnamon, nutmeg and cocoa powder.
Allow to cool for a few minutes.
Beat the egg in a mug and then whisk in 1 tbsp of the syrup mixture to stabilise it, then add the egg mix to the rest of the syrup and mix well.
Put the crushed walnuts in the pastry case, and then carefully pour over the syrup.
Return to the oven and bake at 160C for about 30-40 mins until set.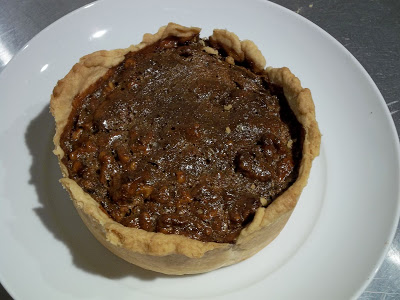 Cooling... slowly! Requiring much exercising of patience...


Allow to cool before serving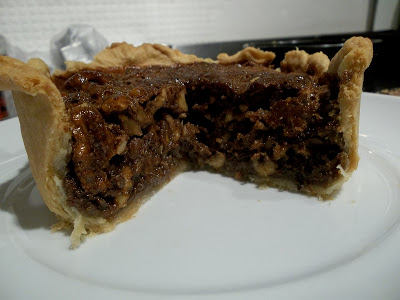 Done!
Now onto the puff - I made some tiny mini palmiers! I spread the pastry with a teaspoon of raw chocolate nut butter, sprinkled over a tsp of sugar and rolled it up from each side into the middle, then sliced it, popped it on a greased baking tray and baked at 190C for about 10 minutes.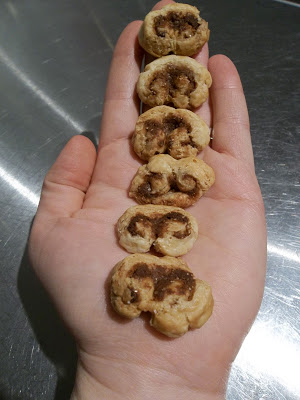 A palmful of palmiers!
These are my entry into this months' Tea Time Treats challenge, which is hosted this month by
Karen at Lavender and Lovage
. The theme is sweet pastries and breads, so I think these fit the bill perfectly.