The Pink Whisk Challenge: Apples for October
The other night I was watching TV and it was a 'where are they now' run down of last year's competitors in the Great British Bake Off. That prompted me to stop by the blogs of a few of the participants, which I do from time to time - it's nice to read some lovely blogs from closer to home as well as all of those from around the world that I cast and eye over.




One of which is

The Pink Whisk

, by Ruth Clemens, last year's runner-up. When I stopped by, not only had the site had a fab makeover, Ruth had just announced the first

Pink Whisk Baking Challenge

, which was to incorporate apples in a recipe. And you know I'm a sucker for a challenge ;o)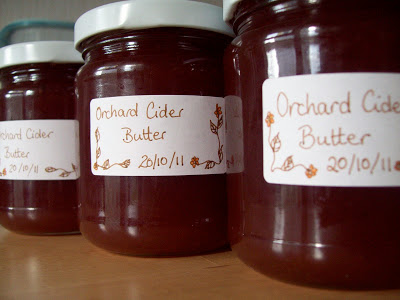 Orchard Cider Butter (Makes 5x250g jars plus some left over to use straight away)
500g hard pears
1kg apples
500ml apple cider with blackberries
700ml water
1/2 tsp ground cloves
1/2 tsp ground cinnamon
Granulated sugar (about 900g)
Take the stalks off the apples and pears and cut them into chunks. Don't bother peeling or coring them.
Put the apples and pears into a large pan with the cider and water, bring up to a gentle boil, and cook until the fruit is really soft - this took me about an hour, but it will depend of the type of apples and ripeness of pears you are using.
Once soft, blitz the mixture with a hand blender, then pass it through a sieve to catch any fibrous bits like pips and cores.
Weigh the combine weight of your sieved puree and bowl, then tip it back into the pan, and weight the bowl on its own.
Subtract the weight of the bowl from the combined, and you're left with the weight of puree.
For each 600g of puree you have, add 340g of sugar, then add the ground cloves and cinnamon.
Put back on the heat and heat very slowly until all the sugar has dissolved and you can't feel any more graininess.
Once the sugar has dissolved, turn the heat up to medium high and bring it up to the boil, then let it boil hard for 10-15 minutes until the mixture starts to thicken a little, and sputter. (Mine sputtered like crazy - all over the hob, the splash back, and the oils and vinegars next to the cooker - it's feisty stuff!)
Take off the heat and pour into warm sterilised jars and seal immediately. Don't be tempted to boil it for too long - it will set in the jars as apples are high in pectin
Small jars are best, as once opened the butter needs to be kept in the fridge and used within about a month.
Unopened though, it will keep for a year, so you can enjoy spiced apple-y pear-y cider-y goodness whatever the season.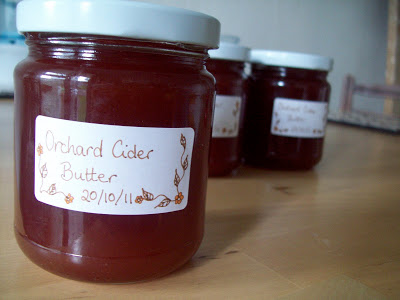 Unfortunately I don't have a lovely picture of the finished butter spread photogenically on a scone, or even some crusty bread. It has been sampled though, and it is delicious, but I sampled it at 7:30am this morning, on a piece of very crumbly not quite toasted toast, served on the least photogenic saucer in the world, which I took back to bed with me, accompanied by a Berocca and some Sudafed to try to banish the lovely cold Mini-M shared with both me and Mr E. Not very photogenic. But it did the trick, and by 9am I was feeling human again - I'm putting the success down to the magic restorative properties of Orchard Cider Butter. If that's not a good reason to go out and make it, then I don't know what is!