My folks were on holiday last week, down in Staithes on the North East coast of England. There was an award winning fish monger nearby, and Mum brought us quite a haul of lovely fish back (Thanks!) including some peppered smoked mackerel.

Here's how we ate it...

We had it on pizza - seriously don't knock it until you've tried it - it was delicious!
The pizza base was topped with tomato and basil pizza sauce (from a jar), peppered mackerel, sauteed kale, pickled pears and goats cheese. An unlikely sounding combination, but it really worked. Even better, Mr E made it!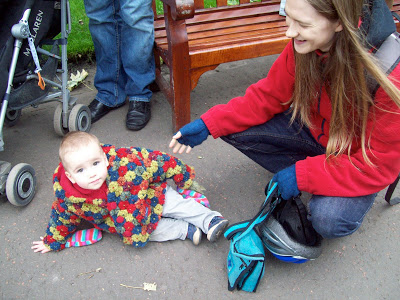 And we had it as pate/dip. I was inspired by a recipe for courgette dip in the River Cottage Baby and Toddler Cook Book, which I changed a bit. The original is just courgette, garlic and cream cheese, and would definitely be kid friendly. There's nothing inherently un-kid friendly about my adaptation, just that the mackerel flavour might be too strong for some little tastes.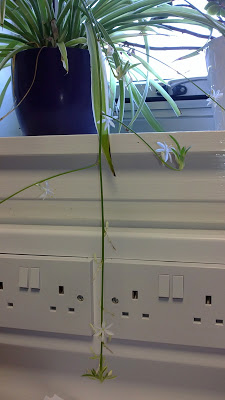 Courgette and Mackerel Pate/Dip (Serves 2-3 adults for lunch, or 4-5 as a dip)


2 small courgettes
1 clove of garlic
1 heaped tsp fresh thyme leaves
1 tbsp olive oil
25g cream cheese (I used chevre spreadable goats cheese)
1/2 large or 1 small peppered mackerel fillet

Heat the oil in a small frying pan, crush the garlic, add and soften for a minute or so.
Thinly slice the courgettes and add to the pan. Sprinkle in the thyme.
Cook over a very low heat until the courgettes are translucent, but not browned - about 15 mins - stirring occasionally.
Either put all the ingredients into a food processor and blitz, or pop them in a jug and give them a whizz with a hand blender.
Season with salt and pepper to taste (I didn't add any, since the mackerel was peppered and the cheese salted).
Chill for about an hour before serving.

We ate it with toasted bread, at the table in the sunshine - pretending it wasn't freezing outside!





If you wanted to make it a denser pate, you could use a stiffer soft cheese, and also up the cheese and decrease the courgette quotas slightly. The texture of this was spreadable on bread, but also dippable - multipurpose is always good!