Pomegranate & Chocolate Cupcakes
I love pomegranates. They remind me of being a kid, and wintry evenings, and sticky fingers, and total absorption in picking out all the little bits (which I recently discovered are called arils - who knew!). And to be honest, that's normally how I would still eat them. But I got a pack of four from the supermarket the other day, and decided that gave me enough for some cooking experimentation, as well as enjoying on their sticky, jewelly lovely own.

So here are my pomegranate and chocolate cupcakes. Sweet and delicious with little pops of pomegranatey goodness.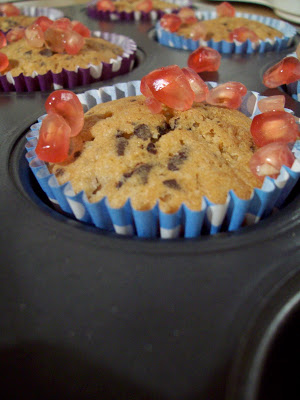 Pomegranate & Chocolate Cupcakes (makes 10-12)


100g Self Raising Flour
100g Sugar (Granulated is fine, caster is better)
100g Dairy Free Margarine
2 eggs, beaten
25g grated dark chocolate (70%, dairy free)
50g pomegranate

Preheat the oven to 180C (170C fan)
Line a 12 hole bun tin with paper cases.
Cream the margarine and sugar together, then gradually add the eggs, adding about 1tbsp flour with them to stop the mixture curdling.
Sieve in the flour and mix until combined.
Add the pomegranate and dark chocolate and give it a quick mix to distribute them evenly through the batter.
Divide between the prepared paper cases, and bake for about 15 mins until they are risen and golden and slightly springy to the touch.
Remove from the tin and cool on a wire rack.

I didn't ice these - I'm a bit of a fan of plain cake, but I'm sure they would be lovely iced. They were delicious "naked" and also kept really well in an airtight box - the bits of pomegranate stopped them from drying out.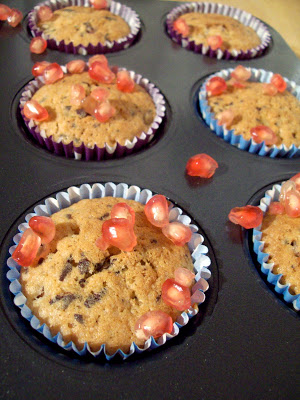 Another on the make-again list. Yum!