Random Recipes - Green Bean and Parmesan Soup
We were all paired off randomly with another inhabitant of blog-land, and first up we had to have a bit of a confessional on the cookbook front. After a quick count I admitted to having 68. Which I am secretly quite proud that I have managed to fit them all into two shelves of the bookcase - that's some tight packing, and lots of little books! The idea was then as follows - we each chose a random number for the other, which was the book we had to cook from, and then chose a page number which determined the recipe.
I was paired with Karen at
Lavender and Lovage
(Hi!), who chose book no.55, page no.55. A sigh of relief when I discovered it was 'The Soup Bible' and not a cake decorating book! It's been a hectic few weeks and fitting in some extra sugar flowers would have been tricky. I have to confess my heart then sank a little when I discovered that page no.55 was in the 'Rich and Creamy Soups' section. I can only have a tiny amount of dairy at the moment - which is an improvement of none a few weeks ago, but still not easily compatible with 'rich and creamy'. So I have to confess, I missed out the cream, because it was only a small amount, and didn't put the cheese on my serving. And another confession... I didn't have Parmesan (what with not eating dairy, the cheese section of our fridge is somewhat scant, unless you count 'Cheezly', and I most definitely don't - that's reserved for Mini-M's consumption who hasn't ever eaten real cheese to know what a disappointing imitation it is!
So as a result 'Green Bean and Parmesan Soup' turned into 'Green Bean Soup' for me, and 'Green Bean Soup with Cheddar' for Mr E.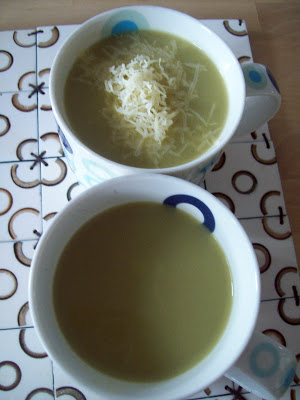 Oh yeah - one more confession - as well as green beans, I had some runner beans in the fridge from our
East Coast Organics Veg Box
needing used, so I chucked them in too!
So here is both the original, and my massively corrupted recipe...
Green Bean Soup (Serves 4)
25g butter (or dairy free margarine)
225g green beans, trimmed (or 180g green beans, and 150g runner beans)
1 garlic clove crushed (I didn't mess with this bit!)
450ml vegetable stock (or chicken, since I'd run out of Marigold granules)
40g grated Parmesan cheese (or cheddar)
50ml single cream (or not!)
Salt and black pepper to taste
2 tbsp chopped fresh parsley (or not!)
Melt the butter in a medium saucepan.
Top and tail the green beans, (and cut the runner beans into 5cm chunks).
Add the beans and garlic to the pan and cook for 2-3 minutes over a medium heat, stirring regularly.
Stir in the stock, and season with salt and pepper.
Bring to the boil, and simmer for 10-15 minutes, uncovered, until the beans are tender.
Pour the soup into a blender and process until smooth.
Pour through a sieve back into the pan (this gets rid of the stringy bits from the runner beans).
Stir in the Parmesan and cream, and sprinkle with the parsley, then serve.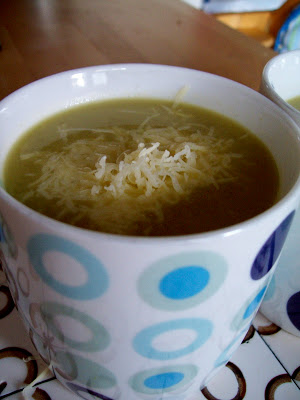 Given that I missed out or messed up with half of the ingredients, this was a really lovely soup. I will definitely make it again if I have green beans or runner beans to use up. Mr E said the cheese was nice, although if I was going to be having cheese in it, I'd definitely go for Parmesan rather than cheddar, because melted cheddar in soup goes a bit weird in my mouth - but that's just my personal preference.
I imagine the cream would be a lovely addition too. One to revisit in the future.
This was a fab challenge - it introduced me to a new blog and blogger, made me make a new recipe, which to be honest I'd never otherwise have made, being more of a hearty stewy soup girl myself.
Thanks Dom! Looking forward to next month already, and of course seeing what everyone else has made.