A Proliferation of Pancakes
Mini-M is currently a bit anti-food. It tends to be thrown across the room before it even goes in her mouth, and there are often sudden tears for not apparent reason. But one thing she seems happy to eat are pancakes - or more specifically scotch pancakes (or drop scones) - so I've cooked a LOT of batches recently, and hidden in an many nutritious ingredients as I can. Ultimately she'd also eat toast until the cows come home, but at least with pancakes she's getting egg and soya milk as well as just flour, plus whatever I throw in for flavour.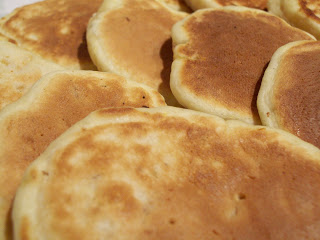 I've been making small batches which keep for a few days but they also freeze well, and after a triple variety baking session the other day, I've not got a pancake stash in the freezer too.

I know a recipe with half an egg sounds a bit silly, but I've generally made them when I've had half an egg left over from glazing pastry or the like. If you've not got a silly little bit of egg left over to use, I'd make a double batch and freeze some!

Dairy Free Drop Scones (makes 8 small ones)


80g Self Raising Flour
1/2 a Beaten Egg
Up to 100ml soya milk (depending on the flavour combination you're going for)

Put the flour into a bowl, and make a well in the centre.
Pour in the beaten egg and about 3tbsp of the milk, and whisk together.
Once it is combined and lump free, it should be a thin paste.
At this point add whatever flavouring you are using and mix well, then continue adding milk until you have a batter that is a little bit thicker than double cream.
Heat a non-stick frying pan to a medium temperature and give it a very scant drop of oil to grease.
Dollop spoonfuls of the mixture into the pan and allow to cook for about 3 minutes until small bubble just start to appear on the surface, then flip them over carefully and cook for about a minute more.

As an example, when I made a soya yogurt variety, I only needed the 3 tbsp oat milk, but when I made the savoury ham and 'cheese' ones I needed pretty much the whole 100ml.

Here's a run down of the flavour combinations I've tried so far (I'm sure there will be more!) It's interesting to see how the different ingredient combinations cause them to cook so differently.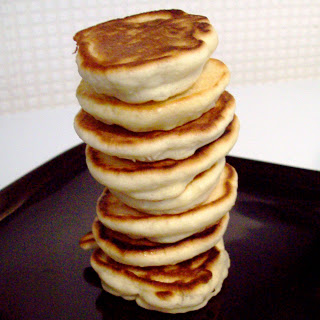 The first batch - plain with raisins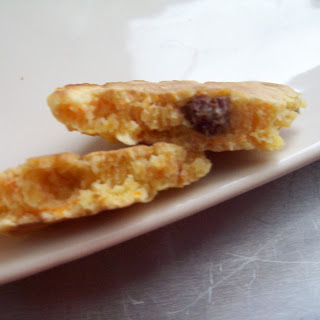 Grated carrot and sultana (I finely grated the carrot then briefly microwaved it to make it softer)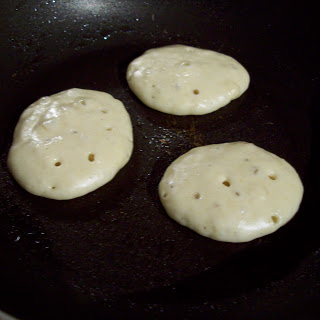 Bubbles on the surface - time to turn them over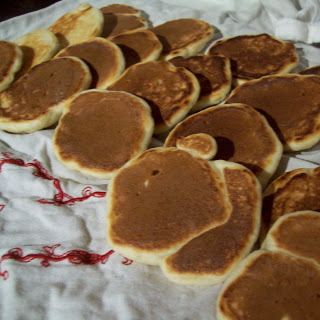 These ones had mashed banana in them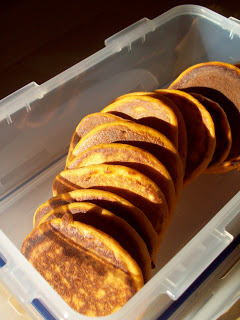 With tomato puree and dill added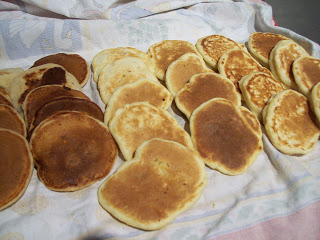 Rows 1 & 2 - soya yogurt and raisin; Rows 3 & 4 with half a chopped fresh peach; Rows 5 & 6 - finely chopped ham and 'Cheezly' soya cheese substitute

Seeing them all laid out like that, that's a lot of pancakes!