Random Recipes 12 - New Year, New Book!
This month's Random Recipe challenge was to cook something randomly selected from our newest cook book. A great idea - thanks for yet another ingenious challenge - hosted by the ever inspiring Dom at Belleau Kitchen.

He surmised that most people would have been given one if not more recipe books for Christmas - and he wasn't wrong. I was lucky to receive a copy of Hugh Fearnely Whittingstall's Veg Every Day, which I had been eyeing up when it was released in the Autumn.

I flicked through the pages, Mr E shouted 'Stop' and so, the random recipe was chosen - "Pasta with raw tomato". Dairy free in it's original form, and requiring no substitution - win!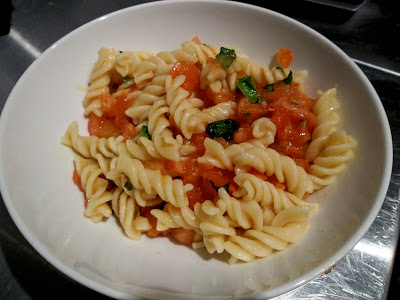 I followed the recipe fairly with only a couple of very minor substitutions: half a green chili for half a red; 100ml extra virgin olive/rapeseed oil for 50ml cold pressed rapeseed oil; posh pasta (orechiette or conchigliette are recommended) for regular - fusilli in this case; and 2 large caper berries finely chopped rather than 1tbsp baby capers. All in all, fairly true to the original!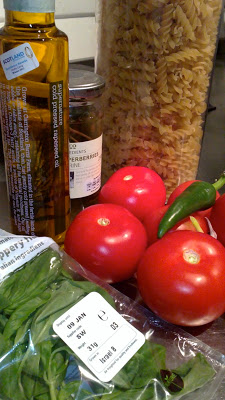 It was delicious - it tasted of summer, which is sometimes a welcome change in the depths of Scottish winter! The basil was grassy and herby, the garlic packed a punch, and the tomato was sweet and fruity, with a slight salty tang from the capers. It was also excellent cold for lunch the next day - even Mini-M who is notoriously fussy ate some!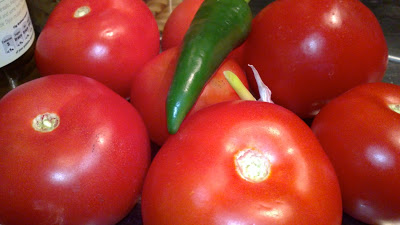 Peeling the tomatoes was a bit of a pain, but not too difficult, so it's definitely one I'd make again, maybe during the summer when they are a bit more ripe and flavoursome.