Geeky Stats Cooking: Georgia
So, I'm onto my second country of many many still to go on my weird and wonderful culinary world tour. If you're not sure what on earth I'm talking about, then I suggest you have a quite read of this post, where I explain my madcap scheme.

And that country is... Georgia. Purely coincidental that it's another 'G' country, after Gibraltar last time - I'm definitely not doing it alphabetically, but I did have a lot of potatoes needing used, and some walnuts lurking in the cupboard, so this seemed a good option.

It was delicious - a very different alternative to normal potato salad, and the taste of the walnuts was fantastic - not too overpowering but nutty and creamy with just the right hint of bitterness. My recipe is based on this one, at Georgian Taste (which doesn't seem to be a current site - the last update was in 2007, but thankfully recipes are timeless), for Kartopili Nigvzit, and made a few tweaks to make it dairy free. I opted to cook the garlic so it wasn't so overpowering, in the hope that Mini-M might eat it, but she was having another funny food day, so I'm not sure any of it even made it into her mouth. Oh well - one of these days we'll stumble across something she loves!

Georgian Potatoes with Walnuts (Serves 6)

700g potatoes (not floury)
1 medium onion
1tbsp dairy free margarine
1 cup shelled walnuts
1 clove of garlic
Large pinch of salt
2 tsp dried dill
2 tbsp white wine vinegar
2 tbsp olive oil
Peel and chop the potatoes into chunks and boil until tender but not too soft.
Whilst the potatoes are cooking, finely chop the onion and crush the garlic, then saute both in the melted margarine.
In a food processor, blitz the walnuts into a crumbly paste, then stir in the dill, vinegar, cooked onions and garlic. Salt and pepper to taste. Add a splash of olive oil it if is very stiff.
Whilst the potatoes are still warm, mix into the nuts, stirring well - they will start to break up a little.
Eat at room temperature

We enjoyed it served with Polish sausage and green beans.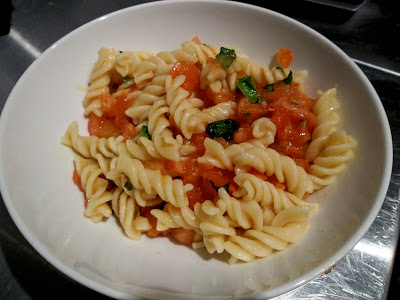 Not an amazing photo, but almost passable...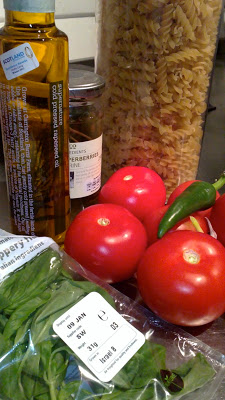 ...the worst close up in the world!

My photography needs some work! It's easy to make cake look tasty - seems potato salad is a bit harder...