Upside Down Pear and Chocolate Cake
Pears and chocolate are a delicious combination, and therefore it's not surprise that this cake tasted fantastic. Rich dark and chocolaty with a fruity edge cutting through - perfect. We ate it cold, over several days, as a cake when friends came round to visit, and then just on our own, and it kept really well. It would also be lovely as a pudding, served warm with a splash of cream or scoop of ice cream.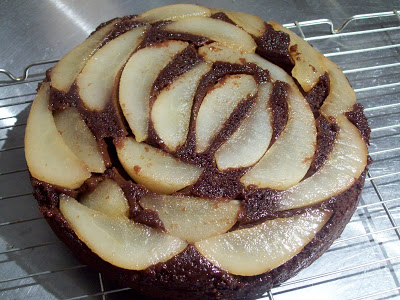 Upside Down Pear and Chocolate Cake (Serves 8 generously)

3 tbsp demerara sugar
3-4 medium sized ripe pears
200g dairy free dark chocolate broken into pieces
125g dairy free margarine
2 eggs
40g granulated sugar
125g self raising flour
25g cocoa powder (make sure it's dairy free - most are)
Grease an 8 or 9 inch cake tin and line the base with baking parchment.
Preheat the oven to 190C (170C fan).
Sprinkle the demerara sugar over the base.
Melt the chocolate and margarine separately in the microwave, then mix together and leave to cool slightly whilst you prepare the pears.
Peel and core the pears, and slice into quarters, or thinner, depending on the size of your pears vs the size of the tin. You're looking for a layer all over the base.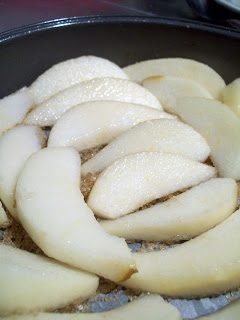 Add the eggs and sugar to the melted chocolate, then sieve the flour and cocoa powder in on top. Mix well until smooth.
Pour the mixture over the pears and give the tin a good wobble to level it out.
Bake at 190C (170C fan) for 35-40 mins until just set in the centre.
Allow to cool in the tin for 5 mins, then tip out onto your serving dish and carefully peel off the baking parchment.
Voila!