Random Recipes # 21 - Store Cupboard Raiding
I'm getting off the mark early this month with my Random Recipe entry. We've been challenged to rummage blindly in our store cupboards, emerge triumphant with an ingredient lurking somewhere in the back, then find a recipe from our collection to make with it. So it's the ingredient rather than the recipe that is random this month.

Imagine my joy when I got these in my store cupboard lucky dip...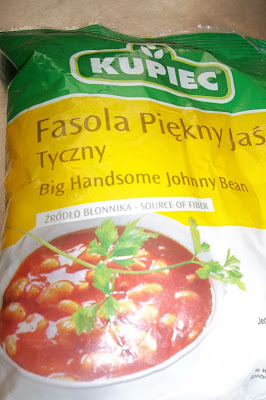 Thanks store cupboard... what have I ever done to you!

Yep, you read that correctly - they have been translated from the Polish as "Big Handsome Johnny Beans". Which is why they ended up in my store cupboard - Mr E's name is Jonathan, and he's 6ft 4, and of course I think he's handsome ;o).

I think they are the seeds from a type of giant runner bean, but I'm no gardening expert!

So back to the recipe...



I have to confess that when I got these out of the cupboard, a recipe immediately sprang to mind - Fasolka po Breto

ń

sku - a very popular dish in Poland for Breton style beans.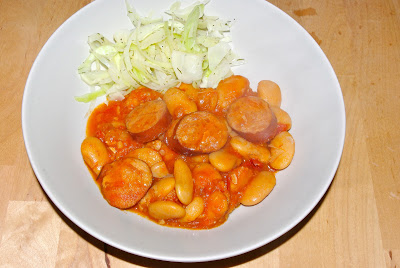 Served with another Polish staple veggie - cabbage (and a sprinkle of dill)

I have 4 Polish cookbooks in my culinary arsenal - two of them I discounted straight away, since one is entirely dedicated to flavoured vodkas, and the other cakes. A quick browse revealed that neither of the other two were going to come up trumps either. Boo.

Not to worry - I resorted to the power of the internet, and ended up trawling through allrecipes.pl for a while until I found one that fitted the bill.

I have to confess now, I'm not 100% sure that what I made matches the recipe completely, since my Polish isn't so amazing, so something may have been lost in translation, but I was determined not to use Google Translate and exercise the grey braincells instead!

Here's the recipe for what I did end up making!

Fasolka po Breto

ń

sku (Serves 5)

400g 'Big Handsome Johnny Beans' (Fasolka Pi

ę

kny Ja

ś

)
1 large onion
3 bay leaves
6 allspice berries
1 tsp boullion (I used Marigold)
Salt and pepper to taste
3 tbsp (sunflower) oil
200g Polish sausage (I used 3 small Kie

ł

basa

śląska)

2 tbsp tomato puree
1 tbsp flour
1 tbsp dripping
The day before you want to cook, put the beans to soak in a large bowl of warm water, cover and leave for 24hrs.
When you're ready to cook the next day, drain and rinse the beans then add them to a large pan with 1.5l of water, the bay leaves, allspice and bouillon.
Boil them for 45 mins and check if they are cooked. If not, boil a bit longer - I went for an hour, and it still wasn't long enough, which meant I had to do lots of extra simmering later.
Heat the oil in a frying pan, and chop the onion and cut the sausage into chunks, then fry both together until the onion is soft.
Add the cooked beans (and cooking water) and cook for 5 minutes more, then stir in the tomato puree.
Melt the dripping in a small pan, add the flour and fry for a few minutes to make a roux, then stir it into the tomato and beans.
Allow to cook for a few minutes more for the sauce to thicken, then you're ready to go.

This is good hearty winter fare - great for tea on chilly days. Since it contained sausage and tomato, 2 of her favourite things, Mini-M declared it 'num num' (although she did leave all of the beans, so not a complete success!).





If like me, you don't cook your beans for long enough in the first place, then once you've added them to the sausage and onion, throw in a tin of chopped tomatoes and simmer on a low heat for another two hours until they're done, before proceeding with the roux and the rest of the recipe. I must have had super dry beans or something - they were soaked for 24hrs rather than the 12hrs that the packed recommended, boiled for an hour rather than 45 mins, then another 2hrs simmering and a few of them were still a little tiny bit on the crunchy side!!!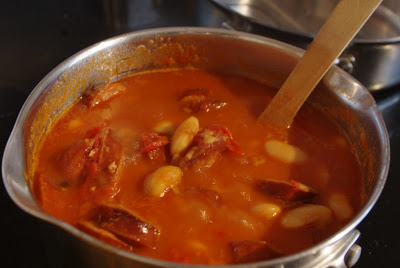 Still simmering...

And if like me you don't have a pot of dripping saved from your weekend roast (because let's face it, most people won't!) you'll most likely find it in the Polish section in your supermarket. Mr E is looking forward to re-living our last trip to Poland by eating bread and dripping, which was served in quite a few pubs as a bar snack - the Polish equivalent of pork scratching, i.e. a method to consume large quantities of fairly unadulterated pork fat!!! If you don't want the temptation of an open pot of dripping in your fridge, then you could use butter or oil instead to make the roux.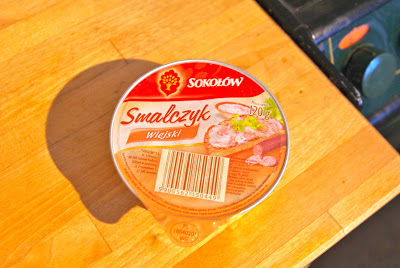 Dripping - well at least it comes in a small tub.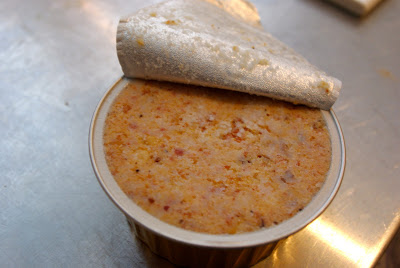 Not cat food, despite visual similarities. Tastier and probably less healthy!
Thanks for another tasty challenge!