Random Recipes #32 - Puddings, cakes and bakes
This month's Random Recipes challenge, which is hosted as every by Dom at Belleau Kitchen, is to cook up a sweet, pudding, cake or bake.

Now I've got a LOT of cake cook books - but was one of them my random selection... no!

I used a random number generator and got book number 21, which when I counted along from the end turned out to be 'The Australian Woman's Weekly Picnics'. There were then 15 sweet recipes, and my random number generator gave me 3, which corresponds to recipe 46 in the book: "Grandma's Date Slice".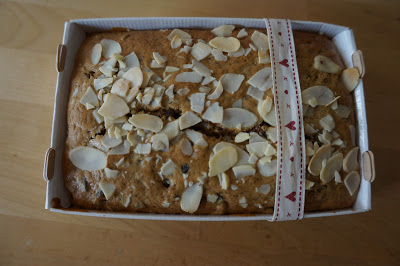 I halved the recipe and as ever changed bits and bobs here and there to keep it dairy free. Since I was using almond milk, I chucked some flaked almonds on the top too.

Since it was a gift for a friend, I baked it in a mini disposable traybake tray, and found a suitable scrap of saved ribbon to wrap around. I was quite pleased with my handiwork - until Mr E said it looked like I'd bought it in a shop - which wasn't really the objective!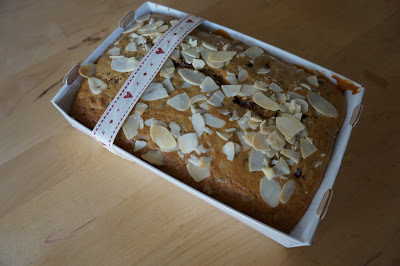 Whether or not this tasted nice, I have no idea, since it made exactly the right amount to fill the tray, and it's generally frowned upon to give a gift with a slice obviously missing! But it smelled lovely whilst it was cooking - so I hope it did.

Here's my version:

Dairy Free Date Slice (Makes 2 small tray)

150g Self Raising Flour
100g soft dark brown sugar
60g dairy free sunflower margarine
80g chopped stoned dates
1 medium egg
60ml almond milk
2 tbsp flaked almonds
Lightly grease your tray and preheat the oven to 180C (160C fan).
Put the flour, sugar and margarine in the food processor and blitz until sandy.
Take half of the mixture and press it into the base of your tray.
Add the dates, egg and milk to the rest of the crumb mixture and blitz again until combined.
Pour it into the tray on top of the base.
Sprinkle the almonds over the top.
Bake for around 30 mins until risen and golden on top.
(Optional - find a bit of ribbon to wrap around and make it look like you bought it in a shop!)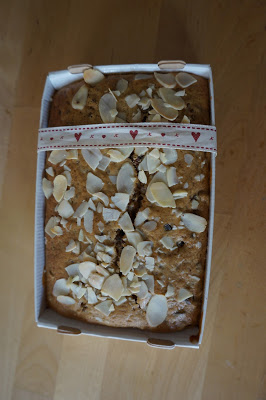 I'm looking forwards to seeing what delicious sweet treats everyone else has cooked up at the end of the month - it will no doubt result in a whole lot more bookmarked recipes as usual!