Salad Series Part 3 - Smoked Mackerel and Apple
So life got a bit busy again. And that's meant I've not had a lot of time for posting recipes or pics. I have done quite a lot of baking and cooking, and even remembered for take some photos, so now that things are marginally less manic, there might be some more posts going up soon. But I thought I should finish what I'd started and go for the third and final Salad Series installment - Smoked Mackerel and apple. So here it is! Since I made it a weeeeeeee while ago, I can't exactly remember what went into it, so it's not the most specific recipe in the work - sorry! (Although to be honest the chances of anyone a) reading or b) being inspired to make anything from the site are pretty slim, so I'm thinking it's not something I need to worry about too much...)



Smoked Mackerel and Apple Salad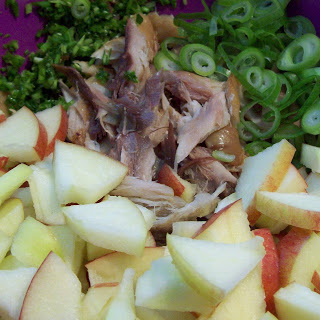 Here's what I think I put in....
1 vacuum pack of smoked mackerel, flaked.
3 red apples cored and chopped but with the skins left on
2 spring onions finely sliced
1tbsp fresh parsley, chopped.
For the dressing -
1x 284 ml carton of soured cream
1 tbsp dried dill
1 lemon juiced
Salt & Pepper
Mix it all together and enjoy :0) It was really yummy, and went into pitta breads for lunch the next day which was also great.