Here's another soup recipe from the variety I made for September's Daring Cook's Challenge. The post would have been truly epic if I'd included them all, so I'm following it up with a few individual recipe posts.

This morning I posted Cullen Skink (a Scottish creamy smoked haddock and potato soup). Now it's time for another traditional Scottish soup - Scotch Broth. Both Cullen Skink and Scotch broth are unlike many other soups in that they don't require stock to be made in advance - it is cooked integrally with the soup, so to speak, making it easy on the washing up, preparation, and of course cheap too!

Scotch Broth is a thick hearty soup made with lamb, barley and vegetables, and is delicious when it's cold and wintry outside - perfect since last week the weather suddenly changed from slightly summery to positively baltic. Now it's back to feeling just slightly autumnal - more appropriate for mid September thank goodness.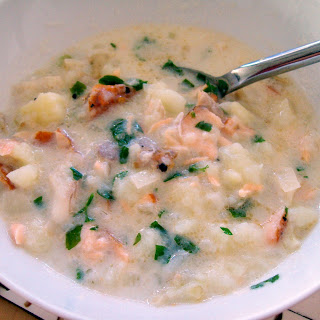 To make a successful Scotch Broth you need to get some nice lamb on the bone that has a good amount of fat to make it flavourful too. I got what I think (pardon my poor butchery knowledge) are neck pieces. They were being sold in the supermarket 'basic' range just as 'stewing lamb' but since I got 4 bits for £2.90 it seemed to be the sensible option, and I didn't spend too long puzzling anatomically!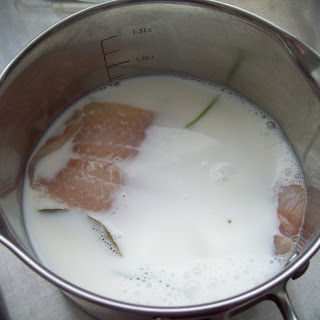 Scotch Broth (Serves 4 as a main meal)


Approx 500g neck of lamb or mutton
2 medium onions finely chopped
2 carrots peeled and diced
1/2 a large turnip (or swede) peeled and diced
2 tbsp barely
1 tbsp yellow split peas
1 tbsp puy lentils (not traditional at all!)
2 dried bay leaves
1tsp dried thyme
Salt and pepper
Water

Put the lamb in a large pan, cover with cold water, and bring to the boil, then continue to boil for about 10 mins until any scum floats to the surface.
Remove the lamb, and give it a rinse under the tap. Pour away the water, and give the pan a quick wash.
Put the lamb back into the clean pan, add the bay leaves, thyme, onion, carrot and a pinch of salt and pepper.
Add enough cold water again to cover the ingredients, and put back on the heat. Bring up to a gentle boil then turn the temperature down low, cover, and simmer for about an hour and a half.
Once the meat is tender, add the turnip, barley, split peas and lentils, a mug full of boiling water and then simmer for about another hour until the pulses are cooked.
Take the lamb out of the pot, allow to cook slightly so that you don't burn your fingers, then separate the meat from the bone/fat/gristle.
Roughly chop or shred the meat and return to the pot. Depending on how meaty your pieces were individually you may not want to add it all back in. I only added half back - there was loads of it - and used the other half to make a lamb, tomato and couscous pilaf later in the week.
Reheat and add more seasoning to your taste.
Serve with some crusty bread for dunking - making it a complete meal in a bowl.
Yum!