Something fishy going on… Cullen Skink
So as you may be aware from my previous post, September's Daring Cooks' Challenge was to make stock, soup and consomme.

We eat loads of soup - usually of the non-specific vegetable variety. Which is generally pretty tasty, hot, filling and everything you want it to be. Mr E is also a pretty mean soup maker, particularly if said soup is getting blended, and the ingredients can go in "chunky". He always has some secret ingredient up his sleeve (probably not literally - most of them come from the spice rack) that turns dinner time into an exciting soup flavour guessing game.

But I digress! I made several different soups for Daring Cooks: Summer Minestrone, Scotch Broth and Cullen Skink, as well as the consomme which I served with chilli noodles. We were encouraged to share the recipes we'd used, but my post was already pretty epic, mainly because I keep getting sidetracked and writing tangentially, so I didn't but promised to do over my next few blog posts.

First up is Cullen Skink. This is a traditional Scottish smoked fish soup originating from the North East of Scotland and also often made with Finnan Haddock - another North Eastern speciality - a particular type of smoked haddock, but since I couldn't find any easily in Edinburgh, I went with using some regular smoked haddock and some hot smoked salmon. I'm also gradually trying to re-intoduce dairy into my diet, but haven't quite worked up to cow's milk yet, so I made it using goat's milk which was delicious.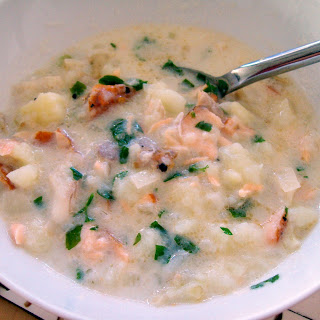 Cullen Skink (serves 4)


1 fillet undyed smoked haddock (mine was about 125g)
1 fillet hot smoked salmon (again, mine was about 125g)
350ml goats milk
1 tbsp olive oil
Small handful of parsley
2 small dried bay leaves
2 small onions, finely chopped
250g mashed potato (not too smoothly mashed - some bits are good!)
Water
Salt and pepper to taste.

Put the goats milk, bay leaves and stalks from the parsley in a small saucepan.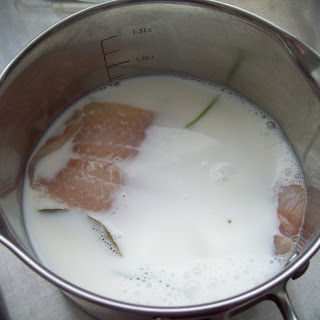 Add the smoked haddock fillet and bring to a gentle boil. Simmer for about 3 minutes, then remove from the heat and allow to infuse for a further 5-10 minutes.
Carefully remove the haddock from the milk with a slotted spoon, and set aside.
Strain the milk through a fine sieve to catch the herbs, and get rid of any scum that might have formed.
Heat the oil in a larger saucepan, and simmer the onions for 5 minutes until softened and starting to go translucent.
Add the strained milk to the cooked onion, along with about another 200ml of water.
Next add the mashed potato and stir well until the potato is dissolved and the consistency of the soup has thickened. Add more liquid if need be.
Flake the smoked haddock and salmon, keeping any eye out for any small bones that escaped the filleting process, then add to the soup along with the parsley.
Bring to a gentle simmer again, and cook for about 5 mins until the fish is warmed through.
Ladle into bowls and enjoy the lovely creamy fishy goodness.