If you are expecting a post about nightclubs with sticky floors, dark alleyways and strippers, then you are likely to be very disappointed - sorry!





If you are looking for a post about a seed-packed sugar free tray bake that is dairy and egg free, then you've come to the right place.




That probably accounts for about the 2 people who have arrived at this post via Google. To the others who read it semi-regularly, of which I reckon there are about 10 (Hi Mum!), then you're probably likely to be mildly disappointed that this recipe is so virtuous. But please bear with me whilst I have a little vegan moment, and if you need to counteract it with some excessive butter, sugary, chocolaty goodness, then earlier tonight I posted about

white chocolate fudge

which is definitely at the other end of the taste scale!




So today it was completely freezing outside, and pretty cold inside, since our living room radiator is temporarily out of action (i.e. completely and mysteriously broken). I was making bread and it was taking so long to rise, because according to the thermostat, it was 15.3C. That's a little chilly for an inside temperature, and I have to say I was quite envious of Mini-M being at nursery where the heating is cranked up to toasty at the moment. So in order to get the bread to rise a little faster, I decided to put the oven on, but it seemed a bit wasteful to put it on without something in it.




Part two of the reason behind this recipe is that Mini-M likes to eat oaty, fruity cereal bars. Although I don't have any quibble with them health wise (no added sugar or nasties), and whilst oats are all very superfoody and wonderful, I'm keen to see if I can sneak some more seeds into her diet for the fats, oils and nutrients they bring. Particularly since she seems to be anti-anything-that-isn't-toast-porridge-banana-soya-yogurt-or-pancake.




So I found a recipe in an Australian Womens Weekly cookbook for a slice made with apricot jam and pumpkin seeds that baked in 20 mins, which sounded about right to give my bread the extra little warm rise that it needed. Queue me substituting half of the ingredients, and coming up with something bearing a fairly low resemblance to the original!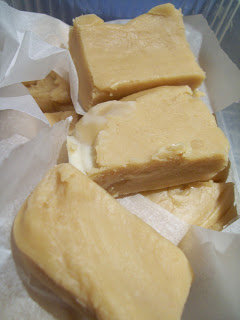 So here's my version...
Seedy Slice (Makes 1x 23cm square tin)
90g margarine (dairy free)
80g sunflower and pumpkin seeds (I used a ratio of about 60:40 sunflower:pumpkin)
1 tbsp date syrup
1 tbsp honey (or alternatively miss out both of these, and add 2 tbsp sugar)
1tsp grated orange zest
100g plain flour
80g wholemeal flour
80g sugar free jam (I used Meridian morello cherry, which is 100% fruit and sweetened with apple juice)
2 tbsp sesame seeds
2.5 tbsp finely ground flax seeds
3 tbsp water (or replace the flax seeds and water with an egg - I had run out this morning!)
Firstly, in a small bowl whisk together the flax seeds and water. Leave them to sit for a few minutes and they will go gelatinous.
Grease your tin and line with a sheet of baking parchment, and preheat the oven to 190C (180C fan)
Next give the seeds a quick blitz in the blender to break them up a little.
Beat the seeds, orange rind, honey and date syrup together, then once it is combined add the flax seed mixture.
Finally add the flours and mix well - you will end up with a fairly stiff dough. If yours gets too stiff to mix, then loosen it up with a tablespoon or two of water or apple juice.
Press the mixture into the bottom of your prepared tin, and spread the jam on top.
Sprinkle the sesame seeds over the jam and bake for about 20 mins until the dough starts to golden brown (which is a bit tricky to see if you use cherry jam!).
Allow to cool in the tin and cut into slices.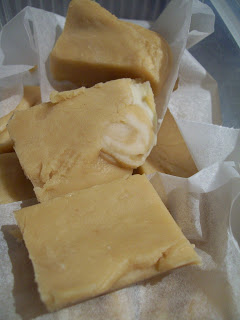 Mini-M hasn't tried it yet, but fingers crossed it passes the test! I'm skeptical since a) it doesn't contain banana b) isn't a pancake and c) has pumpkin seeds in, which I don't personally like, but Mr E is confident the jam will overcome all...