Well life has been getting in the way of updating again - it's been a hectic spell of Borders Exploration Group meetings, training and Duke of Edinburgh's Award expeditions. But I thought I had time tonight to squeeze in a

superfast

post of some sugary goodness. So sticky

crispie

was not something I had come across until I met

Jono

, and since then it has become a bit legendary amongst my friends. It is probably about the most

unhealthy

piece of

homebaking

that exists, but also one of the easiest and most delicious. Our Year in Industry student left work recently after spending a year with the team, keeping us on our toes, always smiling and trying to prevent us all from becoming old and boring prematurely middle-aged peeps! I decided to use the sticky

crispie

as a base to convey our good-bye message which I cut out in fondant icing and decorated with food colouring pens.

Here's the recipe for the

crispie

- this makes 1 rectangular baking tin (

swiss

roll) full, and cuts into about 30 pieces.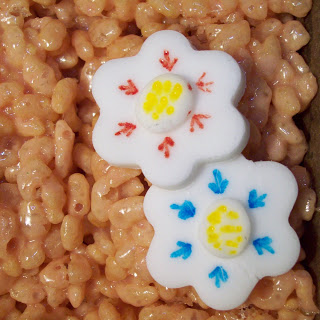 1x250g block of butter (I prefer slightly salted)
1x200g bag of marshmallows (mini or regular, pink or white!)
1x150g toffees (e.g.
McCowans
or
Werthers
)
Rice
Crispies
- quite a lot - a good 200g, but it depends on how sticky you want your
crispie
.
Put the butter and toffee in a pan over very low heat and leave to melt, stirring occasionally. At the same time, line your tin with grease proof paper - it will make cutting and removing from the tin a LOT easier!
Once the toffee and butter have melted, tip in the marshmallows and stir continuously until melted and smooth. It will go separated for a while and then suddenly all comes together.
Add the
crispies
and stir in quickly until well coated - add more or less depending on the required consistency.
Tip into the tin and flatten into the corners. Leave to cool before cutting - refrigerating it makes it much easier to cut.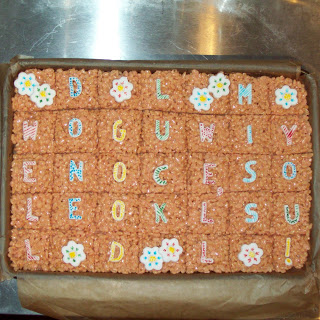 Try not to get addicted!!!!