Tea Time Treats - Floral and Fabulous!
Tea Time Treats is a monthly themed baking challenge hosted alternately by Karen at Lavender and Lovage, and Kate at What Kate Baked. This month, it's being hosted at Lavender and Lovage, and the theme is floral.

For my entry, I'm submitting these fantastic Giant Pistachio and Rosewater Meringues. I made them for the Charity Cake Auction I helped organise, in aid of Borders Exploration Group, back on the 1st April, and they've been languishing in the to-blog pile ever since! Hopefully despite my 11th hour brinkmanship, they'll manage to sneak in the right side of the challenge posting deadline.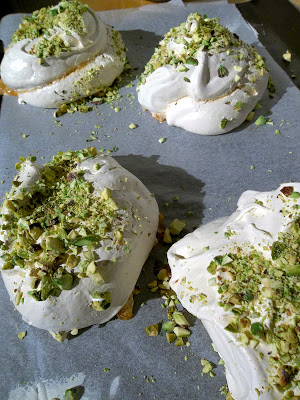 I use the recipe that is found on p 249 of Ottolenghi The Cookbook.
Alternatively, you can find a wealth of information and a detailed description and unflavoured Ottolenghi recipe in the Guardian newspaper Meringue Masterclass. To this, add 1 tsp rosewater and 30g finely chopped pistachio nuts to arrive at the same thing.

I halved the book recipe, and it still made 6 very large meringues, plus one small pavlova base! (This is the same quantity as the Guardian recipe).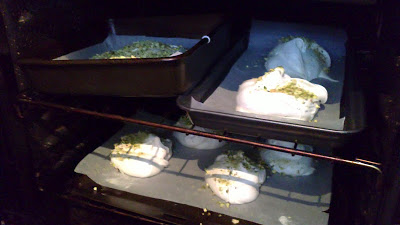 A bit of a squeeze in the oven!

It's a purists meringue base - just caster sugar and egg whites; no cream or tartar or vinegar. But there is an added element of kitchen adrenalin injected by the method, which sees you heating your caster sugar to melting point, then pouring the boiling sugar into your eggs as you whisk. Without a stand mixer, this is definitely a two man job, and Mr E dealt fearlessly with the boiling sugar!

After the sugar is incorporated, you add the rosewater, but you could add a whole lot of other flavourings here - or colouring if you wish. Orange flower water would continue the floral theme, but almond or peppermint would also be lovely.

The recipe directs you to roll the meringues carefully, using two spoons, in the chopped nuts. My nerve failed me at this point - after the boiling sugar success, I didn't want to push my luck, and since I needed them to turn out well for the auction, I went for the safe option - I dolloped them onto my greaseproof paper, then sprinkled the nuts over the top.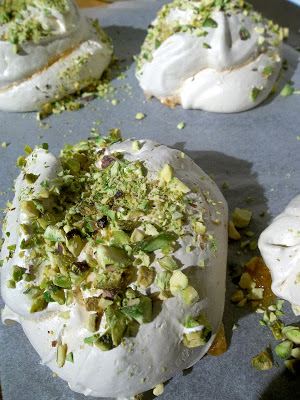 I think that this may well become my go-to meringue recipe - the result were brilliant. Crisp on the outside with a lovely marshmallowy centre - just how they should be (in my opinion!) and the rosewater flavour was subtle but delicious.

We ate the small pavlova base ourselves, topped with strawberry compote, Co-Yo Coconut Yoghurt and more chopped pistachios. It was eaten in rapturous silence - a rare occurrence around our tea table, and about the biggest compliment you can get.