The Daring Bakers' July 2014 Challenge: Surprise! Cakes
It's back to Daring Bakers' posting time - and another month when I've failed to post anything between Daring Cooks and Daring Bakers. Which is disappointing, since what with multiple birthdays and celebrations, there has been plenty of baking and cooking going on.

However that means there are a few more exciting cake posts in the pipeline, once the stars align and there are simultaneously a few extra hours in the day, and my wrist stops objecting quite so much to extra-curricular typing.

But one cake at a time… and this time it is a Daring Bakers cake - there's not been one of them or a while!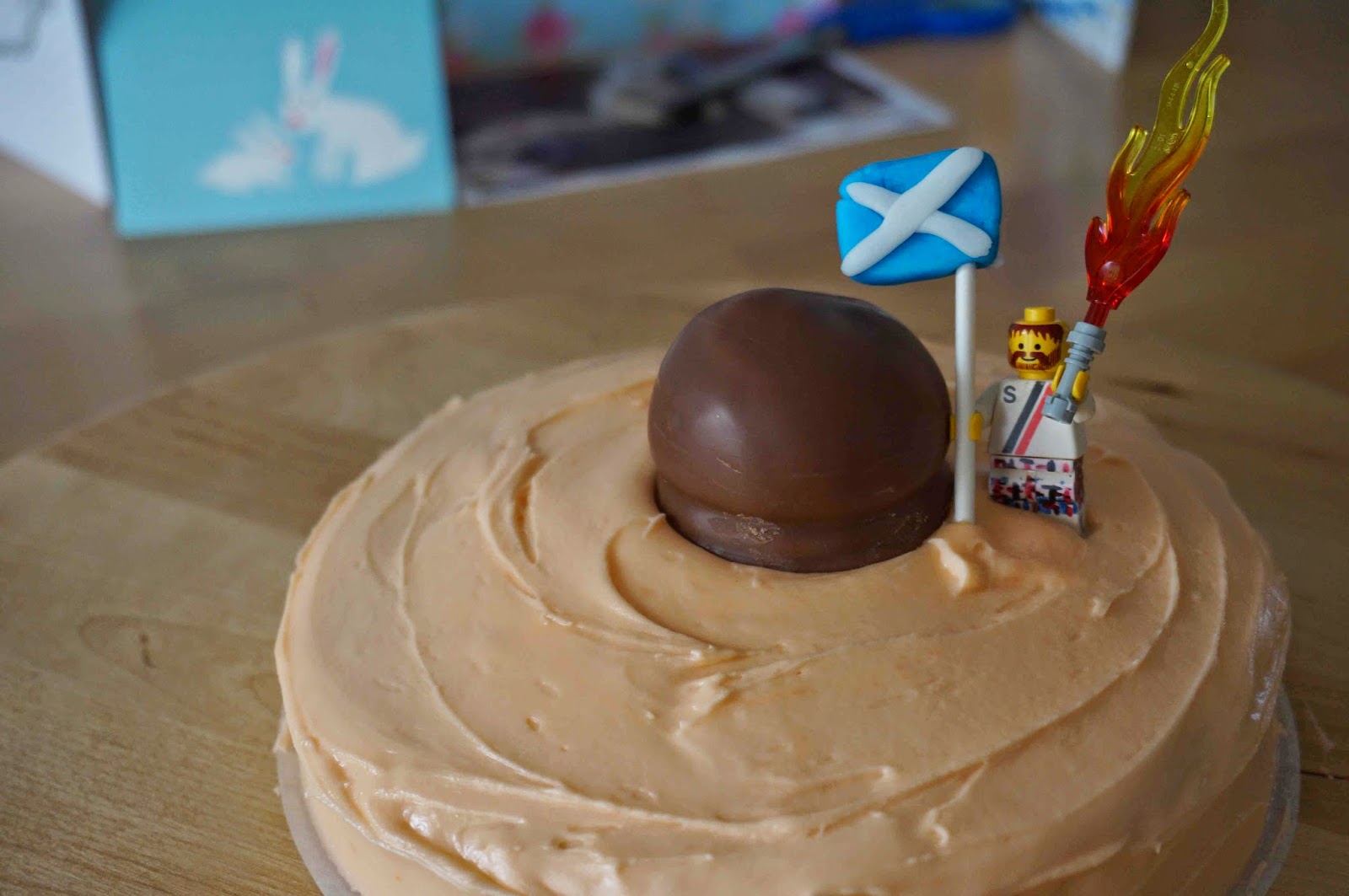 Bearded Commonwealth Lego athlete stakes Scottish claim on planted Tunnock - obviously

Blog Checking Lines:
For the July Daring Bakers' Challenge, Ruth from the Crafts of Mommyhood challenged us to bake a cake. But not just any cake; she asked us to add in a special surprise for our eyes as well as our taste buds!

One of the advantages (disadvantages?) of posting towards the end of the day on the 27th means you can see what all the other DB-ers around the world have been making. And let me tell you, my effort is paltry in comparison to some of the masterpieces that have been created.

However, it was fun to bake and decorate - and made me smile whilst whisking, stirring, spreading etc.

Now, as you may be aware the Commonwealth Games are currently on in Glasgow, Scotland, and whilst it's a whole different city and typically an "arch rival" of Edinburgh, in global terms it's just along the road. One of the undoubted hits from the opening ceremony amongst the Scots watching it were the dancing Tunnocks Tea Cakes, and the Forth Rail Bridge supported by Irn Bur. They're both true Scottish icons, so I decided to incorporate them into my cake, to get into the Commonwealth Games spirit a little.

I'm not claiming this is the food of athletes - for the record - although the perhaps food colouring and sugar could go a fairly long way to powering someone around the marathon!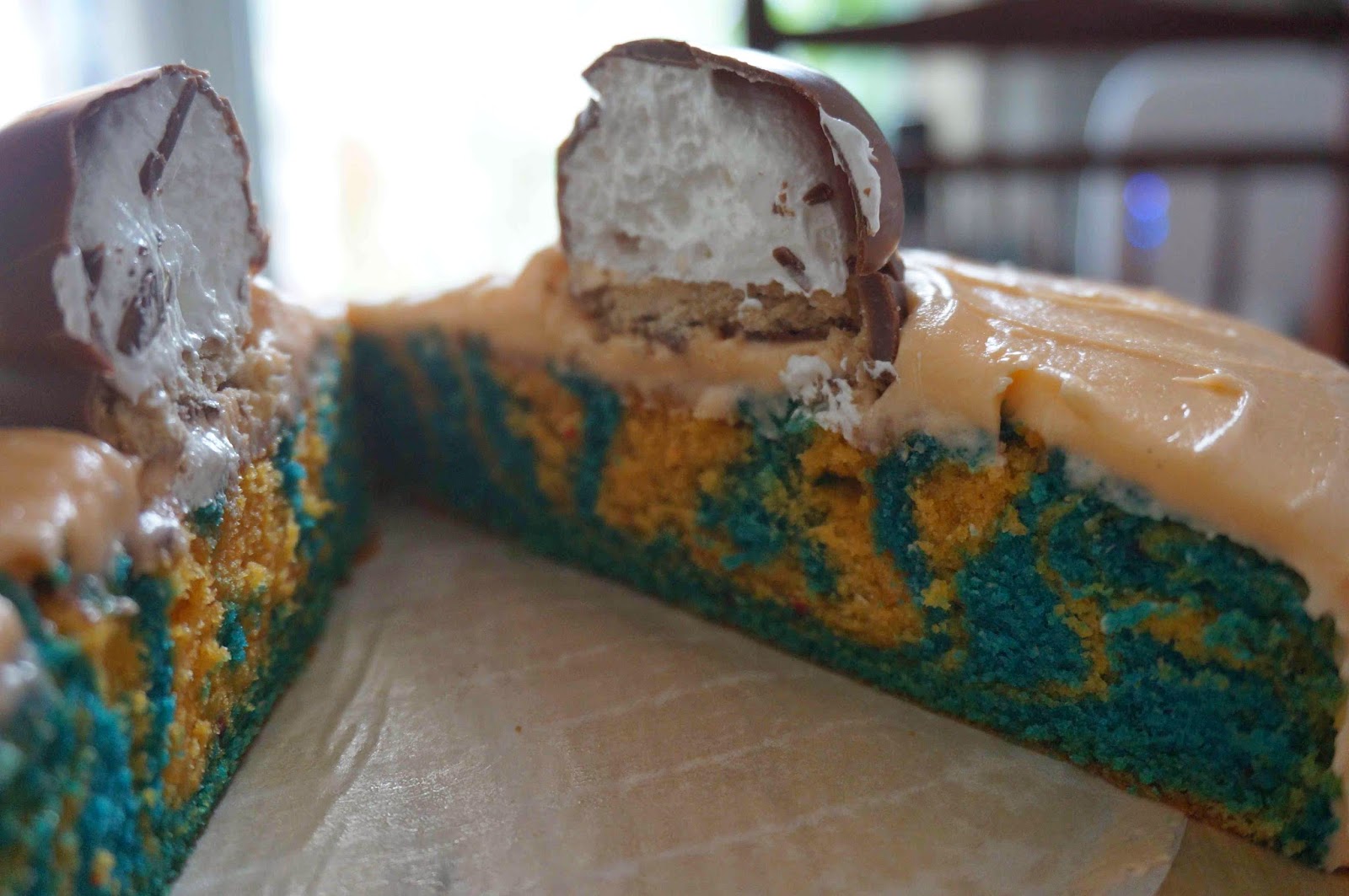 Irn-Bru colours on the inside

I made a zebra cake in orange and blue - the 'Irn Bru' colours (It's a lurid orange Scottish fizzy drink, with a slightly spicy taste, for the uninitiated out there!). I iced it with 'Irn Bru' icing by creating my own concentrate to use to flavour and colour the icing. Then I topped it with a Tunnocks tea cake (a chocolate coated mallow biscuit) and did my best to come up with a Scottish Commonwealth baton bearer from our lego collection.

I'm not posting the recipe for the cake here - it was just a regular Victoria sponge, divided and with food colouring added to each half. I then alternated dropping spoonfuls into the middle of the cake tin to create the effect.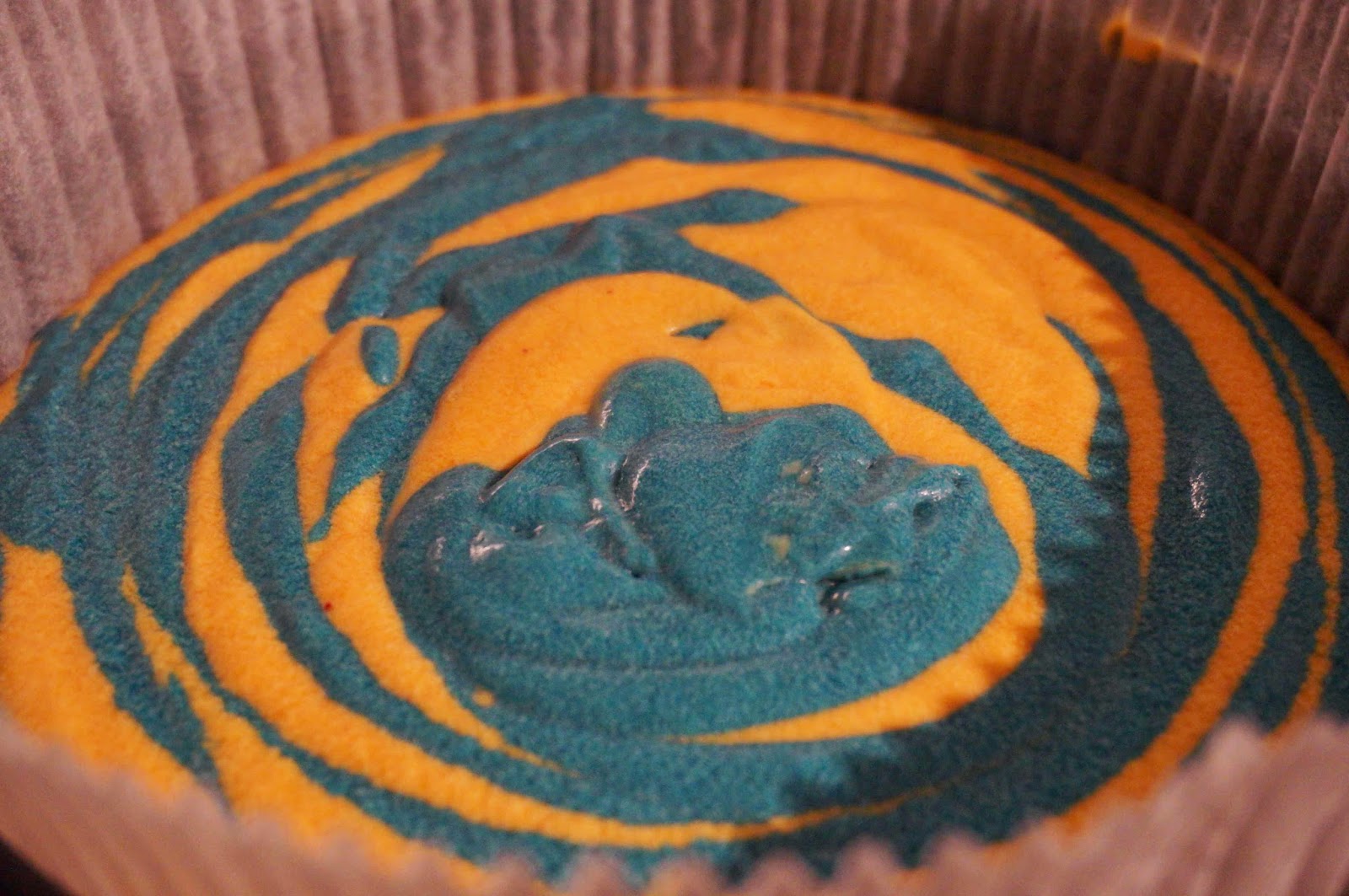 Before baking - just as subtle...

Irn Bru Buttercream Icing (enough for the top and sides of a 7inch round cake, or top only of a larger cake)


250ml Irn Bru (not diet)
50g margarine or butter (dairy free marge works fine)
Around 200g icing sugar

Pour the Irn Bru into a small pan and simmer over a very low heat for around an hour. Don't boil it or you'll end up with toffee. If you are very patient you will end up with an intensely orange, Irn Bru flavoured sticky concentrate. I reduced mine right down to about 2 tbsp.
Beat the Irn Bru concentrate with the margarine until well combined, then gradually sieve and beat in the icing sugar until you get your preferred icing consistency. Add a little splash of milk or un-concentrated Irn Bru if you need to loosen it up.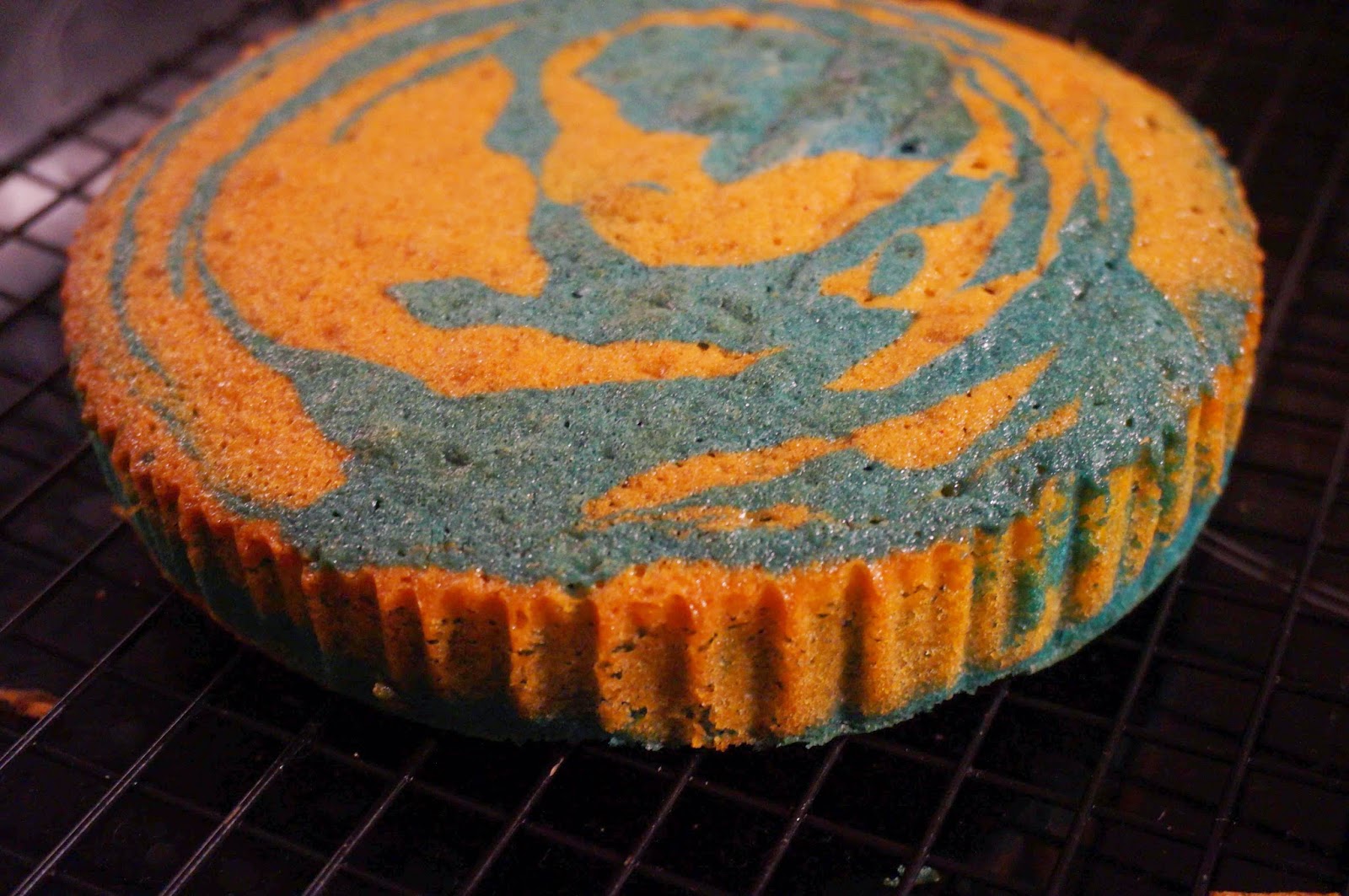 All ready for Irn Bru icing

This really does taste of Irn Bru - and it coloured it orange without having to add any extra colouring.

Thanks for another fun challenge.