The Daring Cooks' October 2012 Challenge: Brazilian Feijoada
Another month has zoomed by, and it's Daring Cooks' challenge posting date again.

Rachel Dana was our October 2012 Daring Cooks' Challenge hostess! Rachel brought Brazil into our lives by challenging us to make Feijoada and Farofa along with some other yummy side dishes traditionally served with Feijoada, which is a delicious black bean and pork stew.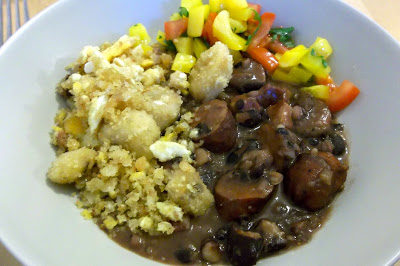 Feijoada, Farofa and Vinaigrette

The Feijoada actually ended up being the second pork and bean stew I made within a fortnight - earlier in the month I made Fasolka po Bretonsku for the Random Recipes challenge.

But luckily both Mr and E (and indeed Mini-M as it turns out!) are fans of this sort of dish, so there were no complaints!

I'm not going to put the recipes up here, as the post would become quickly rather epic. Full details are provided on the Daring Kitchen site here. Instead I'll give a bit of a description of how mine differed (as usual!) from the recipe.

Firstly, it had an unusually Polish slant. When I went hunting for the ingredients in our local supermarket, I couldn't find the right sorts of sausages, meats etc - however after making the Fasolka, my mind immediately jumped to some Polish substitutions which are easy to get hold of in Edinburgh as there's a large Polish community in my part of town. I used Sokolow sausages and Boczek bacon for the meats in the casserole. Instead of butter, I used Smalec (dripping) to make the Farofa, along with some Polish dry breadcrumbs.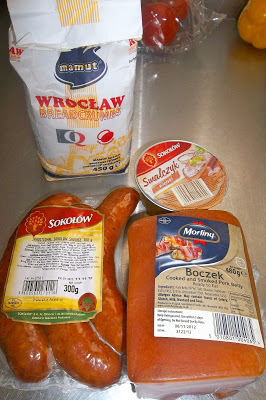 Although they may have been unauthentic substitutions, they were still very tasty!

I added banana to the Farofa, but no bacon, since the Smalec is meat fat with small pieces of pork in.

I couldn't find black beans (indeed in our local supermarket, I couldn't find ANY dried beans. That says sad things about local eating habits - ready meals galore but no dried pulses. I had some kidney and black-eyed beans in a jar in the cupboard, so just used them. I cooked the beans for 20 mins in the pressure cooker first of all, and then for a couple of hours on the hob after the rest of the ingredients had been added, which was probably marginally too long, as they had started to mush down quite a lot. It still tasted amazing though!

I didn't make the collard greens, as we had a little coleslaw left over that needed using, so we ate that with it instead.

I also didn't add the raw onion to the vinaigrette, since I'm really not a fan of raw onion - either the taste whilst eating, or the aftertaste a few hours later.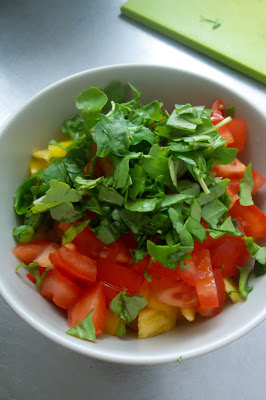 Vinaigrette, minus onion, before dressing

This was a really really delicious meal. It also got the Mini-M seal of approval. We've been encouraging her to try a little of everything, and she's getting so much better. Last week when we went to the dietitian I didn't have to embarrassingly admit that she mainly only ate spaghetti hoops, cocktail sausages and fruit! In fact she exclaimed a few days ago that she was 'trying everything in the world' which may be over egging things a little, but she is rightly quite proud of her new adventures in food!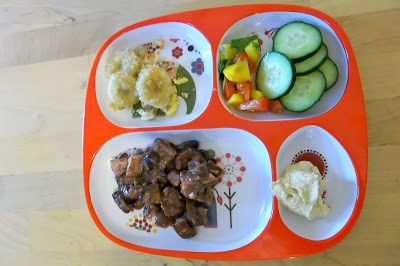 Feijoada toddler style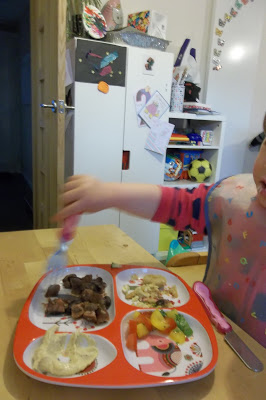 Going in for a piece of sausage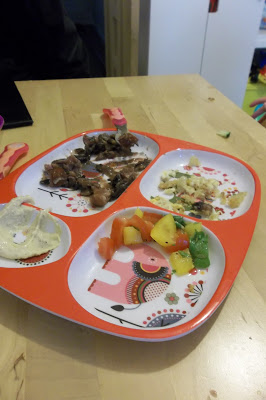 Sausage and banana farofa - all gone!