Valentines soup and pretzel-rolo-pecan-turtles
I'm not normally someone that can be accused of having too much time on their hands. But I seemed to struck by a bout of excess time (or rather a lack of desire to get through all the other things on my to-do list) around about Valentines day. So obviously the only thing to do was to get out my mini cutter set and chop a whole load of veggies into an array of cute little shapes to make Valentines soup with! I used carrots, cucumber, baby corn, and mangetout peas for my veg, along with 1 finely chopped chicken fillet, 1 small onion, 1 stock cube and a good slosh of soy sauce, sesame oil, chinese 5 spice powder, and finished off with a beaten egg to make ribbons. It even made enough for leftovers the next day.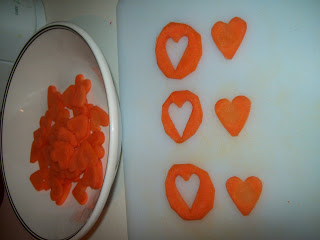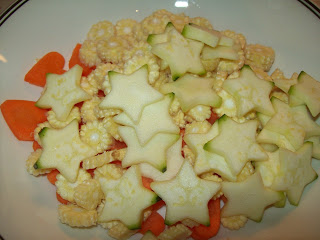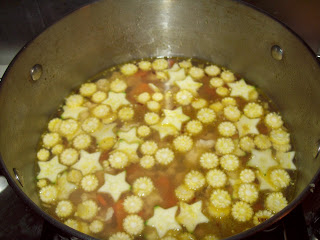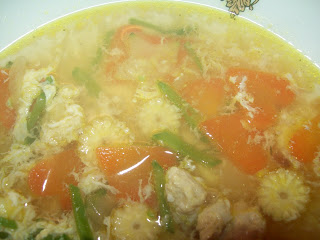 For afters I did some panfried nectarines and blueberries which we had on a toasted pancake with icecream and the hot fruit poured over the top...definitely one of the tastiest puddings I've made in a long time and in the summer when there is plenty of soft fruit around I'm pretty sure it will be repeated!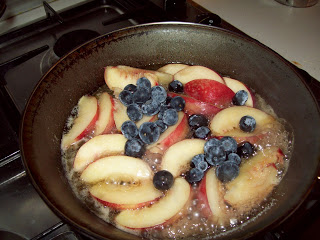 But the highlight of the evening was definitely the rolo-pretzel-pecan-turtles. I have to confess now that I have absolutely no idea why they are called turtles - the best I can come up with is that the half pecans look a little bit like turtle shells. But that doesn't matter because they are addictively delicious and soooooooooo unbelievably easy to make! You'll need small pretzels (yes, the salty kind), rolos (as many rolos as you have pretzels) half pecan nuts (same deal as the rolos). Here are some super simple steps to carmely, chocolatey, salty, nutty heaven ;0)
PRETZEL-ROLO-PECAN-TURTLES
Preheat your oven to about 200C.
Line a baking tray with parchment.
Spread your pretzels over the tray.
Put a rolo on top of each pretzel.
Stick the tray in the oven, and leave it there for about 3-5mins.
Watch it carefully - you want the rolos to go soft, but not run off the pretzels!
Take the tray out of the oven.
Straight away stick a pecan half on each rolo, and push it down gently.
Leave to cool.
Try not to eat them all at once!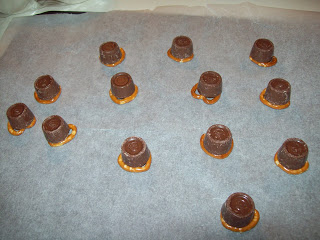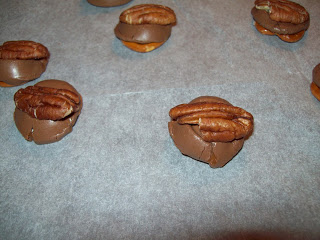 The pictures soooooooo don't do these justice!