What to do when you're wine tastes of vinegar!
Tonight is an evening of furious blogging. Mr E is out, Mini-M is asleep, and I have a ridiculous number of recipes and projects waiting to be posted. If I don't do them soon, I will have completely forgotten the recipes and variations I used, so I'm powering through as many as I can while I have the chance...
We opened a bottle of red wine a while back that had been lurking at the back of the wine cupboard for some time, shall we say! As soon as I took a sip, I knew it wasn't going to be any good for drinking - definitely on its way to being vinegar. Not too far along the way, but further than makes sipping pleasurable.
Cue some furious googling to find out things to do with off red wine. I didn't really want to make that much salad dressing, or shell out for beef to casserole. And eventually I stumbled on this recipe for
Zinfandel Pasta
at
big world small kitche
n.
As usual, I didn't quite have the ingredients to hand, or the patience to follow the recipe exactly. I used some broccoli (like the recipe requires) from that week's
East Coast veg box
, and some shelled peas from the in-laws garden, which I think were an excellent addition. It also recommends using wine that isn't off - but that seems like a waste of a good drinkable bottle to me, and I can report it works perfectly well with some dodgy stuff!
So here's my variation...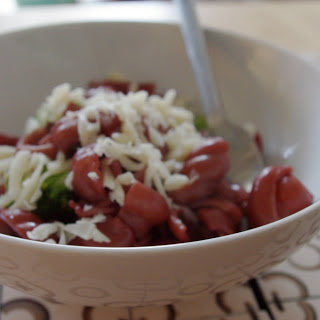 Red Wine Pasta (Serves 4-6)
400g-ish broccoli chopped into small pieces (if the stalk is quite tender don't be scared to use it too. If it looks a bit tough, save it to chuck into some soup)
200g-ish shelled peas
400g sugar - conchiglie in this case
1 garlic clove, crushed
1 750ml bottle of slightly vinegary red wine
50g-ish of strong goats cheese, grated
1tbsp sugar
2 tbsp olive oil
salt & pepper
Pre-cook the broccoli for a few minutes - I microwaved for a minute.
Bring a medium pan of salted water to the boil and cook the pasta for about 4 or 5 minutes, until it is starting to soften, but still a bit crunchy.
Drain the pasta, keeping back 1 cup of the cooking water.
Put the red wine into the pan you have just been using, and add the sugar.
Bring to the boil and cook until it has reduced by about a third.
Add the pasta, stirring so that i breaks up any clumps after draining, and cook for another 5-10 minutes until the pasta is al dente, rather than crunchy!
Whilst the pasta is cooking, heat the olive oil in a small frying pan, add the garlic and soften for a few minutes. Then add the broccoli and peas, and heat until they are warmed through. The peas will take virtually no time to cook if they are fresh and small.
Once the pasta is cooked, use your culinary judgement - drain off some of the red wine liquid if required, or add some of the reserved pasta water.
Stir through the sauteed garlic, broccoli and peas, and season to your taste.
Serve sprinkled with the goats cheese.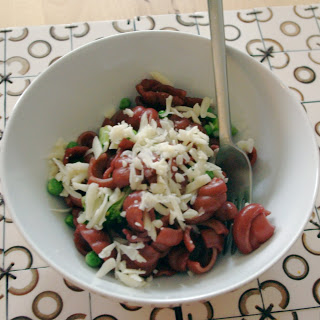 I had no idea how this would taste - it's such an unknown concept. But it is actually really delicious - the pasta tastes wine-y but not vinegary (woop!) or too alcoholic, and the garlic, tangy cheese and sweet peas and broccoli complement each other perfectly. The colour is fantastic too - a very eye catching dish! To be honest, I'd probably not sacrifice a bottle of good wine for this, but I'll definitely be making it again with the next dodgy bottle I find. What an odd thing to be hoping for!