When the sun shines, it's time to picnic!
We're having a warm snap. Not often something that can be said in Scotland, and particularly not in March. But for the past three days, it has been glorious. The pessimist in me is saying that this might be all the summer we get, and just in case that turns out to be true, we've been making the most of it.

In fact, since Saturday, we've eaten four meals outside, including both lunch and tea today. Mini-M has had her first ice lolly, and spent a long time running, jumping, climbing, shouting, laughing and generally getting very mucky like a little feral child.

For tea tonight we packed a picnic and headed to Victoria Park, where there were yet more swings, slides and bubbles. She is going to be heart broken when the weather returns to normal.

Whilst she napped, I made a picnic, and since it was for tea, felt that I had to try to make a bit more effort than sandwiches.

So I made a sausage, onion and spaghetti frittata, and some roasted cauliflower salad. They were both delicious - and more importantly for picnic food, quick and easy!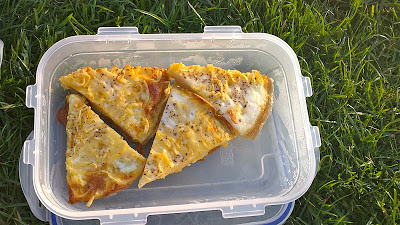 Sausage, Onion and Spaghetti Frittata (Serves 4)


4 eggs,
10 cooked cocktail sausages
1/2 an onion
2 tbsp sweet chilli sauce
1 portion of cooked spaghetti
2 tbsp sunflower oil
Pepper to season

Heat the oil in a frying pan, and in the meantime, chop the onion and sausages.
Fry gently until the onion has softened.
Beat the eggs and chilli sauce together, then season with pepper.
Separate the spaghetti so that it isn't too clumped together (if you are using leftovers like me), then add to the pan.
Pour over the egg mixture and turn the heat down.
Allow to cook on the hob for about 5 minutes, then put under a moderate grill for another 5, until it is set.
Cut into wedges to serve.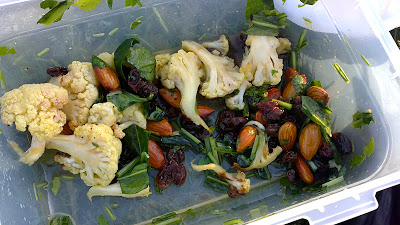 Roasted Cauliflower Salad (Serves 3) (inspired by this BBC Good Food recipe)


1 medium head of cauliflower
2 tbsp cold pressed rapeseed oil (or olive oil, but something with some flavour)
Pinch of chilli salt
Handful of raisins
Handful of almonds
1 tbsp honey
1 tbsp cider vinegar
2 handfuls of peppery salad leaves

Preheat the oven to 200C.
Break the cauliflower into florets and toss in the oil and chilli salt, then roast in a casserole dish for about 30 minutes, until cooked but still quite crunchy, giving them a good shake about once, halfway through.
Whisk together the honey and vinegar.
Chop the salad leaves if they are large.
Once the cauliflower has cooled slightly, mix it all together in a tupperware box, snap the lid on, and you're ready to picnic.

I LOVE cauliflower. I always used to make cauliflower cheese, but since that would be pushing even my dairy free substitution boundaries a bit too far, I've been looking for exciting things to do with it, that taste delicious and don't just make me feel sad that the cheese sauce is missing. This definitely does the trick. And time for a confession - we get some fantastic salad leaves (as well as a very handsome cauliflower this week!) in our veg box from East Coast Organics, there are peppery ones, rocket (which is the only one I can identify), ones with pinkish tips, long thin ones, crunchy ones, - a plethora of salad greens that I have absolutely no idea what they are. For this I used some long thing ones, that are fairly peppery, but not quite as much as rocket... I think I need to do some googling to improve my salad identification!