The Daring Bakers' March 2012 Challenge: Tiger (Soda) Bread
Sara and Erica of Baking JDs were our March 2012 Daring Baker hostesses! Sara & Erica challenged us to make Dutch Crunch bread, a delicious sandwich bread with a unique, crunch topping. Sara and Erica also challenged us to create a one of a kind sandwich with our bread.

This has been a hectic month, and so the Daring Bakers was pushed to the bottom of my to do list, and suddenly it was today, the 27th, posting day and I hadn't even started! I didn't have time to bake 'proper' bread, with kneading and rising, but was keen to try the tiger Dutch Crunch topping, which forms a cracked pattern as it cooks, earning it the nickname tiger bread (or giraffe bread, as Sainsbury's recently rebranded theirs in the UK).

So what was I to do... make tiger soda bread!!! And it worked - it's always a relief when crazy last minute experiments come out OK.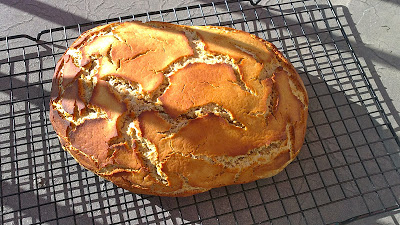 Here's how I did it.


Dairy Free Soda Bread (makes 1 loaf)


370g plain flour
130g wholemeal flour
1 tsp bicarbonate of soda
1/2 tsp salt
40g sunflower oil
300ml almond milk
1 tbsp lemon juice

Tiger Topping (enough for 1-2 loaves)


1 tbsp dried active yeast
120ml warm water
1 tbsp sugar
1 tbsp vegetable oil
generous pinch of salt
120g brown rice flour

Preheat the oven to 190C (fan) and grease a baking sheet.
In a bowl, whisk together all of the topping ingredients and leave to sit for 15 minutes whilst you make the soda bread dough.
Mix the lemon juice into the almond milk ad leave to sit for a minute or two.
In a large mixing bowl, stir together the flours, salt and bicarbonate of soda until thoroughly combined.
Make a well in the centre, add the oil and about 250ml of the milk.
Mix until it forms a sticky dough, adding more of the milk as needed. If it gets too sticky you can always add a little bit extra flour.
Tip out onto a floured surface and knead for a minute then form into a short fat sausage.
Put it on your greased baking sheet and flatten off slightly.
Liberally smear the top in the Tiger Topping. Very liberally, otherwise it won't crack. You'll have some left over, but not too much!
Bake near the top of the oven for about 30 mins until cracked and browned, and the loaf sounds hollow when you turn it over and knock on the bottom.
Soda bread can sometimes be a bit doughy in the middle - to help solve this problem, you can tip it upside down and give it an extra few minutes that way.
Cool on a rack.

So what does it taste like...? I don't know! It's waiting to become tomorrow's breakfast, so no sandwich pictures. I'll update this tomorrow after we've tried it.

But it certainly looks the part...