The things I cook in the name of Random Recipes!
Confessions first of all - this is late! I only realised I had missed the deadline AFTER reading the lovely Random Recipes no.14 roundup post by Dom at Belleau Kitchen.





So that's not a great start.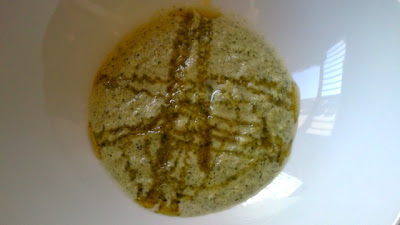 What on earth is this... read on to find out!

Now for my excuses!





1) I've been baking like a woman possessed for a fund raising cake auction I'm organising for Sunday evening. My freezer is like an encyclopedia of frozen sponge cakes waiting to be iced... chocolate cherry cake, lemon and almond cake, Oreo cupcakes, raspberry and passion fruit fondant fancies, peanut butter layer cake, coffee loaf, and a good old Victoria sponge. In the oven as I type are some stunning looking (even if I do say so myself) pistachio and rose meringues.




So I've been in the kitchen every spare minute, just not cooking 'normal' stuff. You know. Like dinner.




2) I picked my recipe right at the start of the month, and knew it was going to be awful. We were asked to go to book number 17 on our shelf... which I duly did, with a certain sense of anticipation which quickly turned to foreboding when I discovered mine was "

The Top 100 Traditional Remedies

" by Sarah Merson. I suppose that's what I get for not corralling my books properly and letting them roam free around the bookcase - random intruders to the cookbook shelf!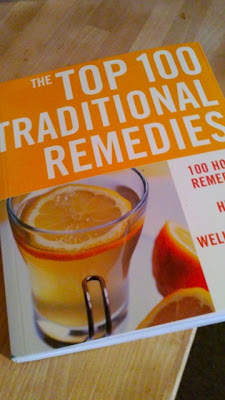 3) The sun has been shining! That's enough distraction usually without the two above. And not only has the sun been shining, it has been warm sunshine, not the usual Scottish 'haha I am lulling you into a false sense of optimism' sun, that encourages you to go out without a coat, then disappears later in the day leaving you with mild hypothermia on the way home. So we have been mainly having picnics (in the park, on the balcony, both seemed as much fun to Mini-M, but one was a lot less logistically challenging!), going for lots of walks to feed the ducks, play on the swings and look at the boats in the docks, and generally not blogging.
I think three's enough.
Right ANYWAY... back to the random recipe.
I dutifully opened the book at a random page and discovered I would be making Pumpkin Seed Porridge. I am not a fan of pumpkin seeds. One or two sprinkled in things are OK. Lots, and definitely pretty much just pumpkin seeds, are not.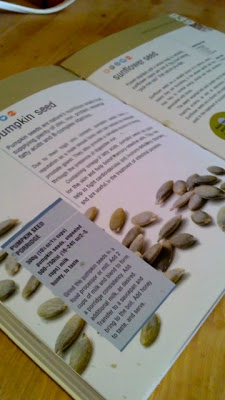 But in the spirit of the challenge, I made it anyway! And decided that since I had no intention of eating it - after all, isn't that the point of husbands - to sample dubious culinary creations - I didn't need to make it dairy free, which was good, since the other main ingredient is milk!
And Mr E's verdict "You don't often cook things which make me question if they're actually foodstuffs".
Pretty much, don't make it unless you need to eat a lot of pumpkin seeds and don't like chewing. Otherwise he recommends you avoid it.
Pumpkin Seed Porridge (Serves 2, or I guess if you really like pumpkin seeds, 1!)
150g pumpkin seeds
300ml whole milk
Honey to taste
Blitz the pumpkin seeds with a magic wand or in a food processor until they are ground, then add the milk and blend again until well combined and starting to thicken up.
Put in a sauce pan and bring to the boil, then add honey to taste.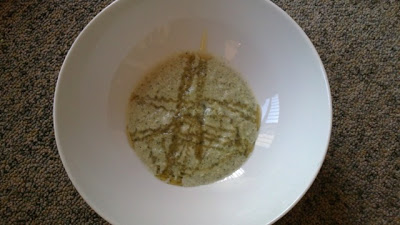 Oh look - it's almost the same dirty green colour as our carpet!
So on the plus side, it is a very easy recipe, and only took about 10 minutes start to finish. Which is good - I'd have struggled to spend hours creating something I knew from the start I wouldn't be eating!!!
Also, pumpkin seeds are very good for you - lots of zinc, iron, protein, fatty acids and B vitamins. (Jings, I really should try harder to like them). According to the information in the book, they fight fatigue, aid memory and their high zinc content has earned them a slightly Viagra-esque reputation. And are also useful in the treatment of intestinal parasites. So now you know!!!!!!
Here's hoping my random choice for next month turns up something more appealing...