It's been a bit of a birthday-cakey couple of weeks. Two almost approximately on time (well in the correct month at least...) and one very belatedly from January.
For my 'little' sister as she reached the grand old age of 26, a fig, walnut, almond and honey cake. Adapted from this BBC good food recipe for a
Honey Roasted Fig & Almond Tart
. I used baby figs (instead of adult ones?!), added walnuts, accidentally forgot to put in the orange juice, added a splash of honey vodka, and used 1 whole egg rather than 2 yolks. To be honest it's fairly surprising it came out of the tin at all, let alone looking remarkably similar to the picture!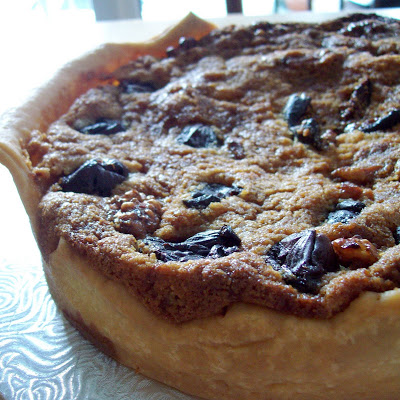 For my matching 'little' brother, I wanted to make something I could post to Spain (because he lives there, not just as a random challenge). So I decided to go truffley rather than cakey, hoping it would survive the airmail better, and I'm glad to report it did! I chose to make chocolate peanut butter cake truffles, dipped in white chocolate. And it was a very simple but successful invention!
Chocolate Peanut Butter Cake Truffles (Makes 16-20 depending on size)
Take 1 chocolate muffin, 1 tbsp peanut butter, 1 tbsp butter icing, and 1 medium bar of white chocolate.
Crumble the chocolate muffin into a mixing bowl. Add the peanut butter and butter icing and mix well until it is well combined. Take teaspoons of the mixture and roll into little balls. Leave to dry out a little for a few hours or overnight. Melt approx 100g white chocolate in the microwave, and dip the truffles, letting them dry on greaseproof paper. Done!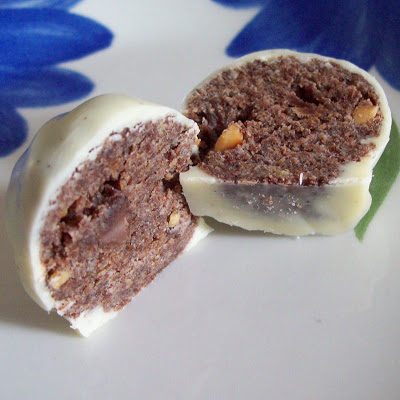 And lastly, a very belated birthday cake for the lovely Miss Morrison, who came to visit at the weekend :o) Lemon and Almond sponge, with lemon and white chocolate icings.